Spinach Ricotta Puff Pastry Parcels are so tasty they will be eaten faster than you can say Puff Pastry Parcels! But don't worry they are easy to make and perfect to prepare in advance.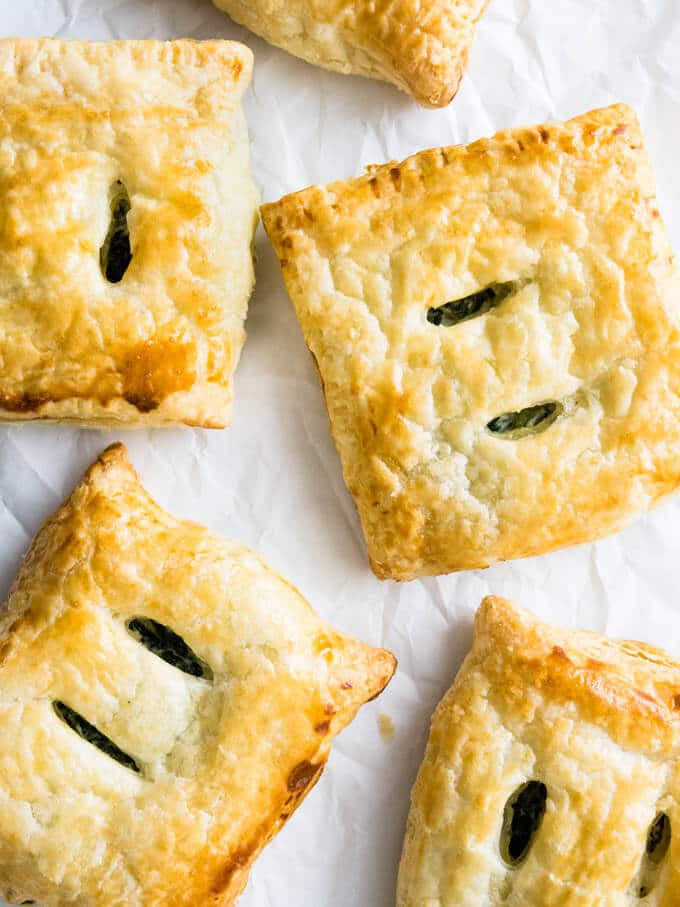 I love mini snacks like these puff pastry parcels! My Pear & Gorgonzola Mini Tartlets or my Bacon & Cheese Puff Pastry Twists are perfect examples for that.
If I could I would only eat many little snacks for dinner but the other person in this house would need 200 of them to feel full. So for lunch when I'm alone and don't have time to make something for me I often have frozen dim sum or something similar.
Yes, I'm a food blogger who eats things that are not made from scratch. Sometimes I don't have time to cook or I made something sweet during the day for the blog and don't feel like cooking again in the evening.
These are the times when my trusty Barilla pasta sauce or frozen fries come handy. Don't judge me, I love food but I have to admit I love all kinds of food and sometimes fries out of my air fryer are the most comforting thing ever.
And one tip from me if you have an air fryer too: the cheapest fries taste the best. They get perfectly crunchy and yummy.
But now I think I have to stop to talk to you about treats from the freezer aisle, or otherwise you don't see why you should make these Spinach & Ricotta Puff Pastry Parcels. And you have to make them because they are as comforting as air fryer freezer fries (if you're into such things :-) )!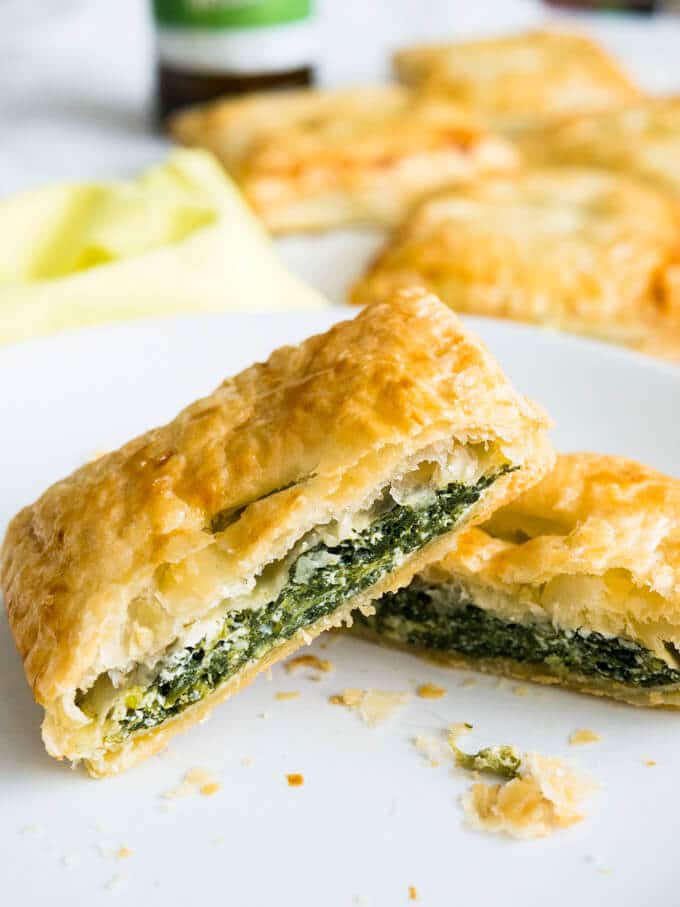 I really love these little ones, they are the perfect size and spinach and ricotta are a perfect duo! I used almost the same filling like in my Spinach Ricotta Lasagna but obviously omitted the tomato sauce.
Ahh. These were really good. I think I need to buy more puff pastry to make them again this weekend. Perhaps to make two batches and freeze one for lonely lunches.
And these Spinach Ricotta Puff Pastry Parcels don't have a soggy bottom!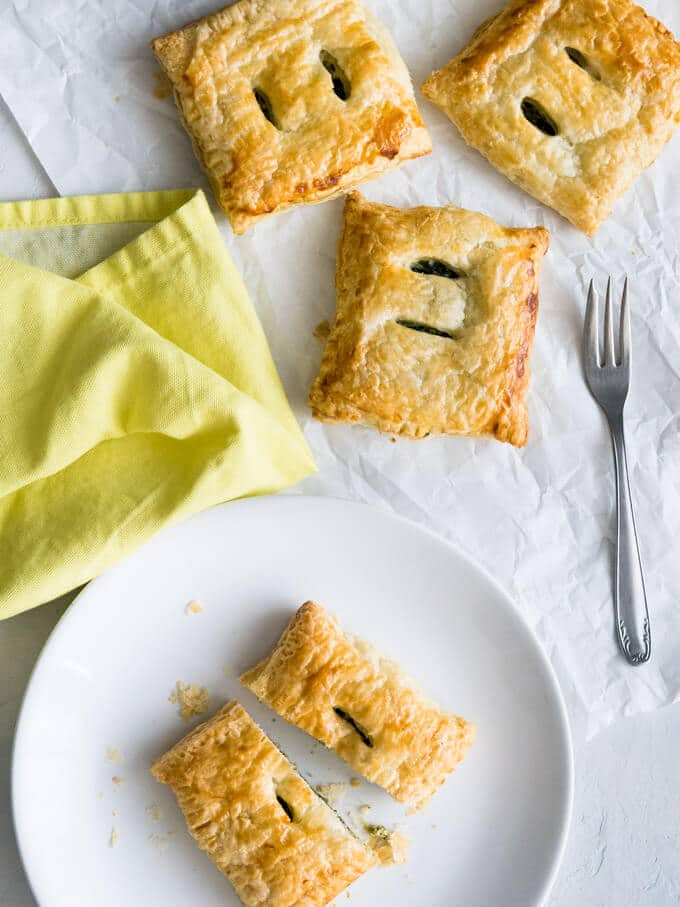 That's a really big criterium for puff pastry things in our family, because who wants soggy bottoms. So I used egg wash not only on the edges of the pastry but brushed the whole inside of the parcel with egg wash.
No, you won't have a layer of scrambled eggs in your puff pastry parcels but the egg will make a seal because it cooks faster than the filling. And I brushed the outside with egg wash to make it crispier and shiny. Another security measure to prevent soggy bottoms are the air vents, they allow the moisture to come out.
These little Spinach Ricotta Puff Pastry Parcels make a great snack or appetizer for a party! They can be assembled up to 1 day ahead of time, you can chill the prepared unbaked pastries in the fridge and put them in the oven 30 minutes before you want to serve them.
If you have leftovers put them in an airtight container in the fridge for up to 3 days and just pop them in a 350F (180C) oven for 5-10 minutes to make them warm and crispy again.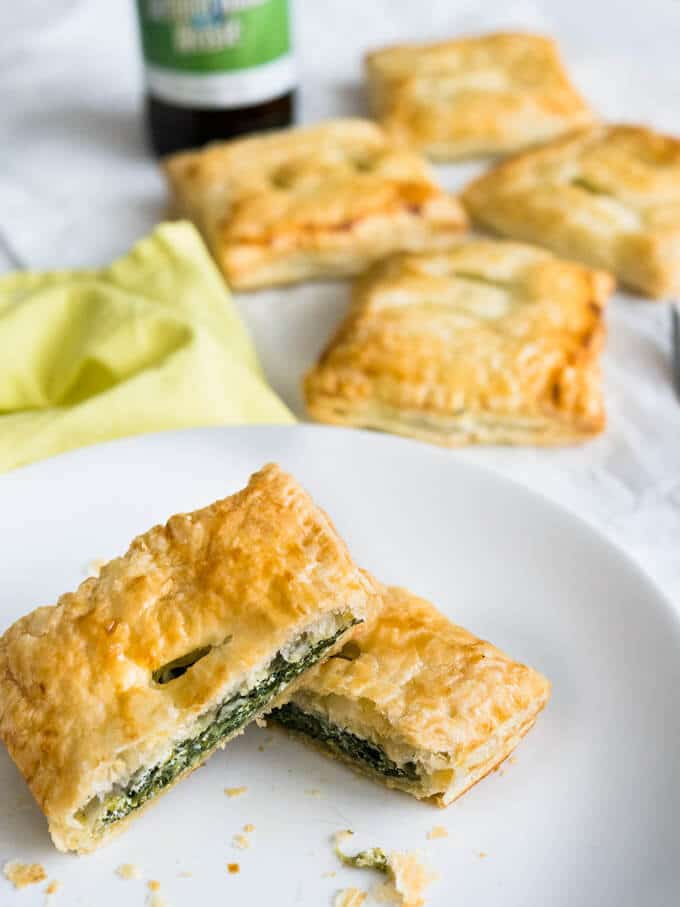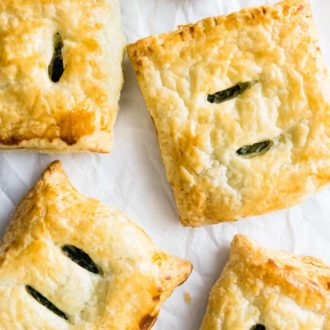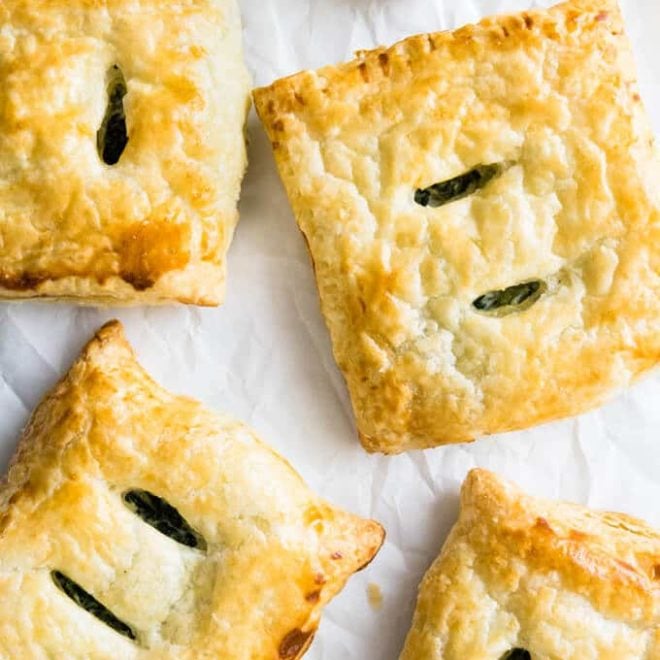 Spinach Ricotta Puff Pastry Parcels
Spinach Ricotta Puff Pastry Parcels are so tasty they will be eaten faster than you can say Puff Pastry Parcels! But don't worry they are easy to make and perfect to prepare in advance.
Ingredients
18

oz

frozen spinach

,

thawed and squeezed of excess water (Note 1), 500g

1

cup

ricotta cheese

1

egg

Salt

Black Pepper

Nutmeg

2

sheets

puff pastry

,

defrosted

1

egg

,

lightly beaten (egg wash)
Instructions
In a medium bowl mix up ricotta, egg, defrosted spinach, and a little bit nutmeg. Season with salt and freshly grated black pepper.

Line a large baking sheet with parchment paper or a silicone baking mat.

On a lightly floured surface, roll out one pastry sheet. Using a pizza cutter, cut one sheet into 6 long rectangles. Transfer the rectangles to the prepared baking sheet. Use a pastry brush and brush the whole rectangles with the egg wash. Spoon 2-3 Tablespoons of the ricotta-spinach mixture on one side of each rectangle. Fold the other side over the filling and line up the edges as best you can. Crimp the edges with a fork to seal shut. Use my photos below to help guide you.

Repeat these steps with the 2nd puff pastry sheet so you have a total of 12 pastry parcels. Slice 2 slits in the tops for air vents. Brush the tops of the pastry parcels with egg wash. Chill the parcels in the fridge for 25 minutes or up to 1 day.

During the last few minutes of chill time, preheat the oven to 375F (190C).

Bake the pastry parcels for 30 minutes, or until the tops are golden brown. Remove the parcels from the oven and allow to cool until ready to handle.
Notes
1. If your spinach isn't defrosted, you can put the frozen spinach in a pan and add about 50 ml of water. Cover the pan and let it simmer for about 10 min. Stirring it a few times. When the spinach is cooked and most of the water has evaporated drain the spinach in a colander and let it cool down for a few minutes before adding the spinach to you ricotta mixture (be patient or the egg will scramble).
Nutrition Information
Calories:
281
kcal
|
Carbohydrates:
21
g
|
Protein:
7
g
|
Fat:
19
g
|
Saturated Fat:
6
g
|
Polyunsaturated Fat:
2
g
|
Monounsaturated Fat:
10
g
|
Trans Fat:
0.003
g
|
Cholesterol:
38
mg
|
Sodium:
163
mg
|
Potassium:
294
mg
|
Fiber:
2
g
|
Sugar:
1
g
|
Vitamin A:
4119
IU
|
Vitamin C:
12
mg
|
Calcium:
93
mg
|
Iron:
2
mg