Air Fryer Chicken Wings are so crispy without any added oil! Cooking wings in an Air Fryer only takes 30 min, and you can toss them in your favorite sauce.
These wings are a reader favorite and always get rave reviews because they are exactly what they claim to be: Extra crispy without being deep-fried! We originally posted this recipe back in January 2018. The method stays the same, but we've added some updated instructions, a video, and some new photos!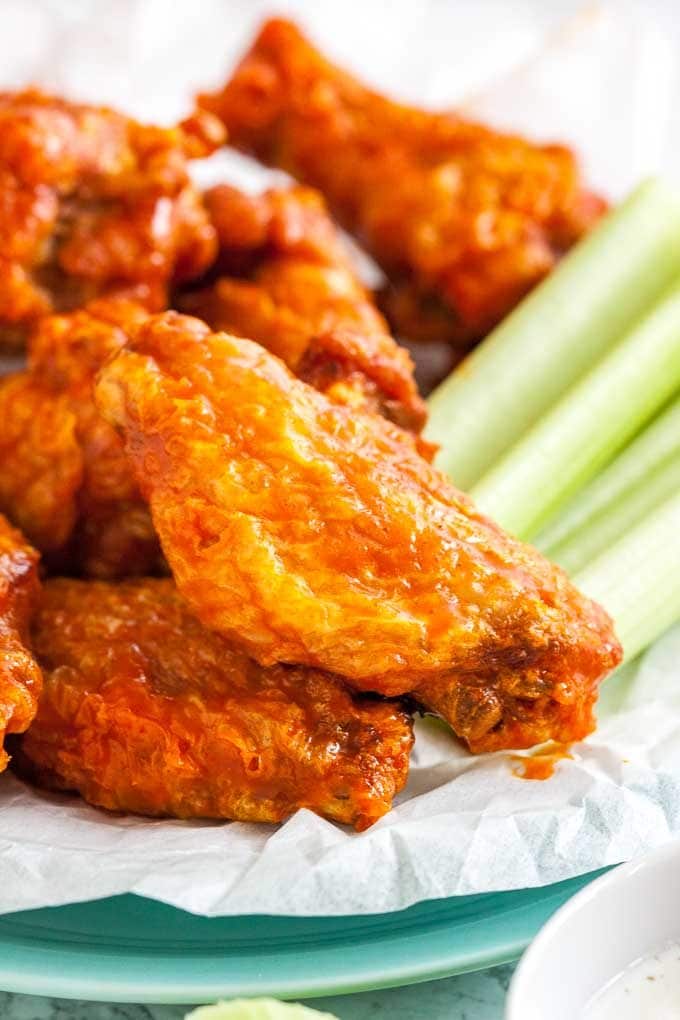 Our Air Fryer Wings are extra crispy without any added oil, baking powder, or potato starch! You only need two ingredients to make this easy recipe: fresh (or frozen) chicken wings and your favorite sauce.
The wings are so crispy on the outside but juicy and tender on the inside. You'll never believe these weren't cooked in a deep fryer! Cooking wings in an Air Fryer is a great way to save some calories because you don't need to add any extra oil, and all the excess fat from the wings drips off into the pan, but the wings taste as delicious as deep-fried.
Why this Recipe works
Cooking the wings for 26 minutes at a lower temperature allows the fat under the skin to slowly break apart, the last 6 minutes at a higher temperature crisp up the skin. Cooking them at a high temperature for the whole time would make the cooking time shorter but also dry out the wings and make them chewy.
You don't need to use baking powder when using an Air Fryer. The wings will get crispy without it! This recipe is as easy as it can be!
Toss the wings in your favorite sauce! Because you add the sauce after the wings are cooked, you can add different sauces like Buffalo Sauce, BBQ sauce, or even a dry rub so everyone is happy! This way, you can also make Keto Air Fryer Chicken Wings!
If you're looking for more Air Fryer recipes while you're here, try out our Air Fryer Potato Wedges or our reader favorite, Air Fryer Donuts. These made-from-scratch donuts taste so much better than baked donuts and the easy donut glaze makes them even more delicious!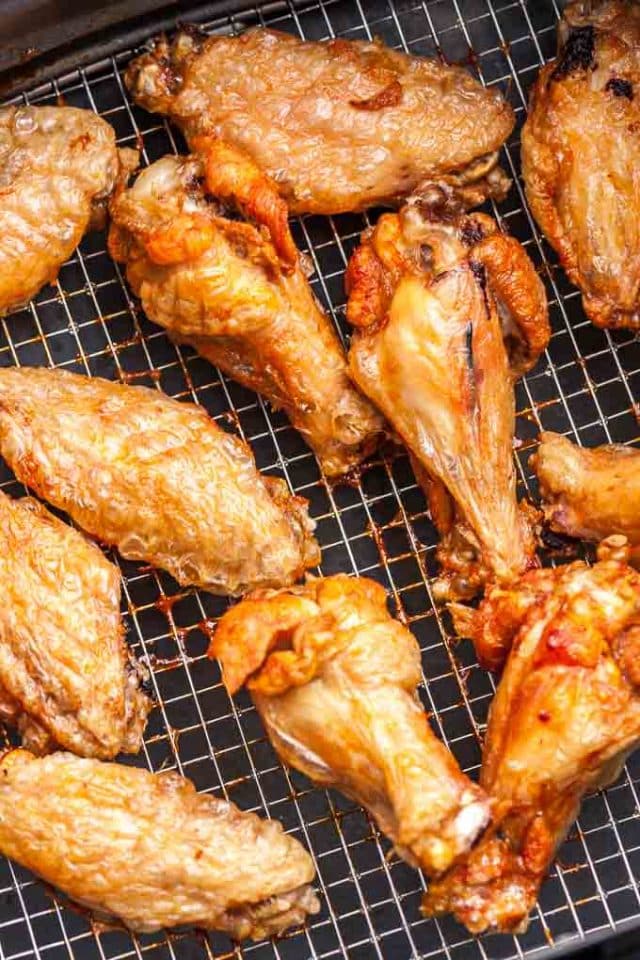 Detailed measurements and instructions can be found at the bottom of the page on the printable recipe card.
How to Air Fry Chicken Wings
This EASY recipe makes crispy wings without all the extra oil and hassle of deep-frying them!
Place the chicken wings in the basket and insert it into the air fryer.
Cook for 24 minutes at a lower temperature, shaking the basket every 10 minutes.
Increase the temperature and air fry for 6 more minutes.
Transfer to a bowl and toss with your favorite sauce.
How long to fry them
Chicken Wings take about 30 minutes in the Air Fryer, shaking the basket every 10 minutes, so the wings crisp up evenly. Cooking the wings at a lower temperature first and then increasing the heat for the last few minutes ensures juicy wings with crispy skin because this allows the fat to render out, so the skin gets extra crispy. This method results in the BEST Chicken Wings!
How to make a bigger batch
Frying the Wings in a single layer or separated by a double layer rack works best but you can make a bigger batch by taking some of the wings out before increasing the temperature and crisping them up in smaller batches. Just make sure not to overcrowd the basket so the air can still circulate. Watch the video below to see how I make a bigger batch in my smallest Air Fryer!
Can you cook frozen chicken wings in an air fryer?
Yes, you can cook frozen wings in an Air Fryer! If you are using frozen wings, air fry them 5 minutes longer at 380°F (29 minutes total), before increasing the temperature for the last 6 minutes to crisp them up. Don't worry if the frozen wings stick together at the beginning; just make sure to shake the basket after a few minutes, so they get separated.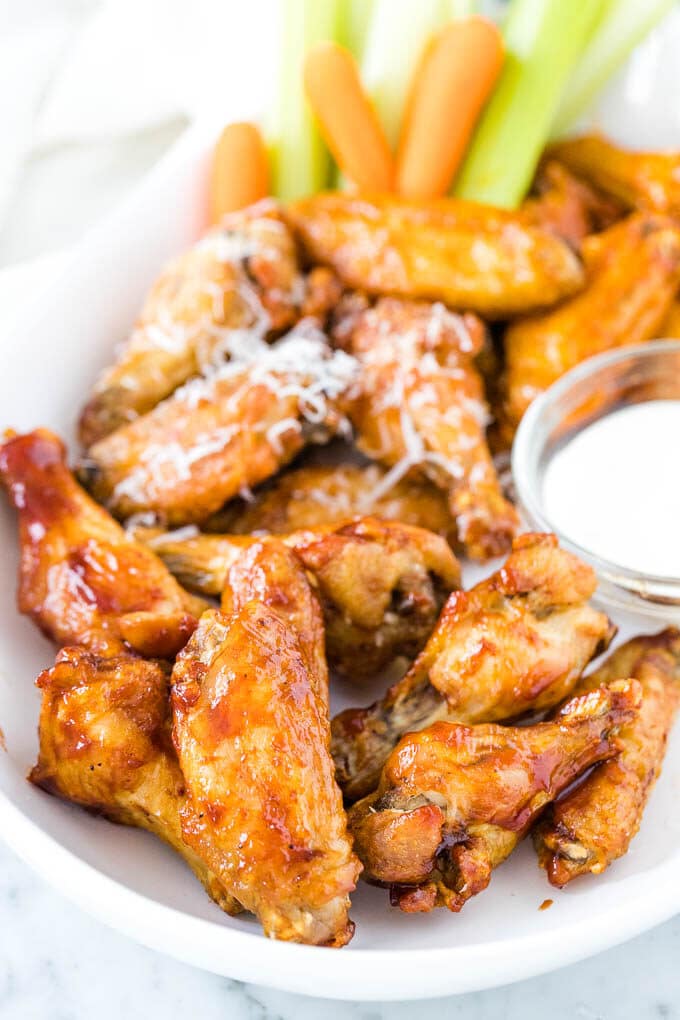 Sauces and Seasonings for Wings
After air frying the wings, they get tossed with your favorite sauce or seasoning. That way, everyone can customize their serving of wings. Here are a few of our favorites:
Buffalo Sauce: You can buy this sauce or make your own with just two ingredients (recipe in the recipe card)
Lemon Pepper
Teriyaki Sauce: Salty and Sweet!
Cajun Seasoning
BBQ Sauce: Add as much sauce as you like and toss the wings!
Old Bay Sauce: Melt 6 Tbsp unsalted butter, add 2 tsp old bay seasoning, and 2 tsp lemon juice. Toss wings in sauce and dust with more old bay seasoning.
What to serve with Chicken Wings
Serve chicken wings (especially those tossed in Buffalo Sauce) with Blue Cheese or Ranch dipping sauce and fresh celery and baby carrots on the side. Chicken wings are a classic appetizer that also goes well with coleslaw, fries, onion rings, chips, and fried mozzarella sticks. Perfect for a game day party!
Frequently Asked Questions:
Do I have to pat dry the wings before cooking? In my experience, it is not necessary. If the wings are especially wet, then I pat them dry but not thoroughly.
Air Fryers with different Temperature Scales: If your Air Fryer doesn't go up to 400 degrees F, keep cooking them at the highest temperature for the last 6 minutes to crisp up; according to readers, this method works well. If your Air Fryer doesn't have the exact temperature available the recipe calls for, use the setting that's closest to it.
Can I use a dry rub before cooking them? Yes, some readers tried this, and it worked out well!
Can chicken drumsticks be used instead of wings? I don't recommend using drumsticks for this recipe because they take longer to bake. But the Air Fryer also makes delicious juicy drumsticks check out my recipe for Air Fryer Fried Chicken.
Can I make these wings in the oven? Yes, but it will take a lot longer to get the wings as crispy as in the air fryer. To make them in the oven, bake them in a preheated 400 degrees F oven for 45-55 min, flipping them once after 25 minutes.
How to store leftover chicken wings? You can store leftovers in an airtight container in the fridge for up to 3 days.
How to reheat chicken wings in the Air Fryer? Reheat fried chicken wings at 350°F for 5 minutes, then increase the temperature to 400°F and cook for 3-5 more minutes until reheated and crispy.
How to cut Chicken Wings? Using your fingers, locate where the two joints connect. Then cut through the center of both joints with kitchen scissors or a sharp knife to separate the drumette, flat, and tip.
What is the BEST Air Fryer?
For this recipe, the bigger the basket, the better because it gives you more cooking surface so you can make more wings. I prefer Basket-Style Air Fryers over Toaster-Oven-Style Air Fryers because I found that the toaster-oven-style ones didn't air fry as well, food was less crispy, and it was not much different to using a convection oven.
My favorite Air Fryer (and I own a few) is the Ninja Foodi Grill, which is an Indoor Grill and Air Fryer in one; it can also dehydrate, bake, and roast. What I like most about it is that the basket is huge, which makes it perfect for preparing steaks, pork chops, and big batches of wings, and it air fries even better than my trusty Philips Air Fryer.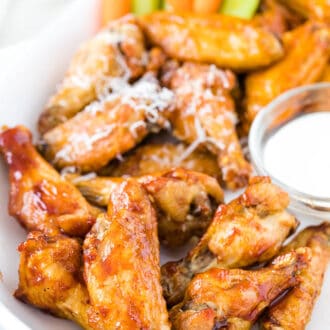 Air Fryer Chicken Wings
Air Fryer Chicken Wings are so crispy and delicious without using any extra oil! Cooking Chicken Wings in an Air Fryer instead of deep frying them makes them healthier and clean up easier. They are ready in only 30 minutes and so easy to make!
Ingredients
2

lbs

chicken wings

,

cut into drumettes and flats
For the Buffalo Chicken Wing Sauce (optional)
1/4

cup

unsalted butter

1/4

cup

Frank's RedHot Original Cayenne Pepper Sauce
Instructions
Preheat your Air Fryer if recommended in the manual. Place the chicken wings in the basket and insert it into the air fryer.

Cook the wings for 24 minutes at 380°F (190°C). Shake the basket every 10 minutes, so they cook evenly.

When the time is up, shake the basket, increase the temperature to 400°F (200°C) and cook for 6 more minutes or until the skin is golden brown and crispy. Depending on the size of your Air Fryer crisp the wings up in batches.

Transfer wings to a bowl and toss with your favorite BBQ or our easy buffalo wing sauce.
To make Buffalo Sauce (optional)
Whisk melted butter and hot sauce together in a bowl.
Nutrition Information
Calories:
272
kcal
|
Protein:
22
g
|
Fat:
20
g
|
Saturated Fat:
5
g
|
Cholesterol:
94
mg
|
Sodium:
89
mg
|
Potassium:
191
mg
|
Vitamin A:
180
IU
|
Vitamin C:
1
mg
|
Calcium:
15
mg
|
Iron:
1
mg