Double Chocolate Banana Muffins Recipe
Last updated on June 13th, 2017
These Double Chocolate Banana Muffins are fluffy and delicious yet they're healthier than a typical bakery-style muffin! Made with less sugar these muffins make a great breakfast treat.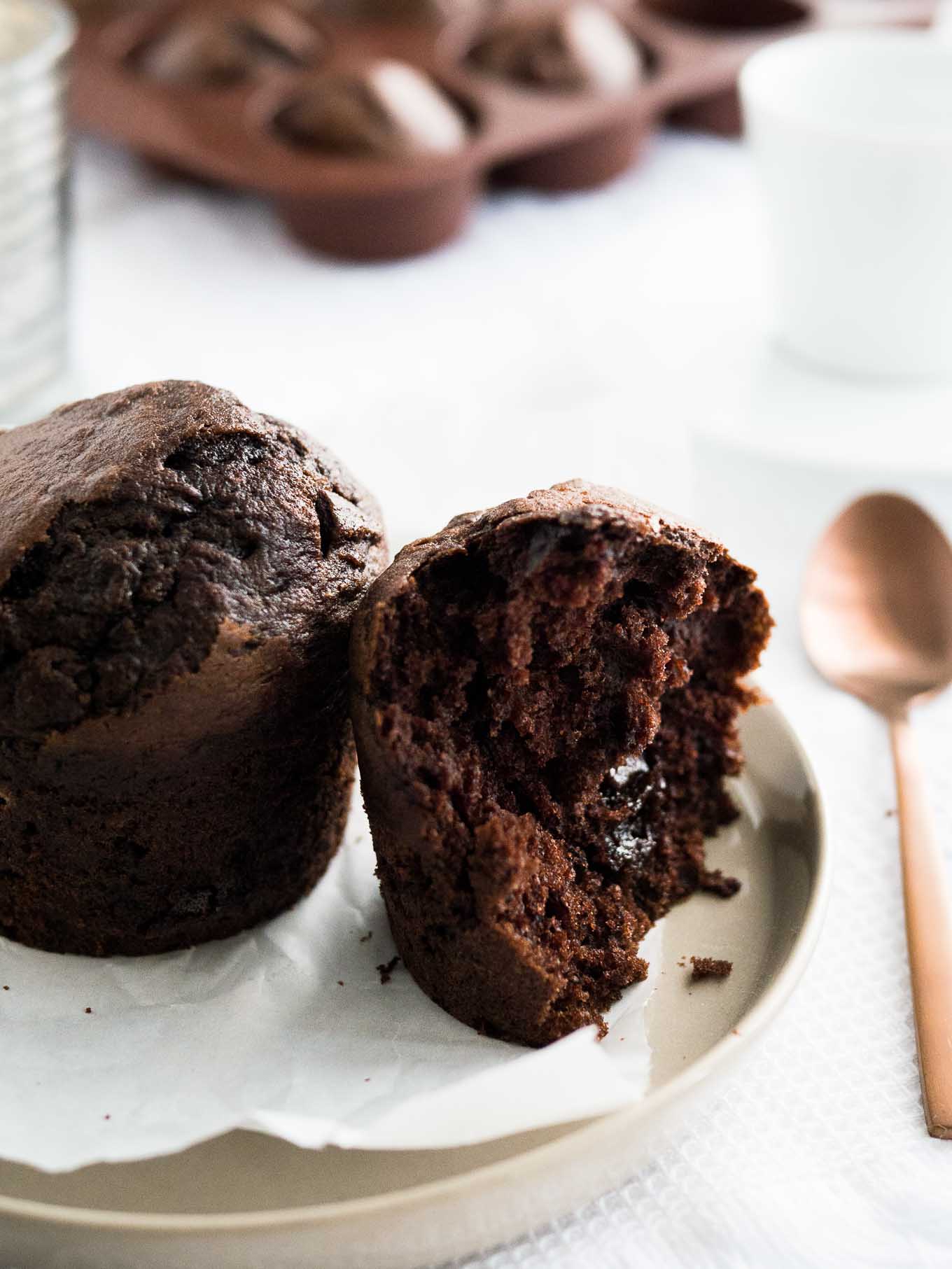 Double Chocolate Banana Muffins are the perfect way to start your day! They're so fluffy, chocolatey and full of banana flavor. My husband calls these muffins banana split muffins because they taste like a chocolate banana split. But don't be fooled, these muffins taste decadent but they have less calories than your typical muffin.
These muffins are not only healthier than most muffins because they're made with bananas and less sugar but they'll also give you a little wake-up kick because of my secret ingredient which makes these muffins even chocolatier.
They're made with unsweetened cocoa powder and dark chocolate chunks which help to boost your mood and shake away the winter blues!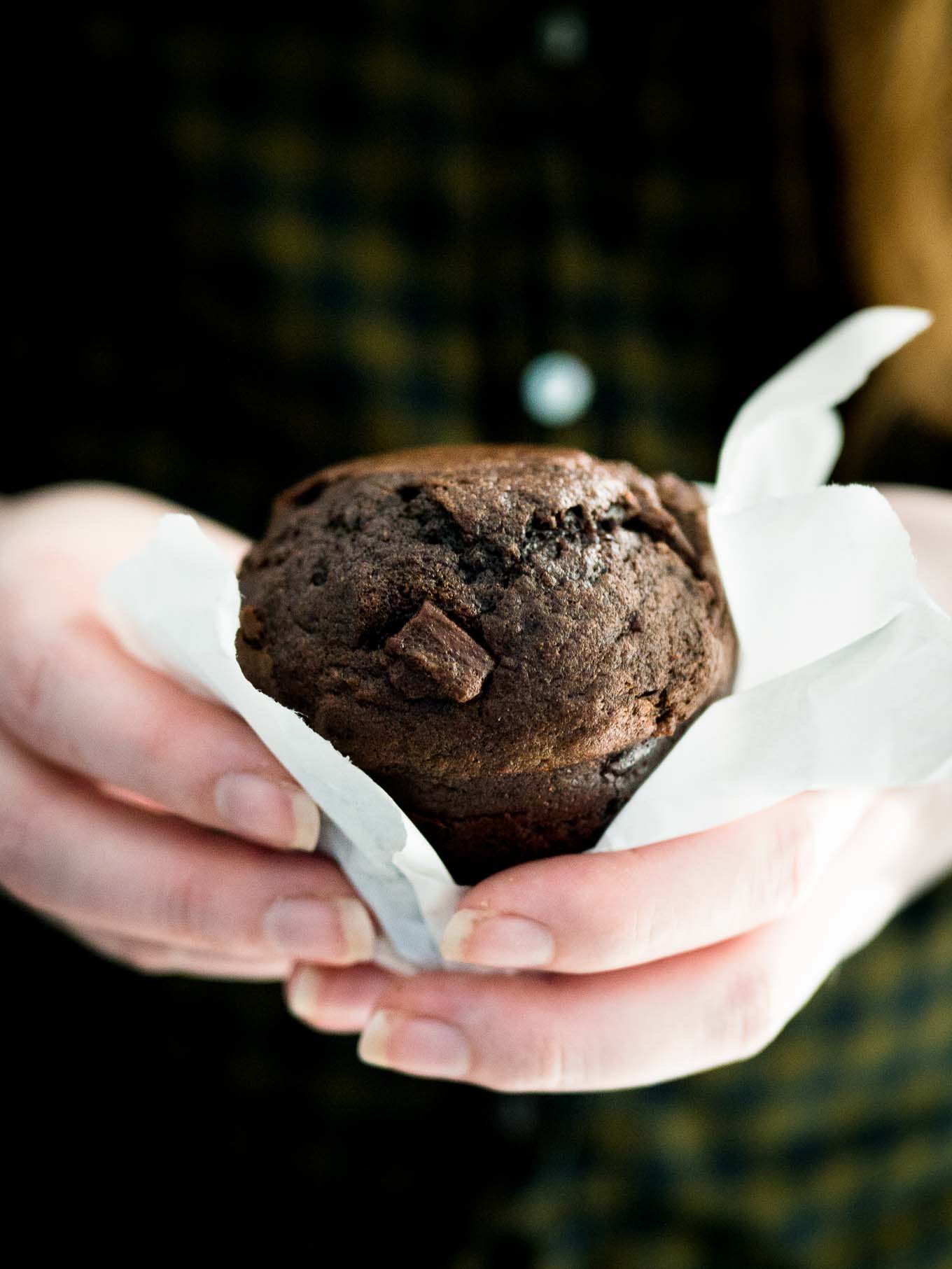 This time of the year always makes me feel a little bit moody. My favorite time of the year is over and all the snow I wished for in December is coming now when you can't really do anything with it. The hubby is back at work and we're both still fighting a bad cold which we brought home from our trip to London.
So even if it's January and everyone seems to be on a diet, I'm craving something comforting and these banana chocolate muffins are the perfect treat to lift my mood. Like my Double Chocolate Chip Bread these muffins are made with unsweetened cocoa powder which gives them a special glow and lots of chocolate chunks.
Using dark chocolate instead of milk chocolate and less sugar makes these muffins not as sweet as other muffins yet they don't taste bland because the ripe bananas add sweetness. Just make sure to use really ripe or overripe bananas!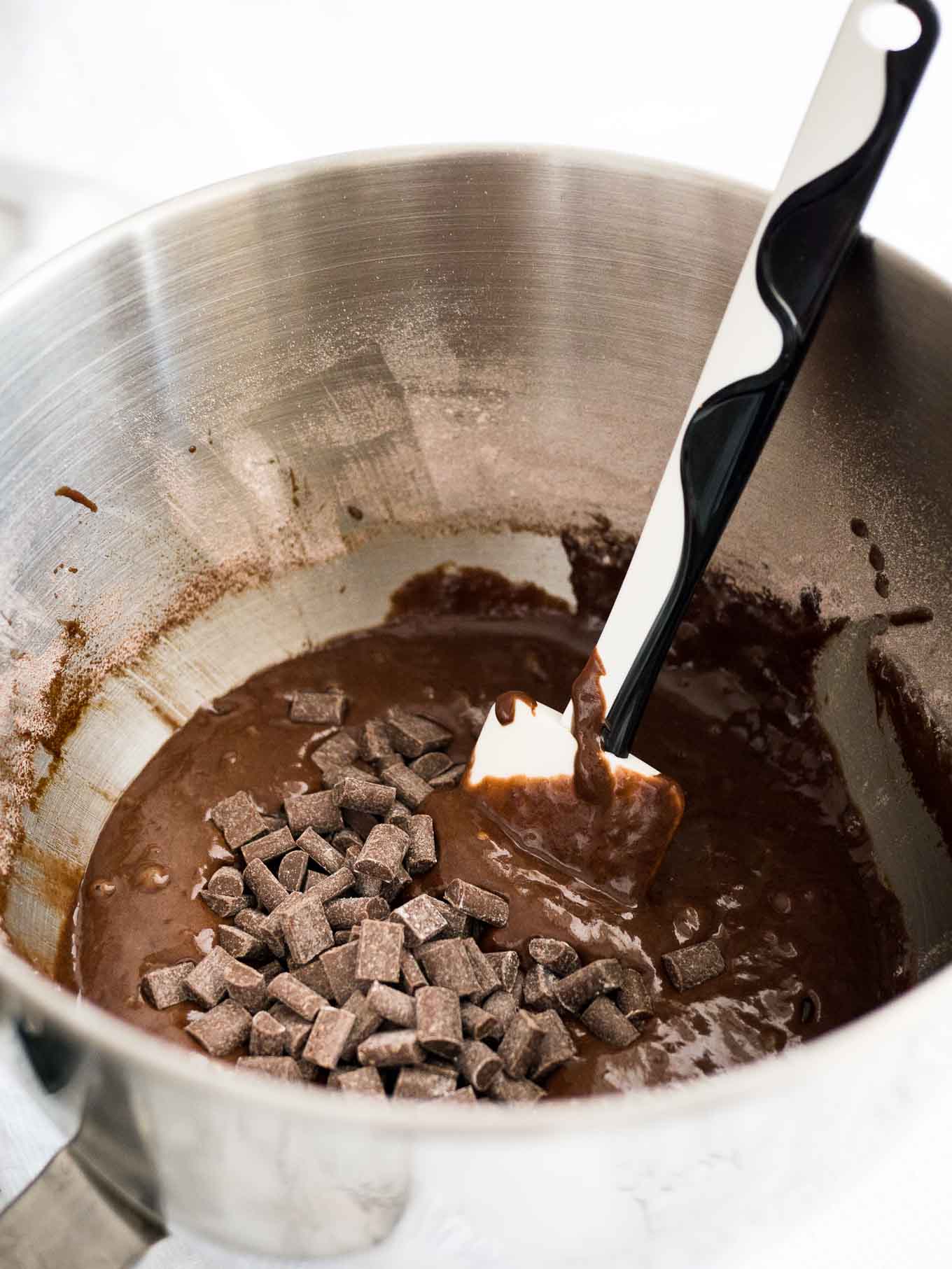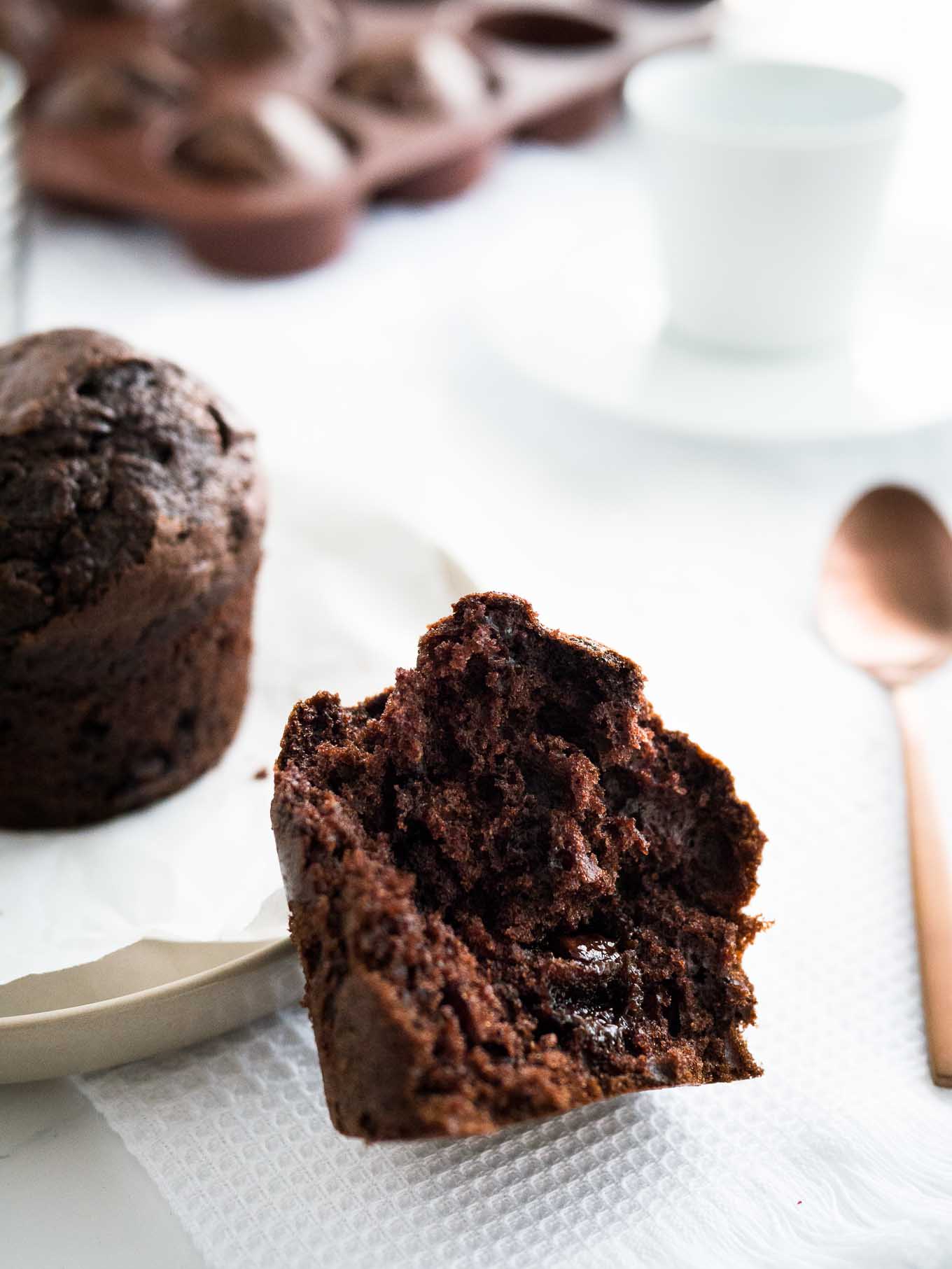 I often buy too many bananas so I freeze them after they get too many brown spots for my taste. I love bananas in baked goods or as smoothies or even on bread with some cream cheese but I can't really eat them on their own and I can't stand their smell when they are ripe. Haha, isn't that weird!
So when they get overripe and I haven't planned to bake anything with them I freeze them. Frozen bananas are great for smoothies and for baking. They develop a deeper banana flavor while freezing and it's so convenient to always have perfectly ripe bananas on hand to make a batch of these Double Chocolate Banana Muffins or these Banana Muffins with Cinnamon Streusel.
Don't have overripe bananas at home? Just place the bananas on a baking tray and bake at 350°F for 6-10 minutes until the skins turn black. Keep an eye on them because the time depends on how big and ripe they are to begin with.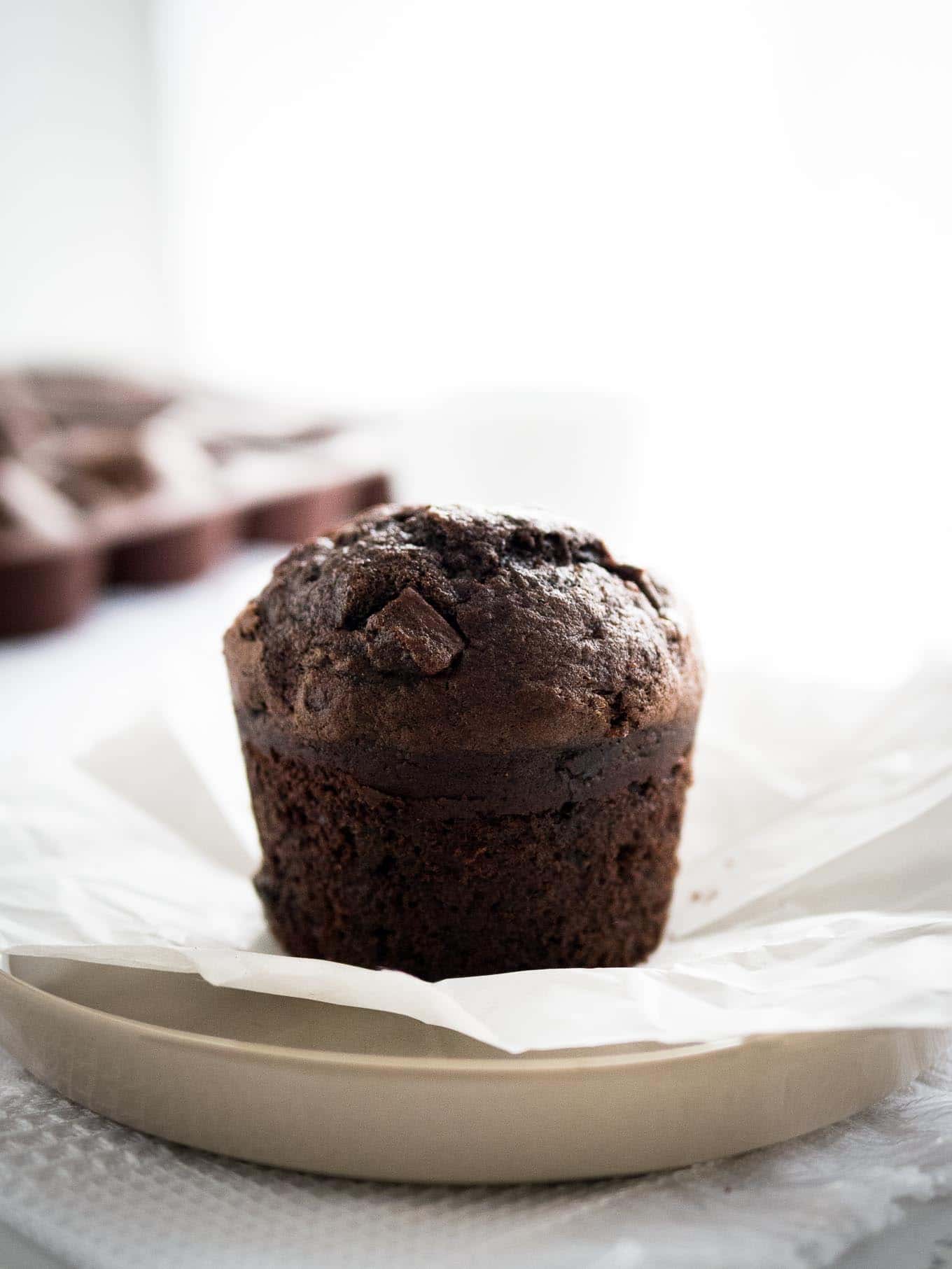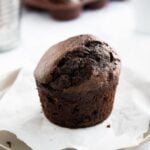 Double Chocolate Banana Muffins
These Double Chocolate Banana Muffins are fluffy and delicious yet they're healthier than a typical bakery-style muffin! A great breakfast treat.
Ingredients
3

very ripe bananas

½

cup

vegetable oil

120ml

2

large eggs

1-2

tbsp

espresso powder

½

cup

brown sugar

100g

1

tsp

vanilla extract

1/4

cup

unsweetened cocoa powder

30g

1½

cups

all-purpose flour

185g

1

teaspoon

baking soda

1/2

cup

dark chocolate chunks or chips
Instructions
Preheat the oven to 180°C/350°F and line a 12-cup muffin tin with cupcake liners or grease with cooking spray.

In the bowl of a stand mixer fitted with the paddle attachment, add the bananas and mash at medium speed. Add the oil followed by the eggs and the espresso powder. Beat until the espresso powder is dissolved. Then add vanilla extract and sugar.

Sift the unsweetened cocoa powder into a small bowl. Add the flour and baking soda and mix with a spoon until combined.

Add the flour mixture, beating at low speed, to the banana mixture. Beat just until combined. Fold in the chocolate chunks (or chips) with a rubber spatula. Spoon batter into the prepared muffin cups.

Bake in the preheated oven for 15–20 minutes, or until a skewer inserted in the center of a muffin comes out clean. Allow to cool for a few minutes in their tin before removing and transferring to a wire rack.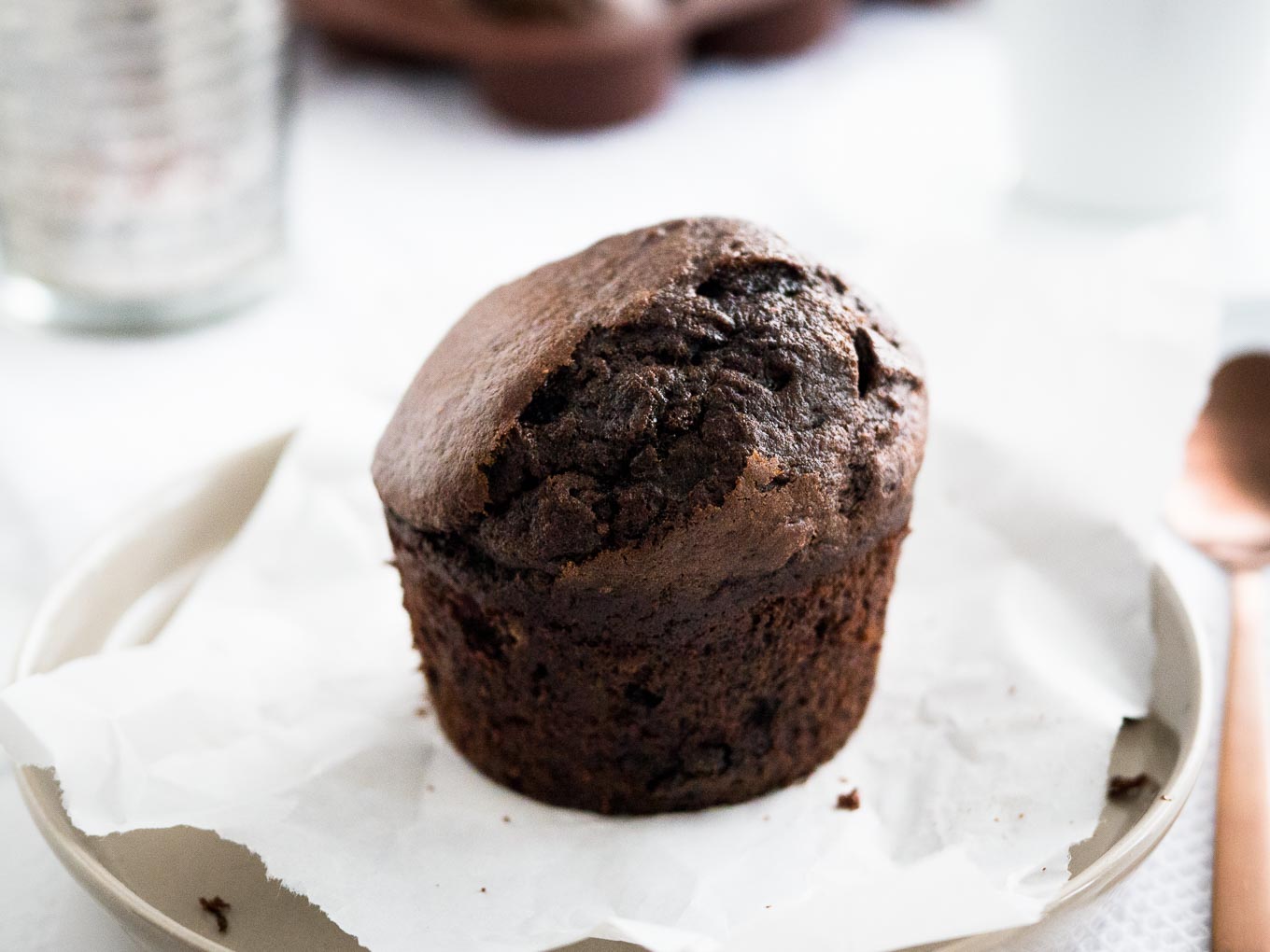 Adapted from Nigella's Chocolate Banana Muffins