Homemade Easter Bunny Rolls
Last updated on December 31st, 2017
These Easter Bunny Rolls are so easy to make and perfect for brunch or dinner! Made from fool-proof homemade yeast dough, these cute bunny-shaped rolls are buttery, fluffy, and so cute with their salty tails.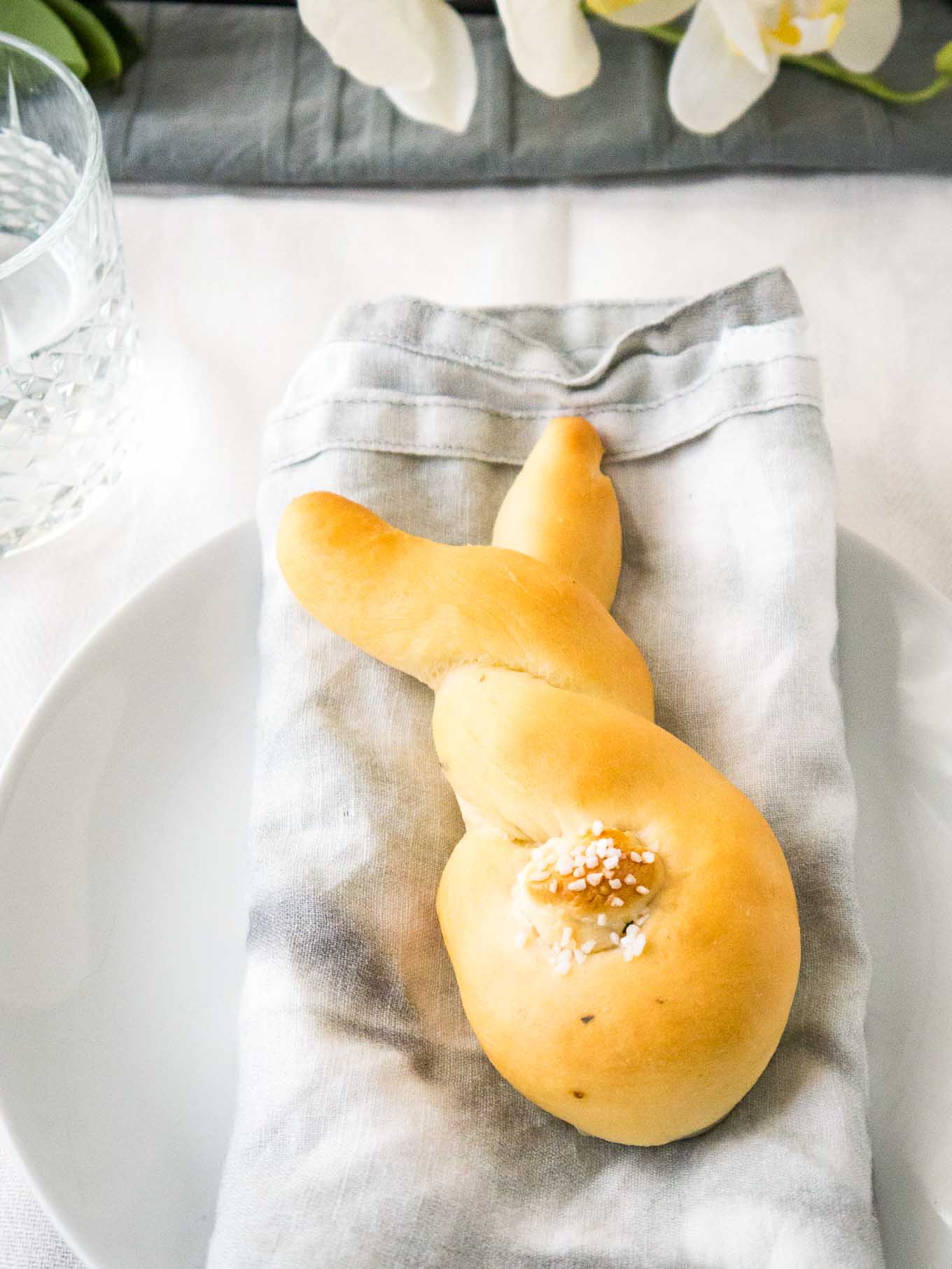 Easter is only one month away! Why not make some cute little bunny-shaped rolls for your next brunch? They make a great addition to every get-together and are super easy to make.
These easter bunny rolls are made with homemade yeast dough but if you're in a hurry you could also use store-bought dough. Making these bunnies is a perfect way to upgrade not-homemade dough!
But yeast dough is really easy to make from scratch, not like puff pastry which needs much more work and attention. I love working with yeast dough because it's so versatile and the baked goods are always fluffy!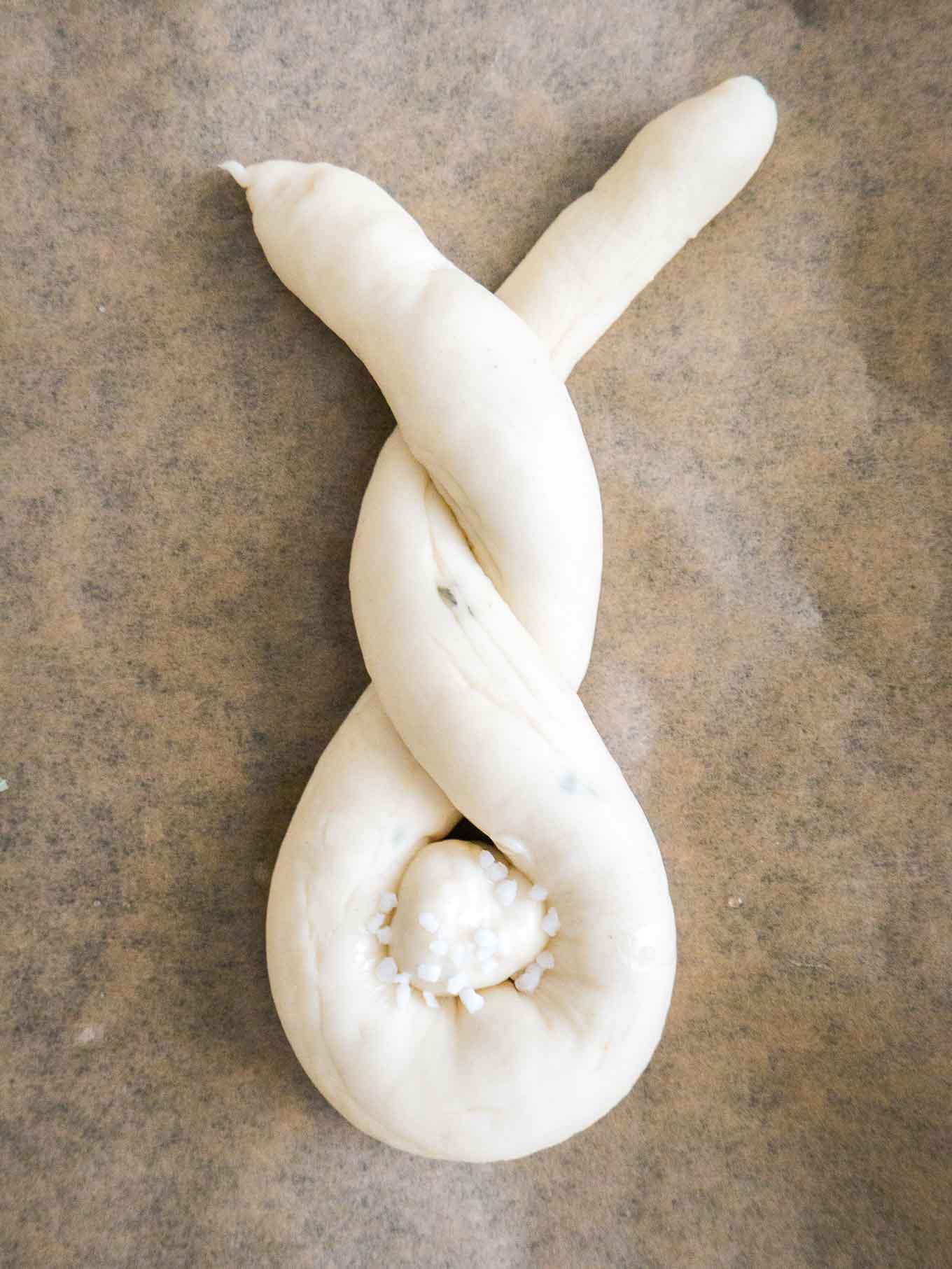 HOW TO MAKE EASTER BUNNY ROLLS
To make these rolls you need a stand mixer
to knead the dough (or use your hands for a little workout) and a little bit of patience. The yeast dough needs to rise for about 1 to 2 hours until it has doubled in size. That's really important, the yeast needs time to do its work otherwise your rolls will taste like yeast.
When you shape the bunny rolls make sure to press down the overlapping ear to prevent it from rising too high during baking. To sprinkle the tails you can also use coarse sugar instead of coarse sea salt if you are aiming for a sweeter bread.
These Easter Bunny Dinner Breadsticks are fluffy, buttery and so simple to make. And if it's not the right time of the year for Bunnies then you could just make normal breadsticks from the dough!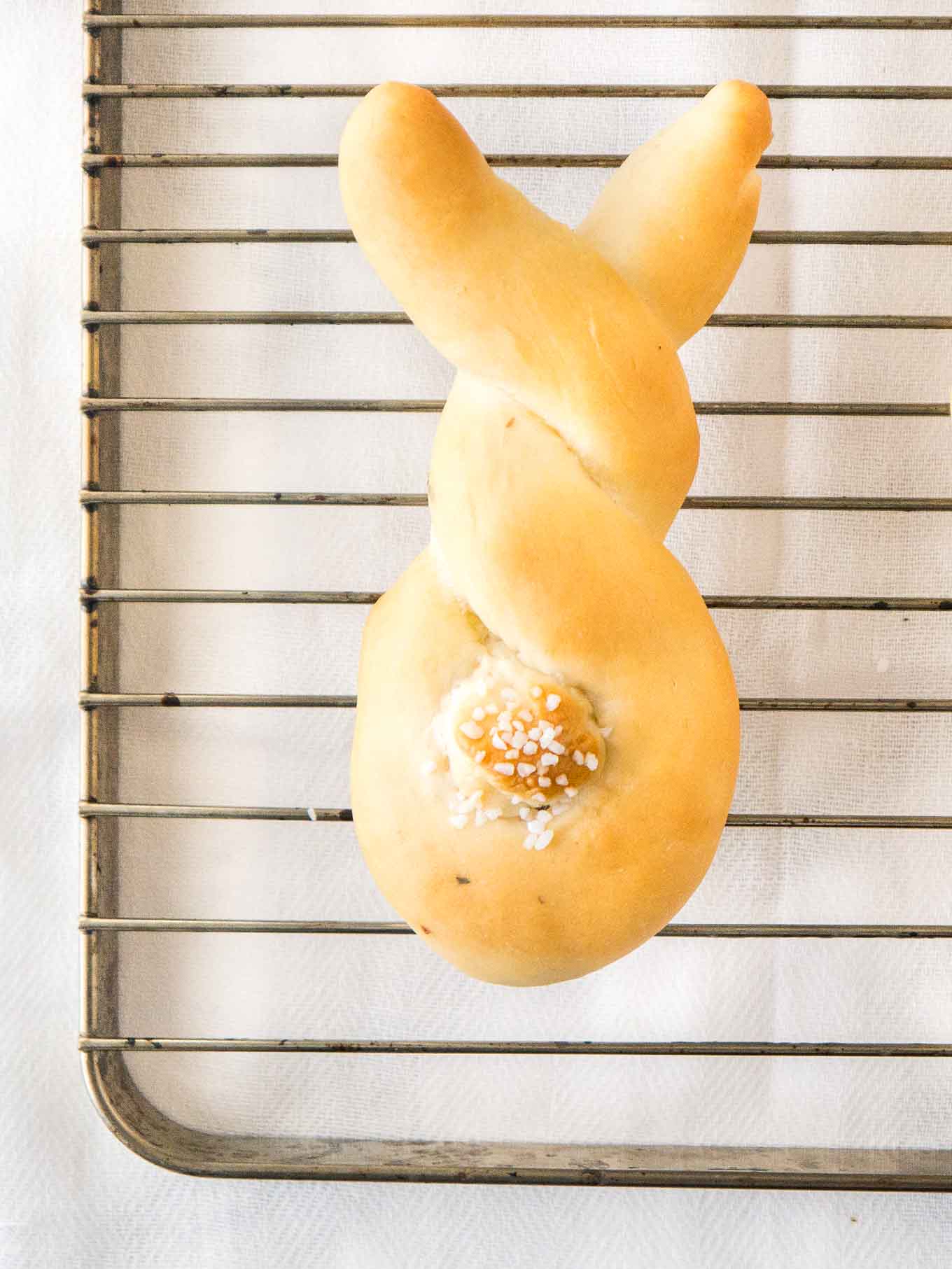 SOME MORE EASTER RECIPES YOU'LL ENJOY!
I have a lot of recipes to choose from if you want to take a look at my recipe index, but here are a few of my recent recipes.
These Brown Butter Maple Glazed Roasted Rainbow Carrots are the easiest side dish ever and are great for Easter Dinner or any other holiday meal! My Easy Carrot Cake Recipe makes a great spring dessert and because it's made in a sheet pan you can feed a crowd with it.
And if you want something different then a carrot cake you need to check out these Raspberry Lemon Curd Cupcakes or my No Bake Strawberry Cheesecake!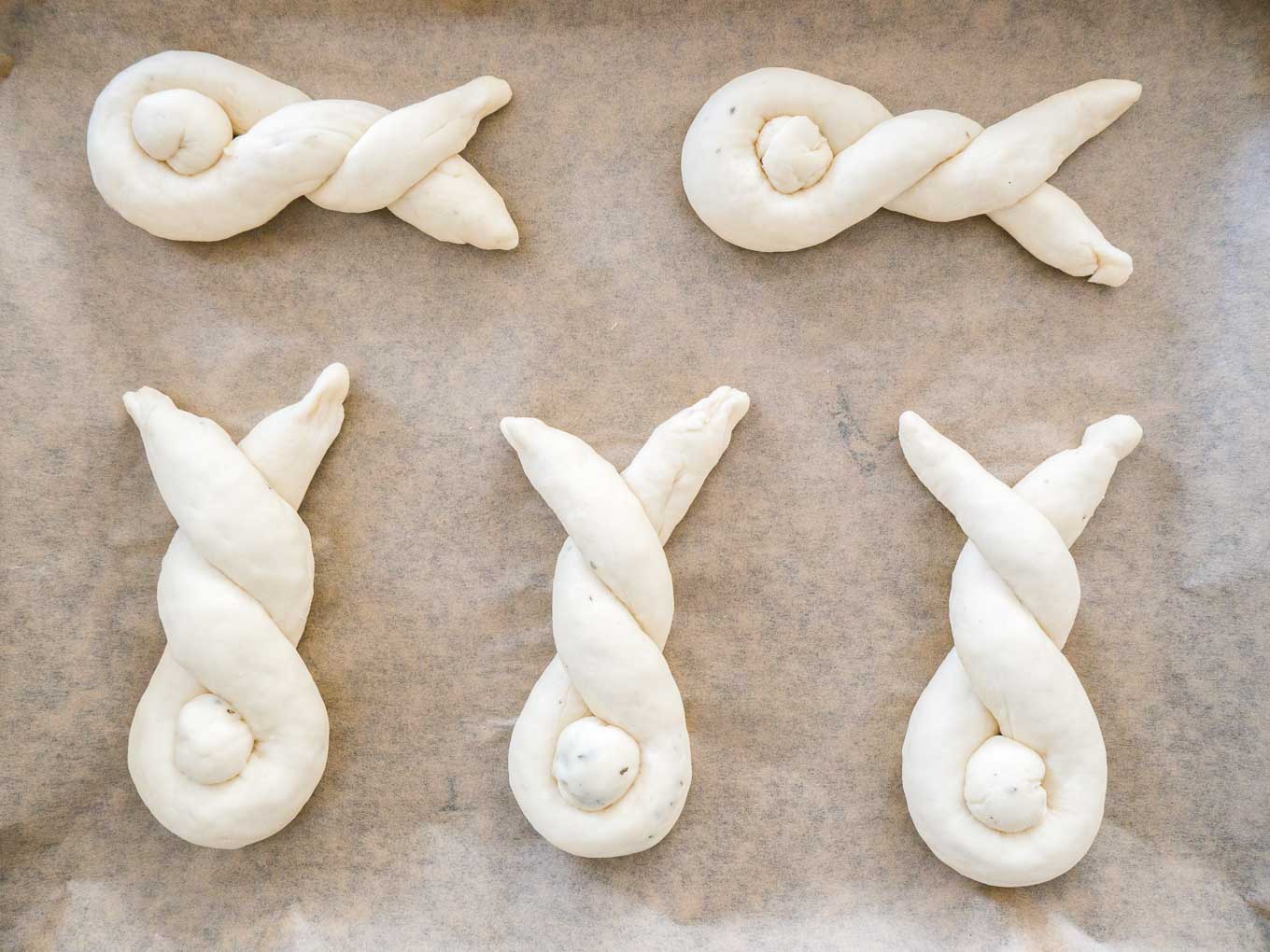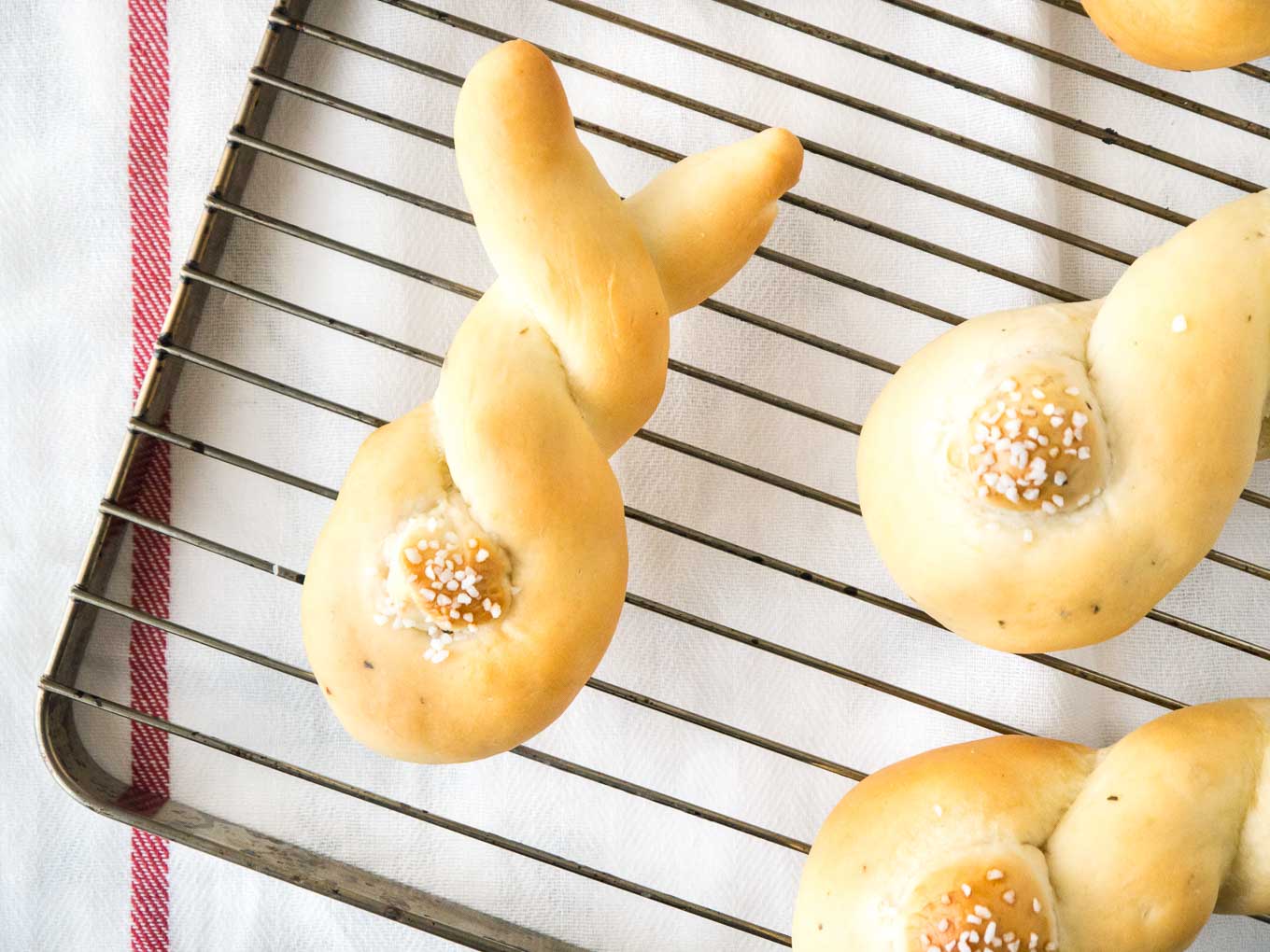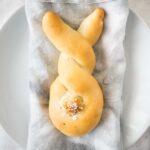 Easter Bunny Rolls
These Easter Bunny Rolls are so easy to make and perfect for brunch or dinner! Made from fool-proof homemade yeast dough, these cute bunny-shaped rolls are buttery, fluffy, and so cute with their salty tails.

Prep Time
1
hour
10
minutes
Total Time
1
hour
30
minutes
Ingredients
3

cups

all purpose flour

2 1/2

tsp

Instant dry yeast

1

cup

warm water

1

tbsp

granulated sugar

1

tsp

salt

1/4

cup

vegetable oil

1

egg

1

tbsp

coarse sea salt

2

tbsp

softened butter
Instructions
Pour warm (not hot!) water into the bowl of a stand mixer fitted with the dough hook attachment. Add yeast, sugar, salt, oil, and flour.

Knead on low-medium speed for about 4 minutes, until a smooth dough forms. The dough should be thick, yet soft and only slightly sticky. When it pulls away from the sides of the bowl it's ready.

Place the dough in a greased bowl and turn the dough over to coat all sides. Cover the bowl with plastic wrap and place it in a warm environment to rise until doubled in size, about 1 hour.

Once doubled in size, punch the dough down to release any air bubbles. Remove dough from the bowl and turn it out onto a lightly floured surface. Divide the dough into 6 equal pieces.

Heat oven to 350°F (180°C). Line your cookie sheet with parchment paper, a silicone baking mat or lightly grease the cookie sheet.

Roll each ball of dough into a rope about 14 inches long. Cut a 1/2-inch piece off the end, and roll into a ball for the tail. Fold the dough rope in half, and loosely twist twice to form the body of the bunny. Place on cookie sheet and press down the overlapping ear a little bit to prevent it from rising too high. To make the bunny tail press ball of dough into folded end of the twist. Repeat with remaining dough to make 6 bunnies. Let the bunnies rise for 5-10 minutes.

Brush the tails with egg wash and sprinkle with coarse sea salt.

Bake the bunnies for 23-25 minutes until the tops are golden brown and the edges look cooked. Remove the rolls from the oven when they are done and brush butter onto each warm bunny.