Best Carrot Cake Cupcakes
Last updated on June 14th, 2017
The best Carrot Cake Cupcakes with a not-too-sweet cream cheese frosting on top! These carrot cupcakes are perfectly moist, lightly spiced and so flavorful.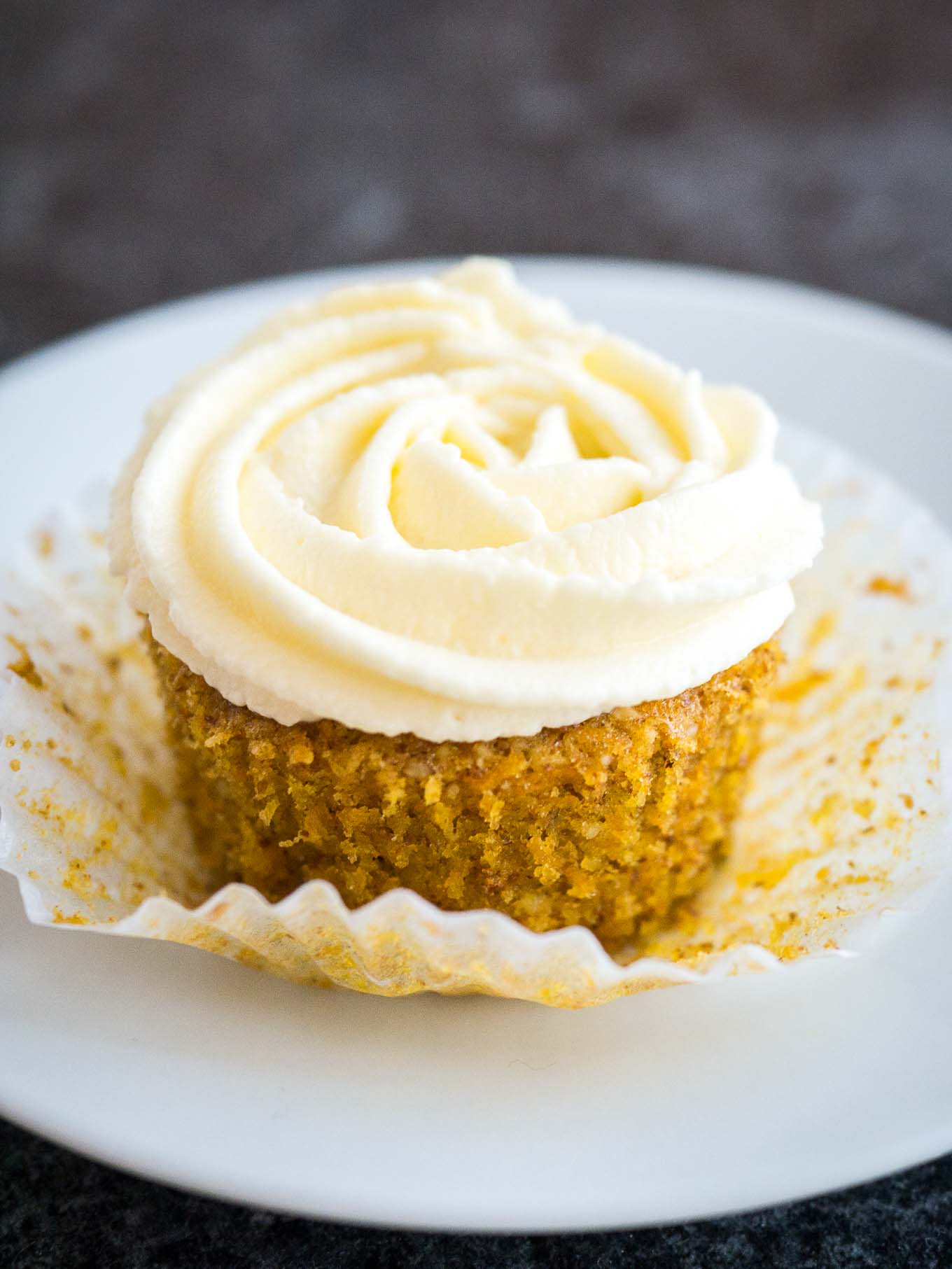 Simple and moist cupcakes with carrots and a cream cheese frosting. This Carrot Cake Cupcake recipe is perfect for spring! Like my Easy Carrot Cake Recipe and these cute little Easter Bunny Rolls, this recipe makes a great addition to your Easter Brunch.
Give these Carrot Cake Cupcakes an Easter upgrade by sprinkling the tops with toasted coconut to make little Easter nests and adding little chocolate eggs. These easter cupcakes make a cute addition to every Easter table!
They get even more delicious after a day or two when the carrot cake's flavors are fully developed, making this the perfect make-ahead recipe!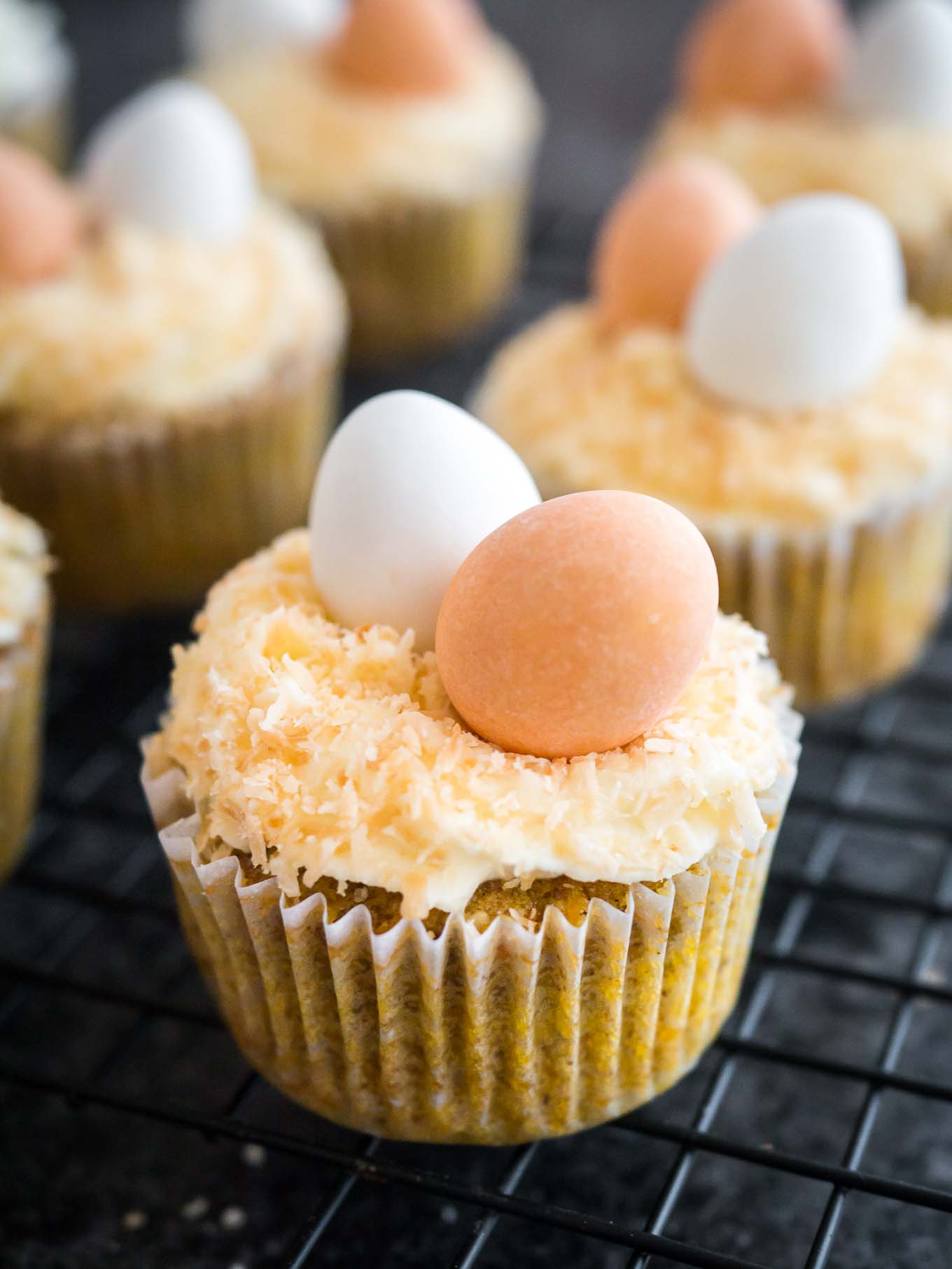 These are the ultimate carrot cake cupcakes and a perfect holiday dessert but I could eat them every day! They're super moist and are bursting with flavor from the carrots, spices, brown sugar, and ground almonds.
The not-too-sweet cream cheese frosting goes perfectly with the lightly spiced, moist cupcakes. My hubby hates the sweetness of traditional cream cheese frosting so this cream cheese frosting is my go-to recipe. It's smooth with a slight tang from the cream cheese and not overly sweet. My family loves it this way and even I with my sweet tooth prefer this lighter frosting.
Making these cute cupcakes from scratch is super easy and we all know spring isn't complete without carrot cake (cupcakes)!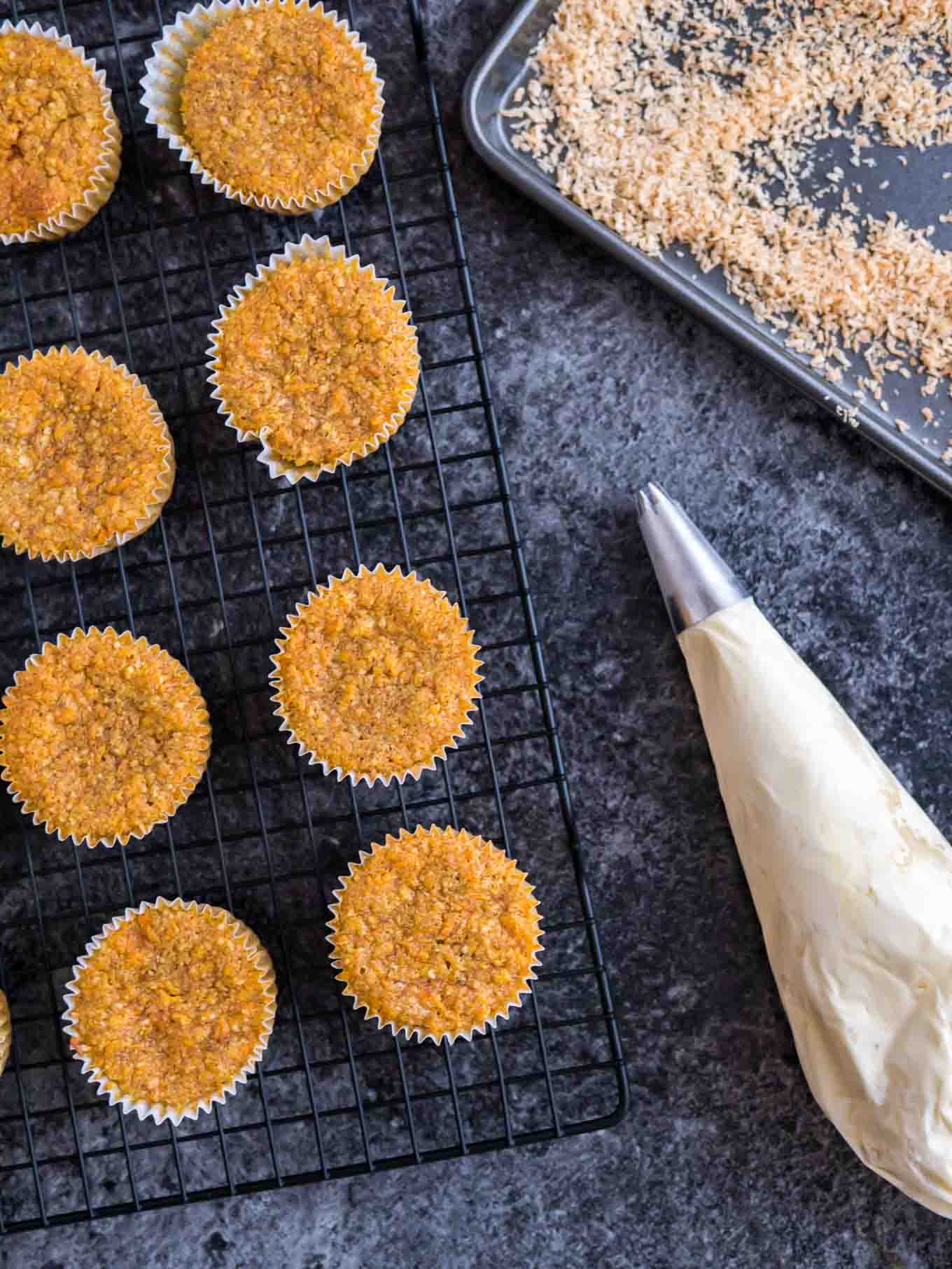 HOW TO MAKE CARROT CAKE CUPCAKES FROM SCRATCH
To make these carrot cupcakes you need 1 1/2 cups grated carrots, that's about 3 large ones. Grate them by hand or use a food processor. But please don't use pre-grated carrots from the grocery store, they are drier and won't make your cupcakes moist.
Start with creaming the sugars and the butter together. I use mostly brown sugar in this recipes because it adds flavor and moistness which is essential for a good carrot cake in my opinion. Then add the eggs, grated carrots, and unsweetened apple sauce. Mix in the dry ingredients, pour the batter into your muffin pan (this
is the one I use and love) and bake.
When the cupcakes are completely cooled make the frosting. My cream cheese frosting is not as sweet as many other cream cheese frostings because that's how we like it. So it's totally ok to eat more than one cupcake 🙂
The cupcakes keep well, covered in the fridge or at a cool place and, thanks to the almonds, will become even moister over the next day or two. Adding ground almonds to your carrot cake cupcakes guarantees a moist crumb because of the oil in the nuts.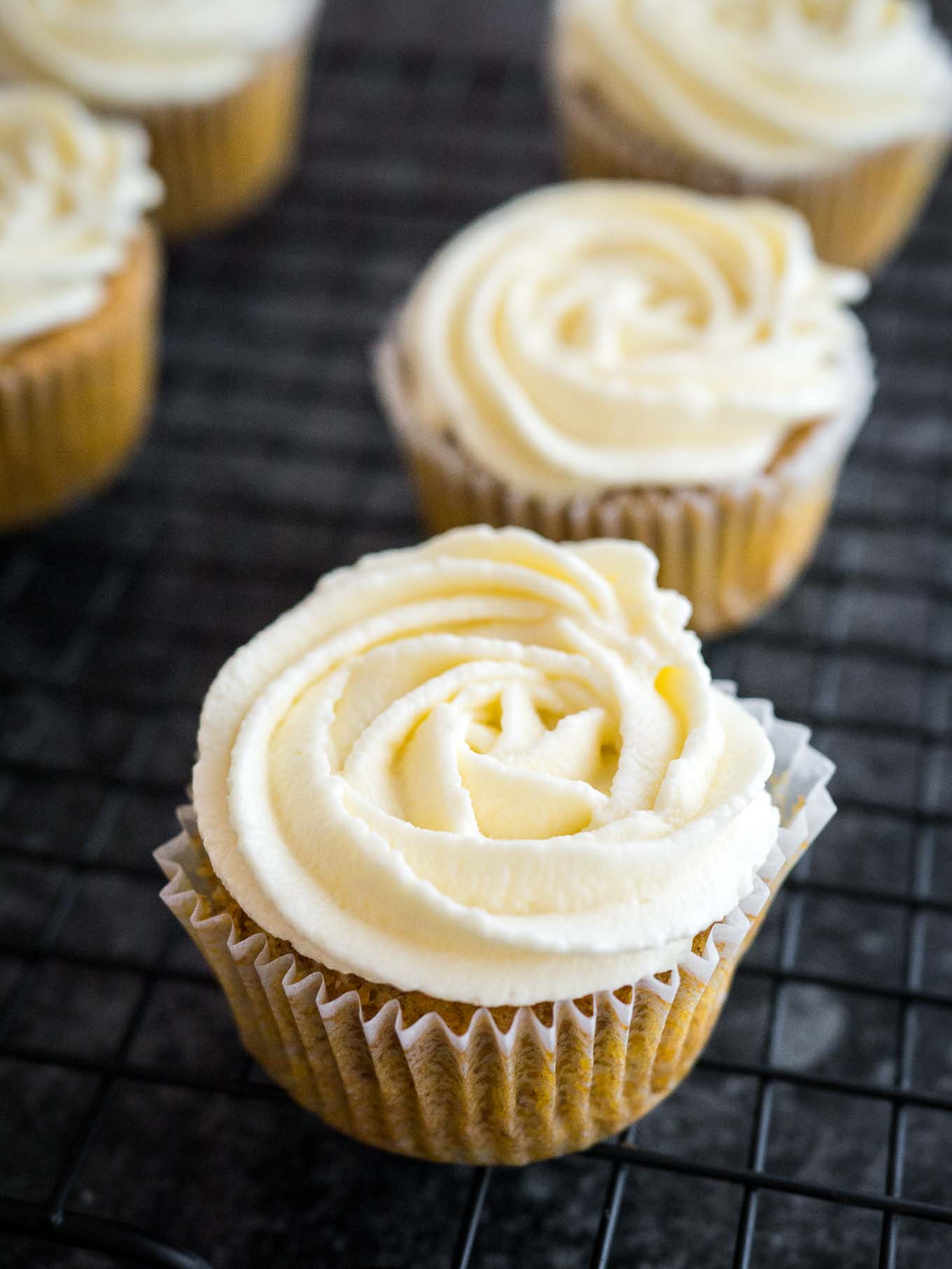 The first option to decorate the Carrot Cake Cupcakes: My go-to way to frost cupcakes – roses! These are much easier to pipe than you think and they look impressive. All you need is a 1M tip
. Start in the center, then slowly move your tip in a circle around the center point. So easy!

The second option: Making little Easter Nest Cupcakes! These are so easy to make, super cute and perfect for Easter. Pipe a little nest on top of the carrot cupcake, sprinkle with toasted coconut and top with little chocolate eggs
.

SOME MORE EASTER AND SPRING RECIPES YOU'LL ENJOY!
I have a lot of recipes to choose from if you want to take a look at my recipe index, but here are a few of my recent recipes.
These Brown Butter Maple Glazed Roasted Rainbow Carrots are the easiest and most delicious side dish ever! They make a perfect side dish for your Easter Sunday dinner! If you're looking for a cozy soup you have to try this Instant Pot Carrot Soup Recipe, great for lunch but also fancy enough for guests. Why not serve this soup as an appetizer?
And if you're more in the mood for something more indulgent, these Nutella Mousse Cookie Cups are so delicious. A chocolate cookie baked in a muffin tin and filled with Nutella mousse, these will be a hit at your next party!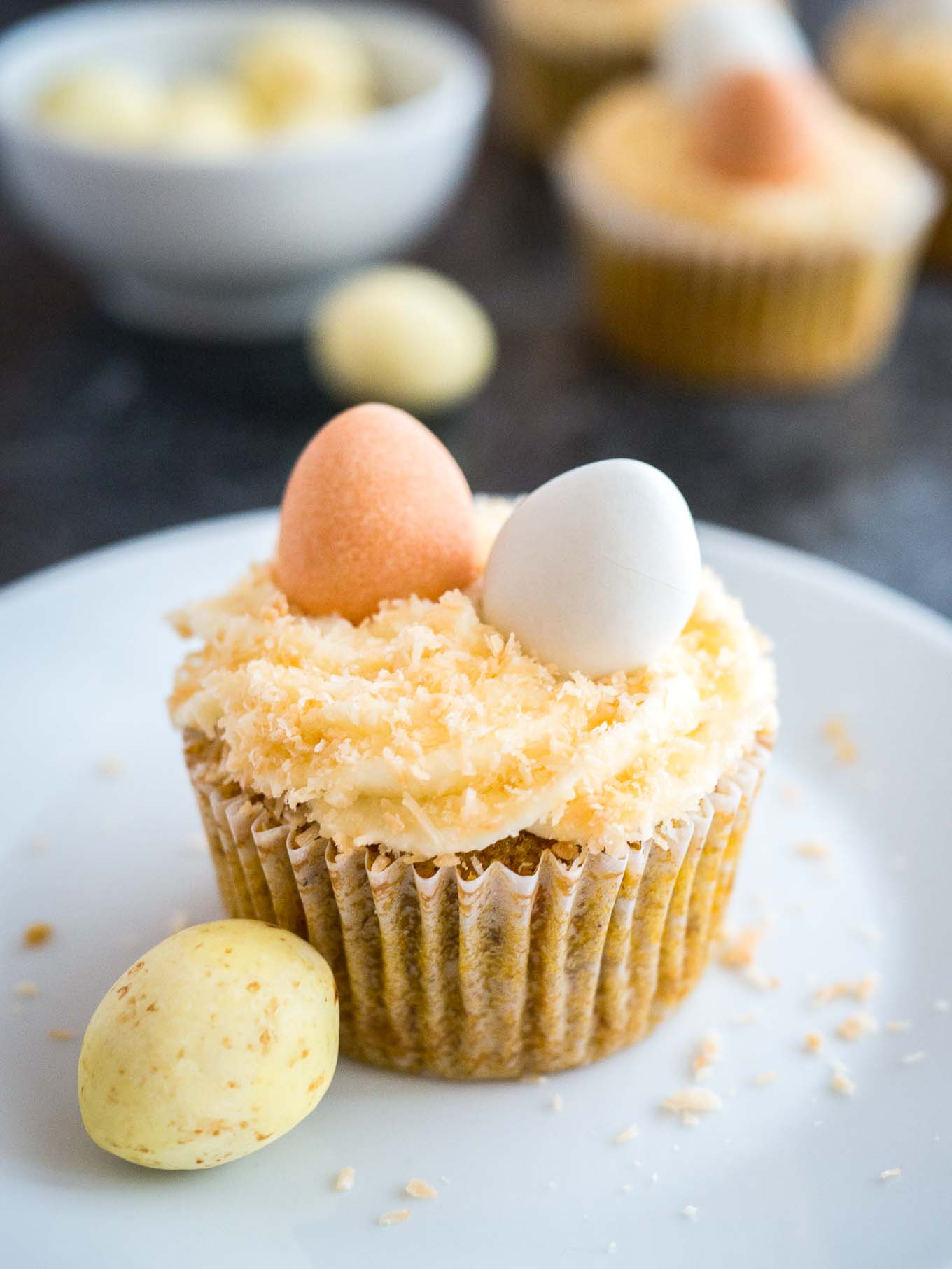 Which one is your favorite the Easter Nest Cupcake or the Rose Cupcake?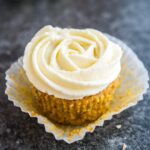 Best Carrot Cake Cupcakes (with Easter Upgrade!)
The best Carrot Cake Cupcakes with a not-too-sweet cream cheese frosting on top! These carrot cupcakes are perfectly moist, lightly spiced and so flavorful.
Ingredients
Cupcakes:
1/2

cup

softened unsalted butter

115g

1/2

cups

brown sugar

100g

1/4

cup

granulated sugar

50g

2

large eggs

1 1/2

cups

grated carrots

200g (about 3 large carrots)

1/4

cup

unsweetened apple sauce

70g

1

cup

ground almonds

120g

3/4

cups

all-purpose flour

105g

1

tsp

baking powder

1/2

tsp

cinnamon

1/4

tsp

salt
Cream Cheese Frosting:
For the frosting

1/4

cup

softened unsalted butter

60g

1

cup

confectioners' sugar

100g, sifted

1

tsp

vanilla extract

8

oz

cream cheese

225g
Easter Topping (optional):
1/2

cup

shredded coconut

30g

24-36

mini eggs
Instructions
Preheat oven to 350°F (180°C). Line a 12-count muffin pan (my favorite pan) with cupcake liners.

In the bowl of a stand mixer fitted with the paddle attachment, beat butter, brown sugar, and granulated sugar together until slightly pale and fluffy, about 3-4 minutes.

Add eggs, finely grated carrots, and unsweetened apple sauce. Mix until well combined.

In another bowl, combine the flour, ground almonds, baking powder, salt, and cinnamon.

Add the flour mixture to the wet ingredients and mix until just combined.

Divide the batter between the muffin cups, fill each about 3/4 full, and bake for about 20 minutes or until a skewer comes out clean. Cool in the muffin pan several minutes then transfer to a wire rack and cool completely.

If you want to decorate the cupcakes for Easter, spread the shredded coconut on a baking tray and put in the oven (350°F) for about 5 minutes to lightly toast. Cool completely.

To make the frosting, beat together softened butter and confectioners' sugar in the bowl of a stand mixer fitted with the paddle attachment at medium speed until light and fluffy, about 2-3 minutes.

Add vanilla extract and cream cheese and beat until blended. If the frosting is a little bit too soft, freeze for a few minutes.

Frost cupcakes with cream cheese frosting. If you want to decorate them for Easter then immediately sprinkle toasted coconut on top to roughly coat and Stick mini eggs into the middle of each cake.

Store frosted cupcakes covered in the refrigerator for up to 7 days and allow to come to room temperature before serving.
Recipe Notes
Use brick-style cream cheese for the frosting. Not cream cheese spread.