Raspberry Lemon Curd Cupcakes
Last updated on June 14th, 2017
Raspberry Lemon Curd Cupcakes – Flavorful and moist lemon curd cupcakes topped with a silky and smooth raspberry meringue buttercream! You are going to LOVE these beautiful lemon raspberry cupcakes.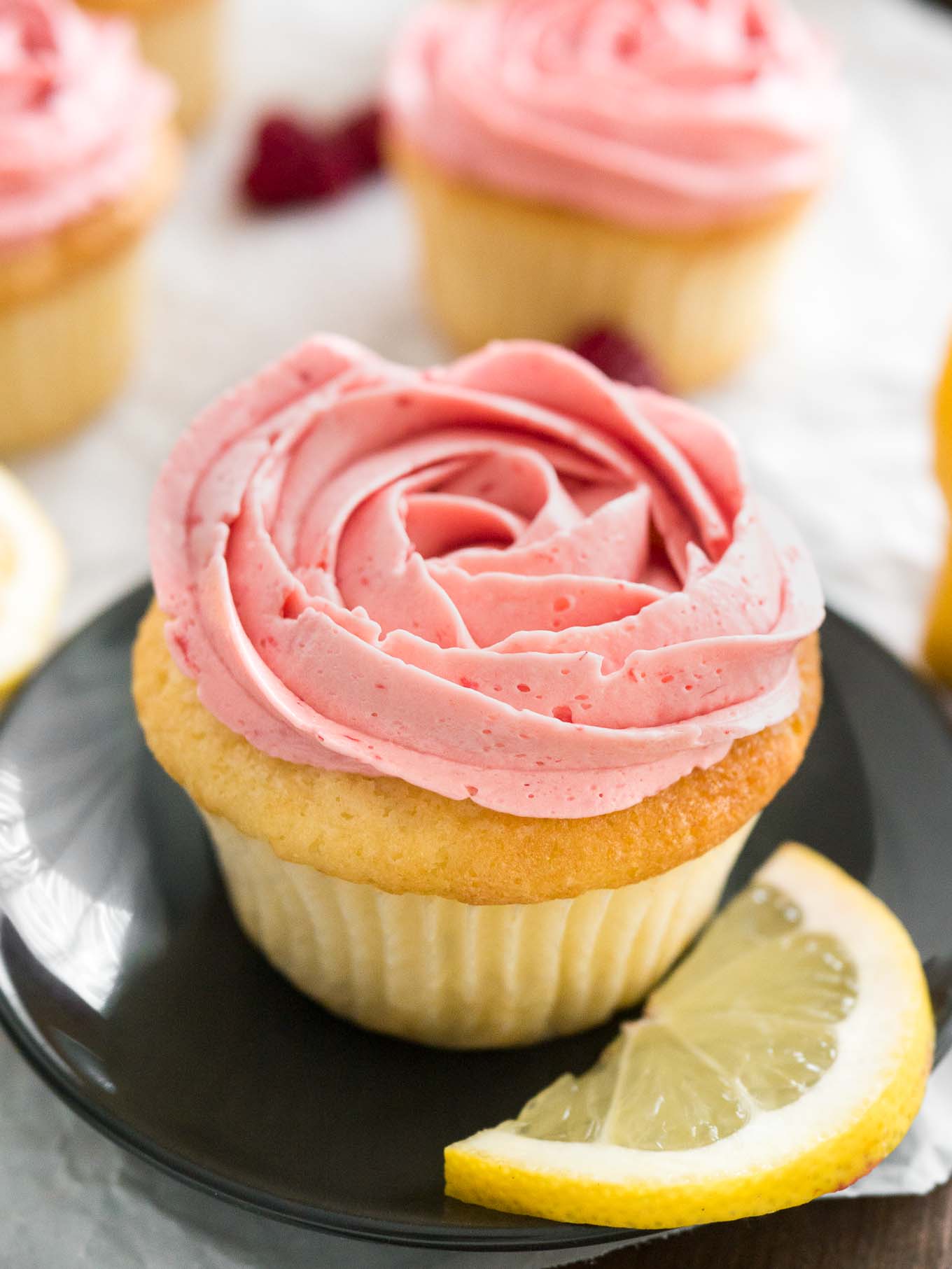 I love everything lemon flavored like my Easy Lemon Sheet Cake and I'm also a big fan of raspberries (these Raspberry Muffins with Streusel Topping are so delicious!) but together they're a match made in heaven. Everyone will LOVE this tasty and pretty flavor combination! I sent a batch of these to work with my husband and they were gone within minutes.
These Raspberry Lemon Curd Cupcakes are bursting with fresh, fruity flavors. A perfect cupcake for spring and summer!
The lemon cupcakes are moist and fluffy with a hidden lemony filling and the swiss meringue buttercream is made with fresh raspberry puree and has a smooth, elegant texture that is easily pipeable and not tooth-achingly sweet. Just perfect!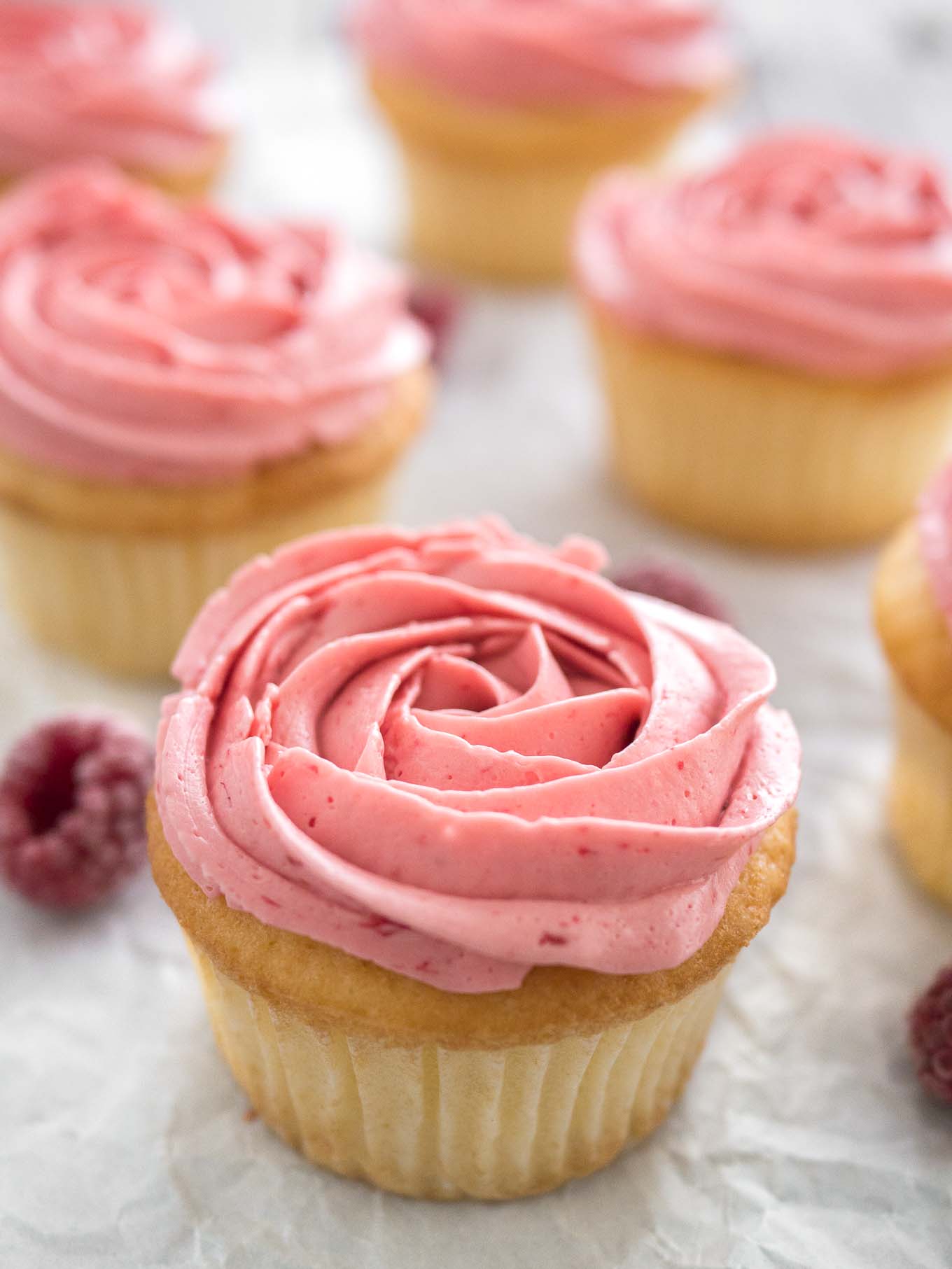 The slightly sour lemon cupcake has a lemon curd filling that infuses the cupcakes while they're baking and the not-overwhelmingly-sweet raspberry meringue buttercream is luscious and silky.
I have a big sweet tooth but some frostings are even too sweet for my taste and the sweetness often overpowers the flavor in my opinion. So swiss meringue buttercream is my go to frosting for cakes and cupcakes! Not too sweet, easily pipeable, and I love the silky texture.
Making it is relatively easy. The most important thing is to have a perfectly clean bowl and whisk. I had to learn this the hard way and let me just say having to start over three times because the egg whites wouldn't whip is no fun, especially when you're baking a cake for someone else. Having a separate bowl
and whisk
for whipping egg whites is a great way to save your sanity!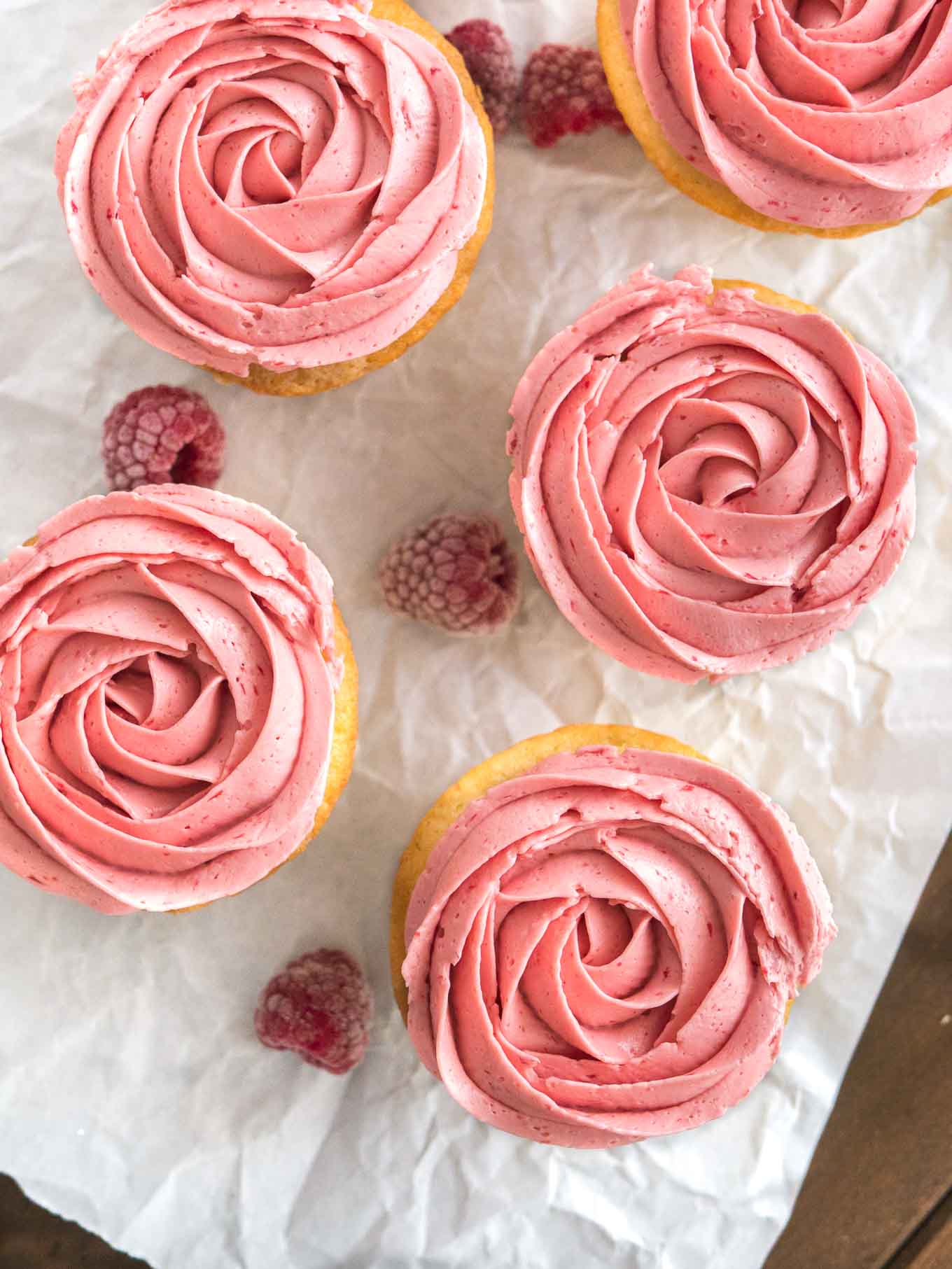 But if your bowl and your whisk are perfectly clean making swiss meringue is pretty easy! The only thing that can happen is that it curdles after you added all the butter but no worries just keep mixing at medium-high speed and it will get smooth again.
The silky raspberry meringue buttercream is a perfect topping for the moist lemon cupcakes. I like to cream the butter and the sugar because it gives the cupcakes a smooth and moist crumb. They are not as fluffy as a muffin but also not too dense. Just perfect in my opinion!
Instead of filling the cupcakes with lemon curd after they come out of the oven I fill mine before baking them. This way the curd infuses the cupcake but still stays creamy. And it's easier in my opinion because you don't need to cut out filling to make room! You need to try this easy lemon curd recipe, it's so simple and quick to make from scratch.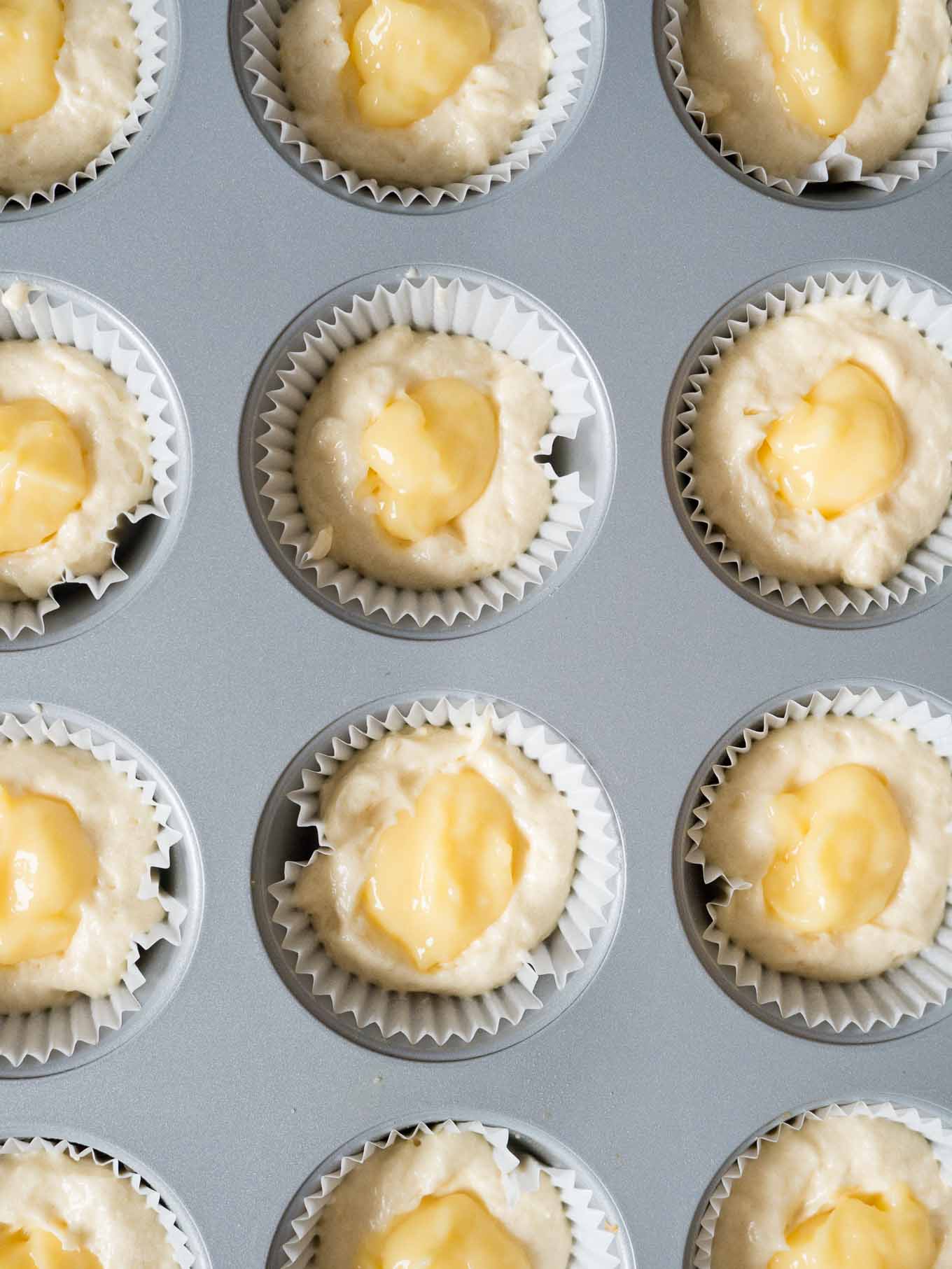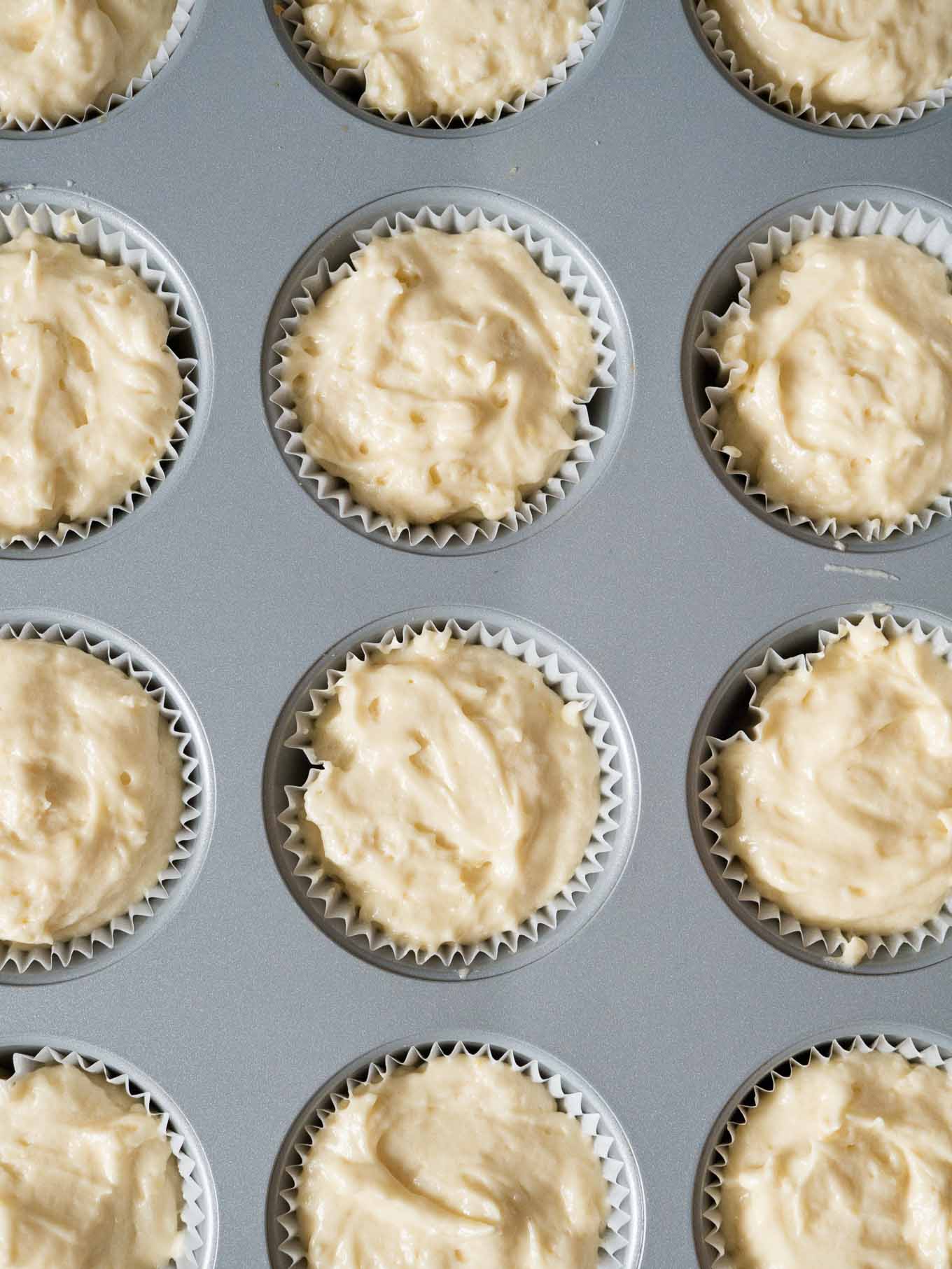 Fill the cupcake liners quarter- to halfway and make a little not-too-deep well in the center. Using a teaspoon, add a little bit of lemon curd in the well and cover it with more batter. Bake the cupcakes for about 20 minutes and let them cool completely before frosting.
I frosted roses (this
is the tip I use) on these delicious not-too-sweet-and-not-too-sour cupcakes because it's a beautiful AND easy way to take your cupcakes to a new level. Piping roses is a super simple way to impress everyone and make them believe you're a baking goddess! I tried to explain it in the recipe instructions but watching a youtube video is probably even easier. It really just takes 5 SECONDS to make those pretty flowers!
These raspberry lemon curd cupcakes are elegant enough for a Mother's Day Brunch or Valentine's Day yet easy enough to make for the weekend!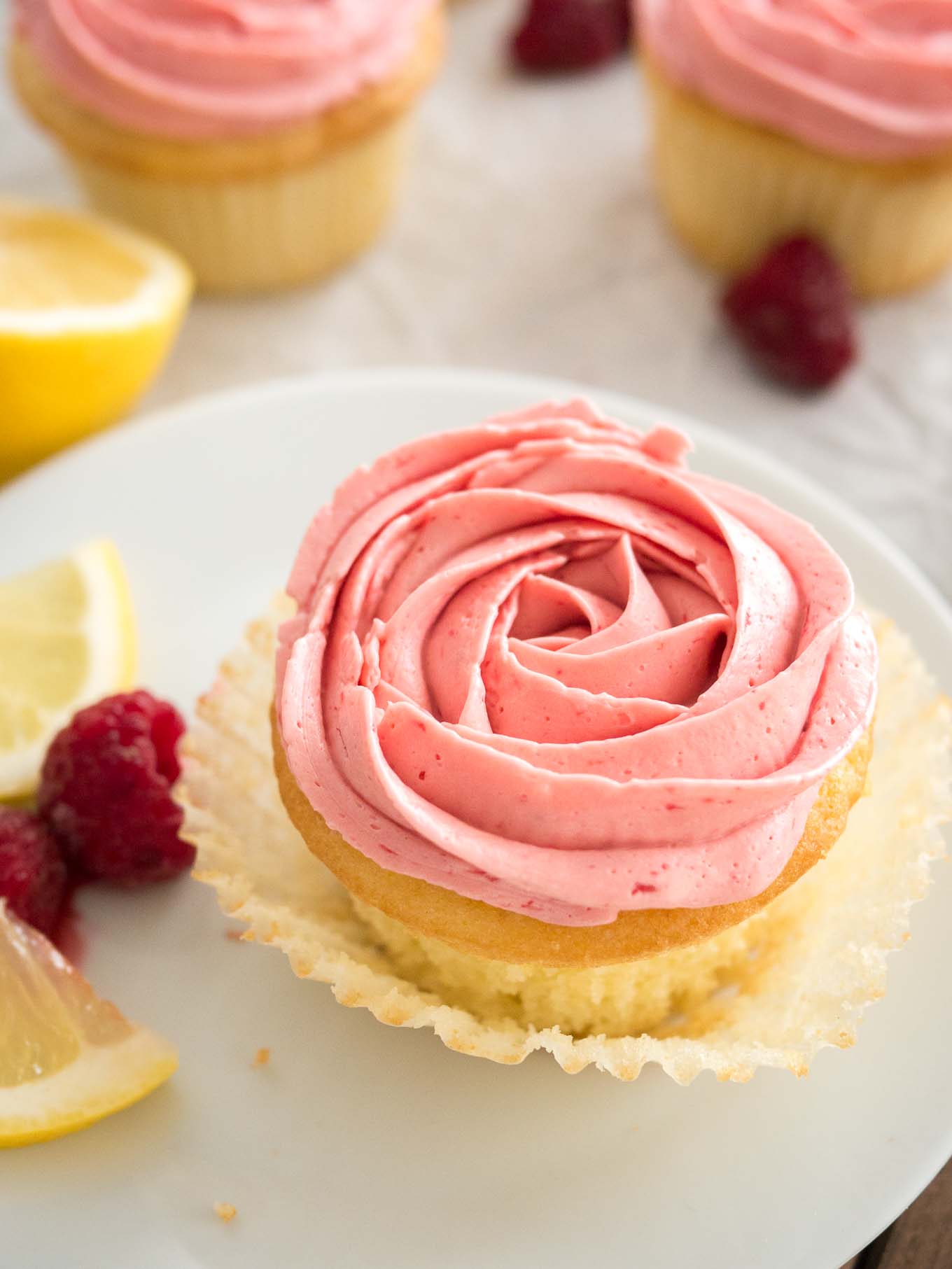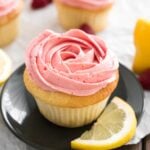 Raspberry Lemon Curd Cupcakes
Flavorful and moist lemon curd cupcakes topped with a silky and smooth raspberry meringue buttercream. You are going to LOVE these beautiful cupcakes!
Ingredients
For the lemon curd cupcakes:
1½

cups

all-purpose flour

180g

2 1/2

tsp

baking powder

1/2

tsp

salt

1

cup

granulated sugar

200g

1

stick

unsalted butter, room temperature

115g

2

tsp

freshly grated lemon zest

2

large eggs

½

cup

milk

120ml

1

tbsp

lemon juice

1/2

cup

lemon curd

130g
For the raspberry meringue frosting:
2

large egg whites

1/2

cup

and 2 tbsp sugar

125g

1 1/2

sticks

unsalted butter, room temperature

175g

1/2

tsp

vanilla extract

1 1/2

cups

frozen raspberries

200g
Instructions
Preheat the oven to 350°F (180°C). Prepare a 12-cup muffin pan with paper liners. Set aside.

In a small bowl combine flour, baking powder, and salt. Set aside.

In the bowl of a stand mixer fitted with the paddle attachment, beat the butter and sugar together on medium-high speed until light and fluffy, about 2-3 minutes.

Add lemon zest and eggs. Beat on medium-high speed until everything is combined, about 2 minutes.

Add the flour mixture to the wet ingredients in three additions, beating on low speed after each addition.

Beat in the milk and lemon juice on low speed until just combined. Do not overmix the batter!

Half-fill each liner with the batter and make a small well in the center. Fill the well with a teaspoonful of the lemon curd (my easy lemon curd recipe) and cover with more of the cupcake mixture so the liners are three-quarters full.

Bake for 18-20 minutes. A toothpick inserted in the middle will come out clean when done. Remove from the oven and allow to cool completely before frosting.

While waiting for the cupcakes to cool make the raspberry puree for the frosting. In a small saucepan bring frozen raspberries to a simmer over medium heat.

Stir the mixture occasionally, breaking up the berries, until the raspberries have become soft enough to mash and look like raspberry jam. Let simmer until the mixture can coat a spoon, then remove from heat.

Strain the mixture through a sieve, discard the seeds. Allow mixture to cool completely before using. This should make 1/4 cup raspberry puree without seeds.

In the heatproof bowl of a stand mixer set over a saucepan of simmering water, combine the sugar and egg whites. Cook, whisking constantly until the sugar has dissolved and the mixture is warm to the touch.

Attach the bowl to a stand mixer fitted with the whisk attachment. Beat the mixture on high speed until it holds stiff peaks and the mixture is fluffy and completely cooled, about 6 minutes.

Switch to the paddle attachment. Add several tablespoons butter at a time with the mixer running on medium-low speed. Beat well after each addition!

Beat in vanilla extract. Switch to the lowest speed to eliminate air bubbles, about 2 minutes.

Using a rubber spatula, stir in 1/4 cup of the cooled raspberry mixture until frosting is smooth.

Frost cooled cupcakes as desired. To make roses use a Wilton 1M tip. Start in the center, then slowly move your tip in a circle around the center point.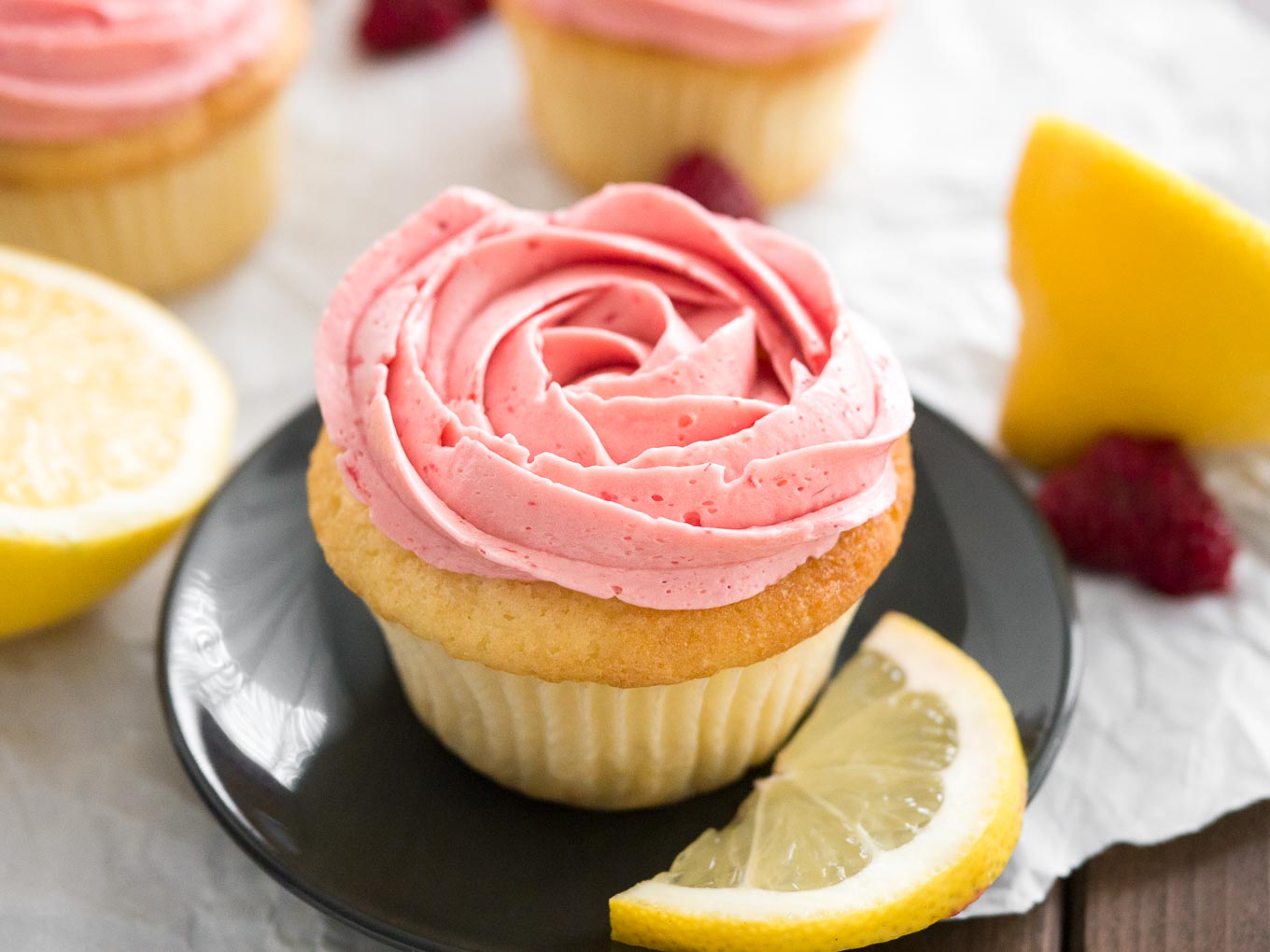 More fruity recipes:
Homemade Starbucks Raspberry Swirl Pound Cake