Raspberry Muffins with Streusel Topping
Raspberry Muffins with Streusel Topping are buttery, fruity, and have sweet crumbs on top! They make a great breakfast treat and keep moist and fresh for days.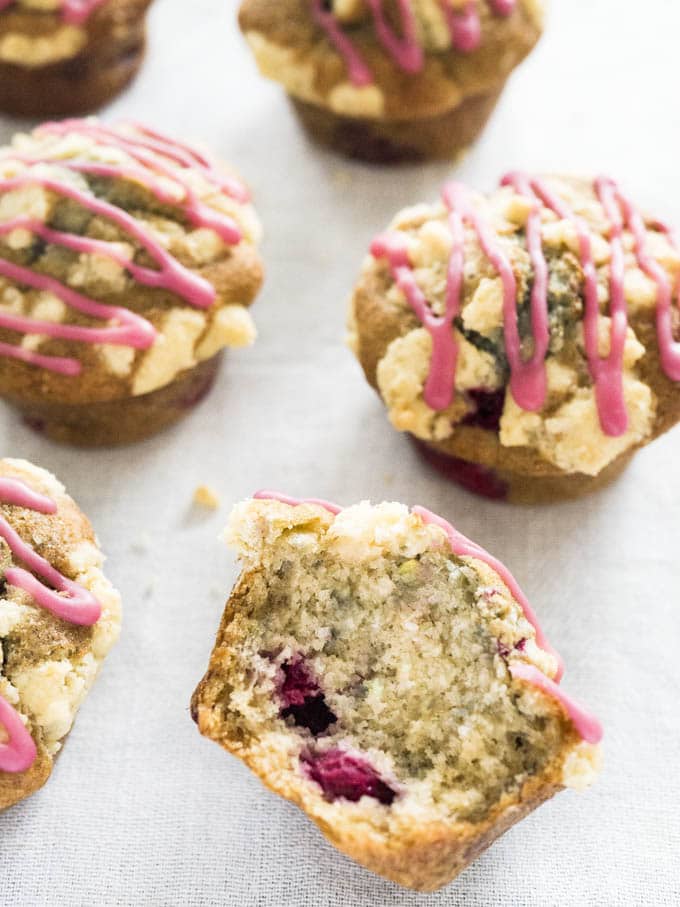 Raspberries are probably one of my favorite fruits on the planet! In fact, I would say I love all berries and the thing I look forward most about summer is that it's berry season and you can get the most delicious fresh raspberries, blueberries, and strawberries from the market. Last weeks I baked a beautiful Crostata with Peaches & Berries which was so tasty and filled with mixed berries.
Sadly the berry season is rather short here and finding good looking ones can get complicated (and expensive). Because of that, I made sure that this recipe works also perfectly with frozen raspberries. The batter can get a bit pinkish but that's not a bad thing in my opinion 🙂
What could be better than combining raspberries with a delicious streusel topping in a moist and buttery muffin? The secret behind moist and bakery-style muffins are so simple. You just have to follow a few simple rules to get perfect muffins.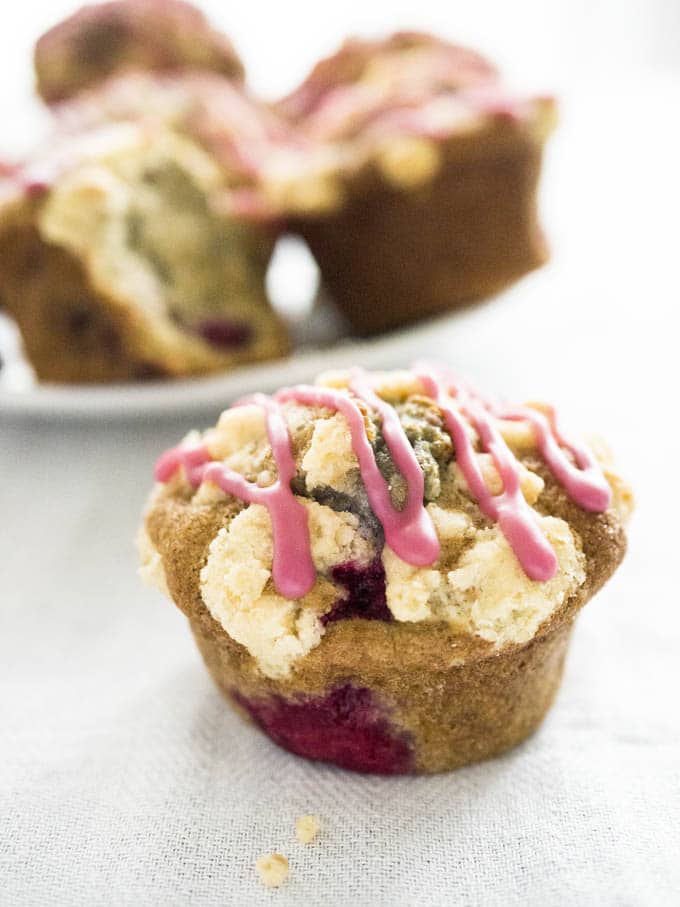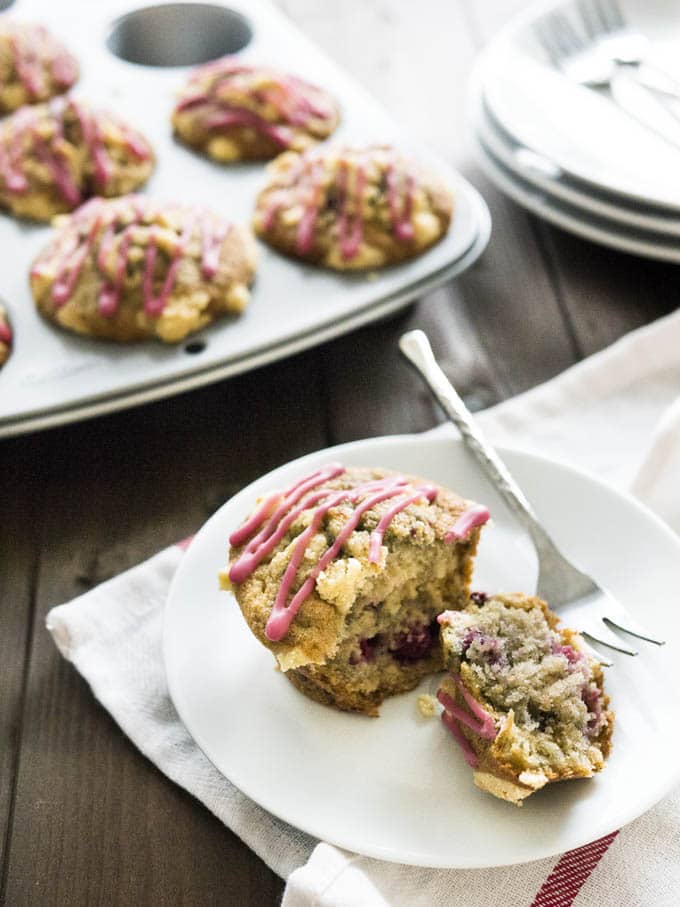 The first step is to not overmix the batter!
The batter is really easy to make and ready in minutes. Just combine the dry ingredients in a bowl and mix them as long as you like. Same procedure for the wet ingredients, you can mix them also as long as you like but when you add the dry ingredients to the wet ingredients only mix until they are combined.
If you overmix the combined ingredients your muffins will get heavy and hard. Not really what we're aiming for here!
To get bakery-style muffin tops you have to fill your muffin tins to the brim. The next thing is to bake your muffins at a high temperature for 5 minutes to get the tops rising and then reduce the temperature to a more normal one. By doing so you get beautiful muffin tops that are high!
The tops are my favorite part and I made them even better on these raspberry muffins by topping them with streusel! I used my go-to streusel recipe that I also used for the streusel on my German Apple Streusel Sheet Cake and on my Crostata with Peaches & Berries.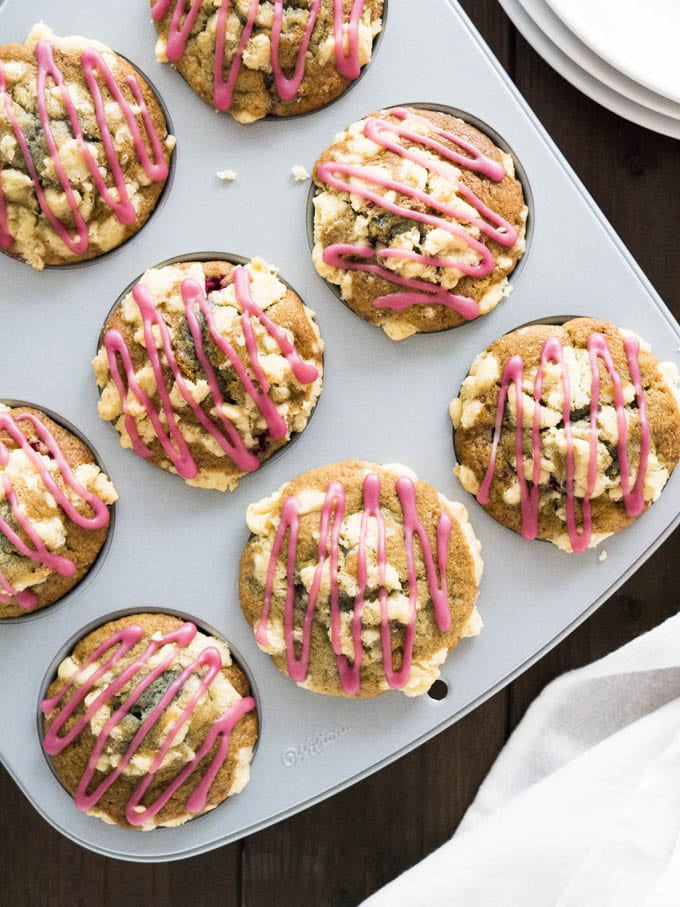 These are the best!
I'm not a fan of over crumbly streusel, I like mine a bit more "cookie" like and I love bigger streusel. My grandmother always made an apple yeast cake with buttery streusels on top and these will be always my favorite ones. I tried my best to make mine as good as hers and I think I did a pretty good job.
And because I love pink so much I made some simple pink glaze (confectioners' sugar and raspberry syrup) and drizzled it over my muffins.
Aren't they pretty in pink!
These Raspberry Muffins make a perfect easy breakfast treat. You can make them in advance and they will taste great even after a few days!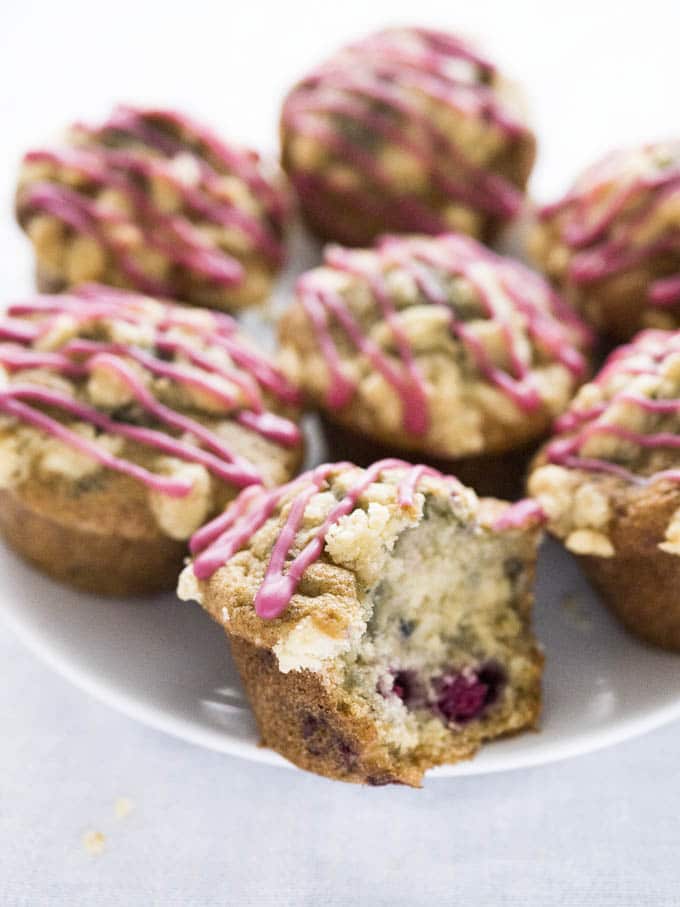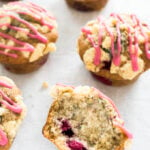 Raspberry Muffins with Streusel Topping
These Raspberry Muffins with Streusel Topping are buttery, fruity, and have sweet crumbs on top! They make a great breakfast treat and keep moist and fresh for days.
Ingredients
For the streusel:
1/3

cup

all-purpose flour

1/4

stick

unsalted butter

room temperature, 30g

4

tsp

brown sugar
For the muffins:
1/2

cup

granulated sugar

100g

1/2

cup

unsalted butter

room temperature, 115g

1/4

cup

brown sugar

50g

2

large eggs

3/4

cup

buttermilk

1

tsp

vanilla extract

1

tsp

lemon juice

1

tsp

lemon zest

1 3/4

cups

all-purpose flour

220g

1

tsp

baking soda

1

tsp

baking powder

1/2

tsp

salt

1 1/2

cup

raspberries

fresh or frozen, 200g
Instructions
Preheat your oven to 425F (220C) and line a 12-count muffin pan with muffin liners or grease with nonstick spray.

To make the streusel, toss together the all-purpose flour, butter, and brown sugar in a small bowl. Set aside.

In the bowl of a stand mixer or using a handheld mixer cream together the butter, brown sugar, and confectioners sugar for 2 minutes until smooth and creamy.

Add the eggs, buttermilk, vanilla extract, lemon juice, and lemon zest. Beat for one minute on medium speed until everything is combined and smooth. Scrape down the sides of the bowl as needed.

In another large bowl, combine the flour, baking powder, baking soda, and salt. Add the wet ingredients to the dry ingredients and combine them using a whisk. Whisk only until all the dry ingredients are wet and everything is combined. Don't overmix!

Fold in the raspberries with a rubber spatula.

Divide the batter between the 12 muffin tins and fill the tins all the way to the top. Top with streusel.

Bake for 5 minutes at 425F (220C) then lower the temperature to 350F (180C) and bake for 18 to 20 more minutes. The muffins are done when a skewer comes out clean.
Recipe Notes
If you're using frozen raspberries don't thaw them. Just use them directly out of the freezer.