Marzipan is a baking ingredient that is often used in Holiday treats but is also popular year round for decorating cakes and making candy. This easy step by step recipe shows how easy it is to make it at home with only a few ingredients!
We love to make homemade sweets and cookies and always have a plate of cookies on the counter. Right now we're enjoying our Meringue Cookies, Cornflake Cookies, and Almond Macaroon Butter Cookies.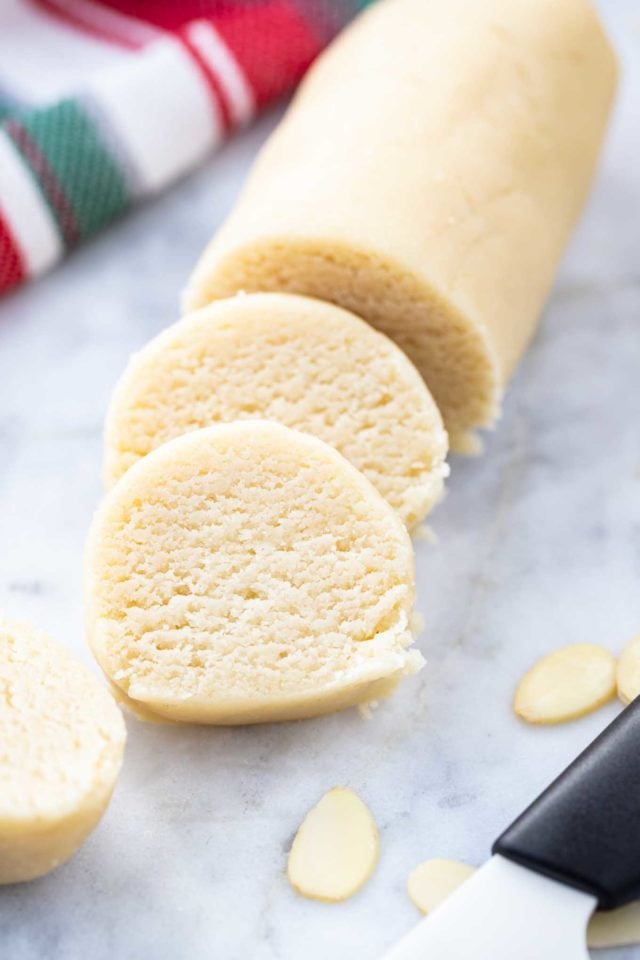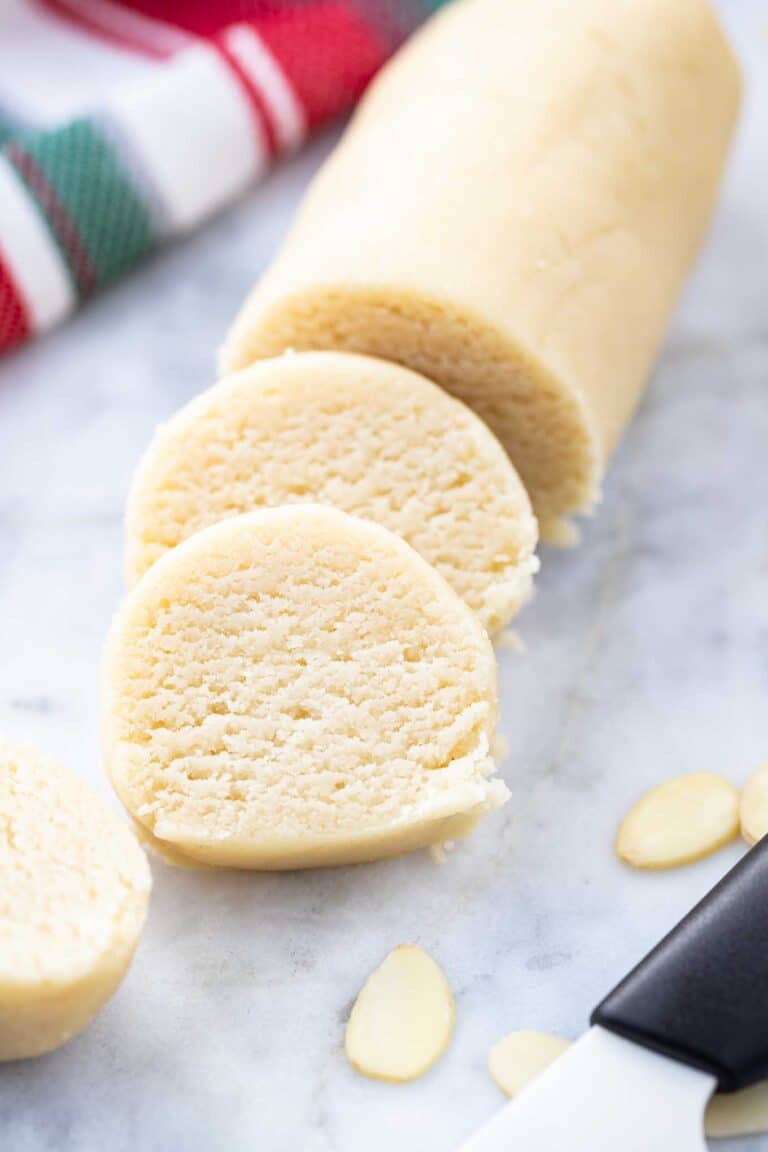 This homemade Marzipan Recipe shows how easy it is to make this famous ingredient from scratch! Marzipan is one of my favorite sweets, it tastes sweet, but not overly sweet, has a distinctive almond aroma similar to Amaretto and the texture is a bit like cookie dough. In Germany, you can buy sweets made from this almond-based confectionary in every grocery store, sometimes shaped into Marzipan Fruits (not my favorite) or little chocolate-covered sweets (my favorite) but there are also many baked goods made with Marzipan which you can get at every good bakery.
What is Marzipan
Marzipan is a soft, dough-like mixture that is often used as an ingredient in baking for example in cookies or to cover cakes but can also be made into sweets. To make candy, it is often dyed with food colors and then shaped into little figurines or covered with chocolate. It is not clear where it originated, some say Persia, but others claim it came from Europe. One of the most famous producers is Niederegger Marzipan in Germany which was founded 1806 in Lübeck and still operates today.
The main ingredients are almonds and sugar. The higher the proportion of almonds the higher the quality. It often gets flavored with extracts like rose water or almond extract for a stronger almond flavor. High-quality German marzipan is made without any added egg whites or corn syrup.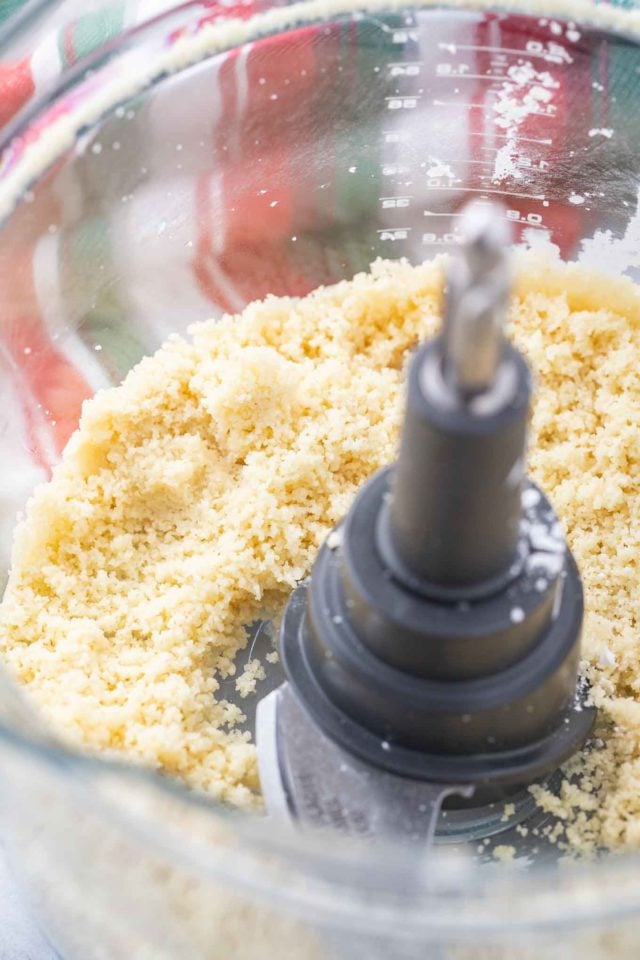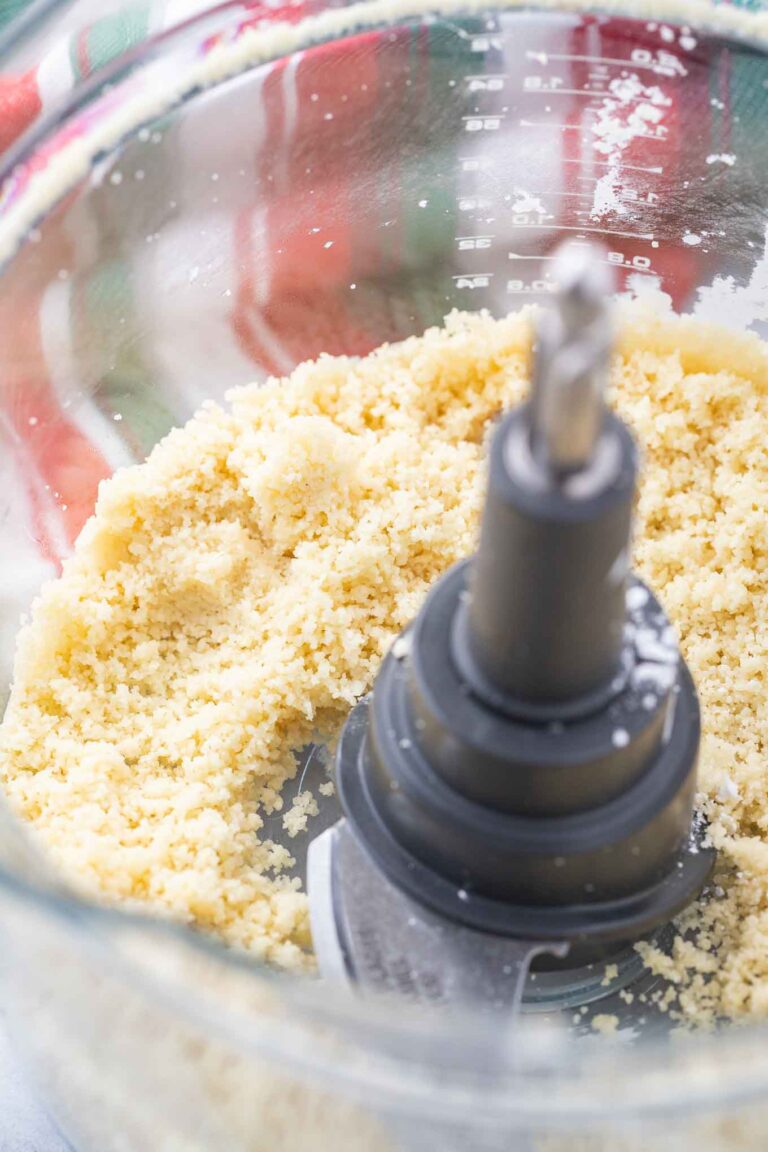 How to make Marzipan
Making Marzipan starts with blanching almonds, processing them until they are finely ground and then adding the remaining ingredients. Pulse until everything is combined and then turn the mixture out onto the counter and use your hands to form it into a log.
How to store Marzipan
Marzipan has to be stored in an airtight container to prevent it from hardening and dehydrating. To prevent rancidity of the almond oil it should be protected from direct light and stored in a cold and dark place.
Almond paste vs Marzipan
Almond paste and marzipan are NOT the same. Both are made from almonds but almond paste is often coarser and doesn't have any or only a little bit of sugar added. It is often used in cake fillings. Marzipan is combined with sugar and smoother and is often made into candy because of its sweetness.
Marzipan vs Fondant
Marzipan and Fondant can both be used to cover cakes and both can be dyed in any color and rolled out thinly. The finish is a bit different, fondant provides a smooth flat finish and marzipan is more speckled and not as smooth. Fondant is the better choice if the cake is served to people with a nut allergy but some people don't like the taste of fondant because it is quite sweet and candy-like.

Tips and Tricks for Making Marzipan
I recommend using blanched sliced almonds because they already come peeled and retain more moisture than ground almonds
A food processor works better for this recipe than a blender because it is easier to get the mixture out
The mixture will be crumbly after combining it in the food processor, using your hands to knead it together and form it into a log works best
Don't add too much liquid or the mixture will be sticky. Start with adding only a tsp of water at a time
Depending on the humidity in your kitchen and the weather you might need to add less or more water to get the desired consistency
You can use different extracts to flavor the marzipan. I recommend starting with almond extract
Only use rosewater sparingly, it tastes quite strong if you're not used to it. You can also leave it out if you don't like the taste or don't have it on hand
What to do with Marzipan
Marzipan Potatoes (Marzipankartoffeln): Roll tablespoons of marzipan into little balls and coat them with unsweetened cocoa powder
Marzipan Fruits: How to Video
Marzipan Cake: Simple Marzipan Cake, German Stollen Recipe
Marzipan Chocolate: Shape into loaves or balls and dip into melted chocolate
Marzipan Cookies: Bethmaennchen (coming soon), Almond Horns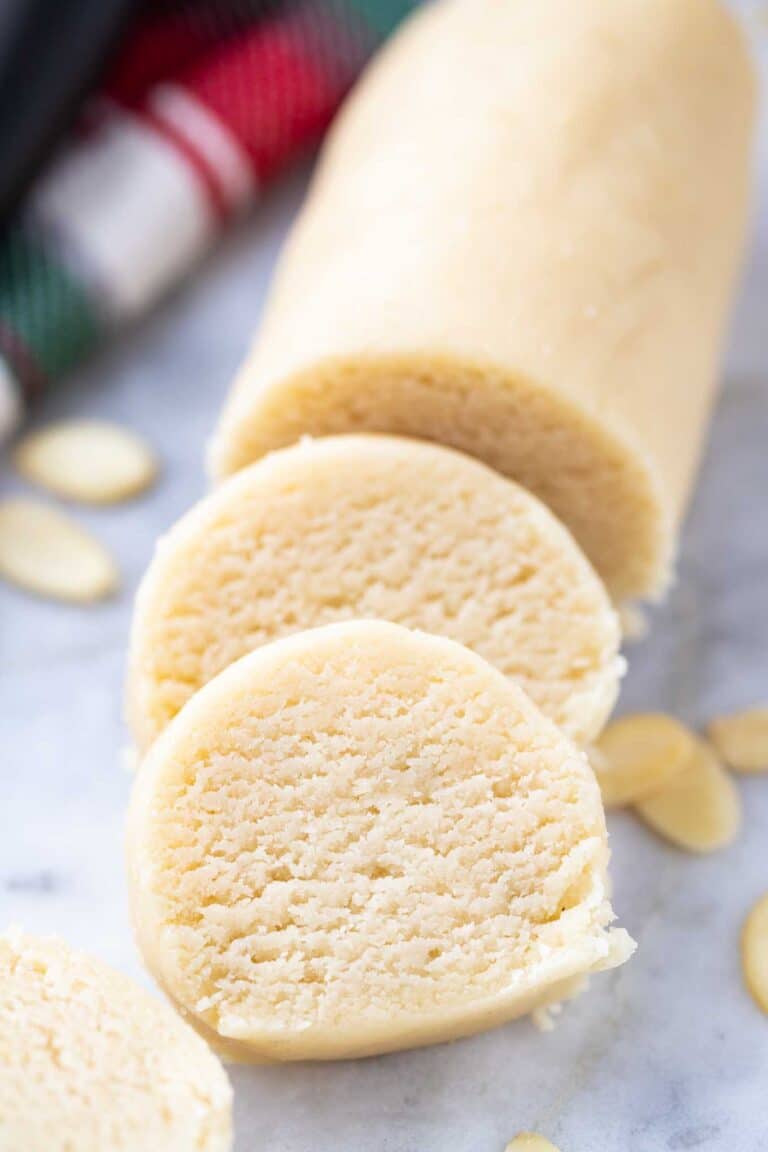 Tools used for Making this Recipe
Food Processor: I love my Food Processor! It has an adjustable Slicing Disc which is so helpful and it is really sturdy. I would 100% recommend it!!
Rosewater: Rosewater is often used for flavoring Marzipan.
Almond Extract: I like to add a little bit of almond extract for a deeper almond flavor.
---
Want to try this Recipe?
PIN IT TO YOUR DESSERT BOARD TO SAVE IT OR SHARE ON FACEBOOK!
Follow Plated Cravings on Pinterest for more great recipes!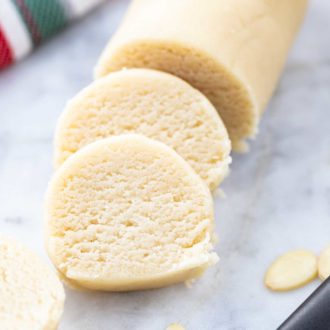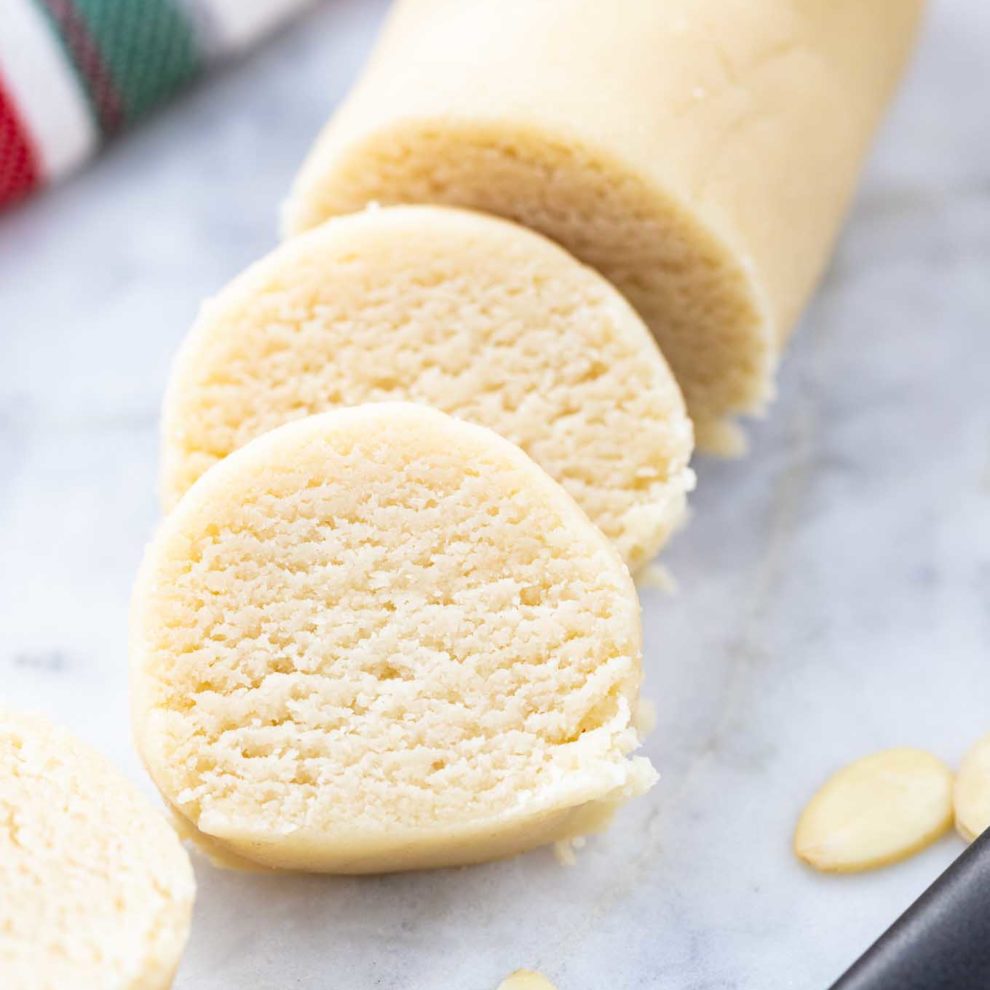 Marzipan
Marzipan is so easy to make from scratch and so much cheaper than store-bought! It comes together quickly and can be used in cookies, cakes, and sweets.
Ingredients
2

cups

sliced almonds

,

200g

1 1/2

cups

powdered sugar

,

150g

1

tsp

almond extract

3

tsp

water

1

tsp

rose water

,

or 1 tsp more water
Instructions
Put almonds in a food processor and mix until finely ground.

Add powdered sugar and almond extract. Mix until combined.

Then add water, one teaspoon at a time, until the mixture comes together and forms a crumbly dough. Add rose water if desired and mix until incorporated.

Turn marzipan out onto a surface, sprinkled with a bit of powdered sugar, and use your hands to press crumbs into a log. Add water by the teaspoon if the mixture is too dry.

Wrap in plastic wrap and store in a dark and cool place until needed.
Nutrition Information
Calories:
1986
kcal
|
Carbohydrates:
220
g
|
Protein:
46
g
|
Fat:
113
g
|
Saturated Fat:
8
g
|
Sodium:
45
mg
|
Potassium:
1423
mg
|
Fiber:
21
g
|
Sugar:
186
g
|
Calcium:
510
mg
|
Iron:
7.1
mg
NEVER MISS A RECIPE!
If you've tried this or any other of my recipes, don't forget to rate the recipe and to leave me a comment. I love hearing from you!