Germany is famous for its Christmas cookies! These popular, traditional cookie recipes have been handed down in our family for generations.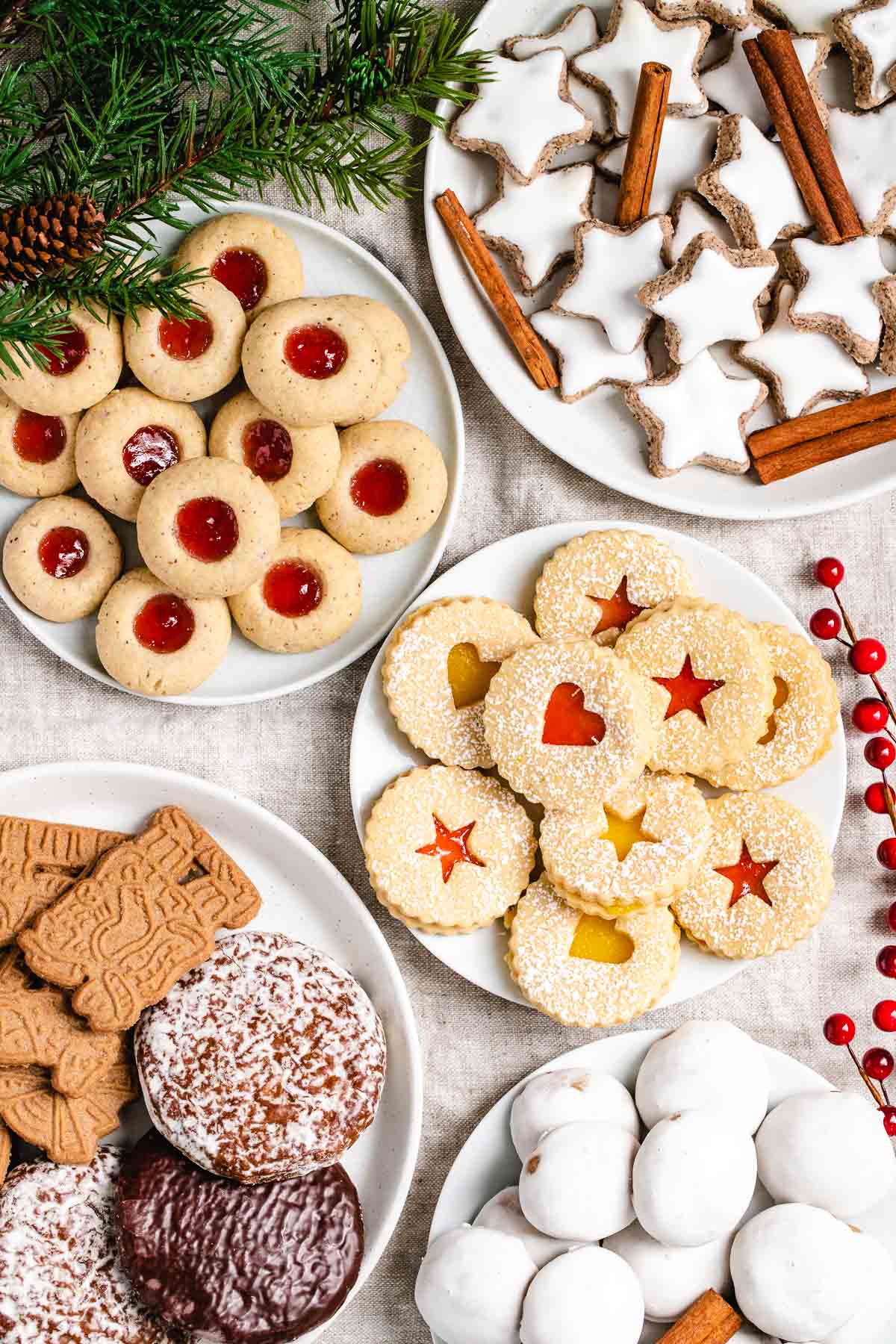 Growing up baking Christmas cookies with my Oma was always my favorite holiday tradition. I would sneak away some of the sweet cookie dough to share with my Opa from who I inherited my sweet tooth.
My Grandmothers always made so many different cookies from scratch, from Vanillekipferl to Pfeffernuesse, to share with family and friends. You can always find a plate with cookies on the table during the Holiday season!
German Christmas cookies are special because many of the recipes are very old and have been passed down for generations. I make the same recipes with my little son that my Oma got from her family. These cookies are delicate and made with nuts, vanilla sugar, candied peel, jam, and flavorful spices like German Gingerbread spice.
Let me share our favorite traditional Christmas cookies with you that will make your Holiday season even more special and taste delicious with a cup of Glühwein (German Mulled Wine) or Kinderpunsch!
Elisenlebkuchen (German Gingerbread) are one of the most famous German Christmas cookies with their moist and soft interior and make a great edible gift during the Holiday season! They are made with nuts, candied peel, and homemade gingerbread spice flavored with nutmeg, cloves, cinnamon, and allspice.
These cinnamon-spiced star cookies are a delicious cross between a macaroon and a meringue. With their nutty flavor and chewy texture, Zimtsterne cookies make a tasty addition to every advent cookie platter!
Even though this is called a cake it is usually found on a cookie platter cut into little squares. In northern Bavaria, this type of cake is called "Ulmer" and is similar to a fluffy Gingerbread cake.
These little jam-filled sandwich cookies are always are hit and have been a favorite of mine since I was a child! These cookies are a Christmas favorite in our house, but they also make a cute Valentine's Day treat, and let's be honest I love to eat them all year round.
Marzipan is a baking ingredient that is often used in Holiday treats but is also popular year-round for decorating cakes and making candy. This easy step-by-step recipe shows how easy it is to make it at home with only a few ingredients!
This classic Christmas treat – known as Marzipankartoffeln in Germany (Kartoffel translates to potato) – is so easy to make at home with just three simple ingredients! German marzipan candy tastes like almonds and is sweet and soft – similar to cookie dough.
Here are a few more traditional German cookies:
Bethmaenchen: Little marzipan cookies studded with three crunchy almonds
Heinerle: A Franconian specialty made from chocolate, coconut oil, and thin wafers
Spekulatius: Usually one of the few cookies that most Germans buy,
Mandelhoernchen: Marzipan cookies in croissant shape decorated with almonds and chocolate
Dominosteine: Chocolate-covered treats made with multiple layers of filling
Springerle: Anise-flavored cookies made in special molds
Spritzgebaeck: Spritz cookies are often made with ground nuts and dipped in chocolate
Schneeflocken: Melt-in-your-mouth cookies similar to Mexican wedding cookies
Fruchthäufchen: Little cookies made with dried fruit, candied orange peel (Orangeat), and almonds
German Spritz Cookies (Spritzgebäck): These popular cookies are traditionally made by pushing the dough through a meat grinder
German Butter Cookies (Butterplätzchen): This is the German version of sugar cookies and is usually used for making cut-out cookies
Cookie FAQ
More German recipes
If you're looking for more traditional German recipes check out my German Recipes category!
Never Miss A Recipe! Subscribe to my newsletter and follow along on Facebook, Instagram, and Pinterest for more great recipes and all of the latest updates.