Germany is famous for its Christmas cookies! These popular, traditional cookie recipes have been handed down in our family for generations.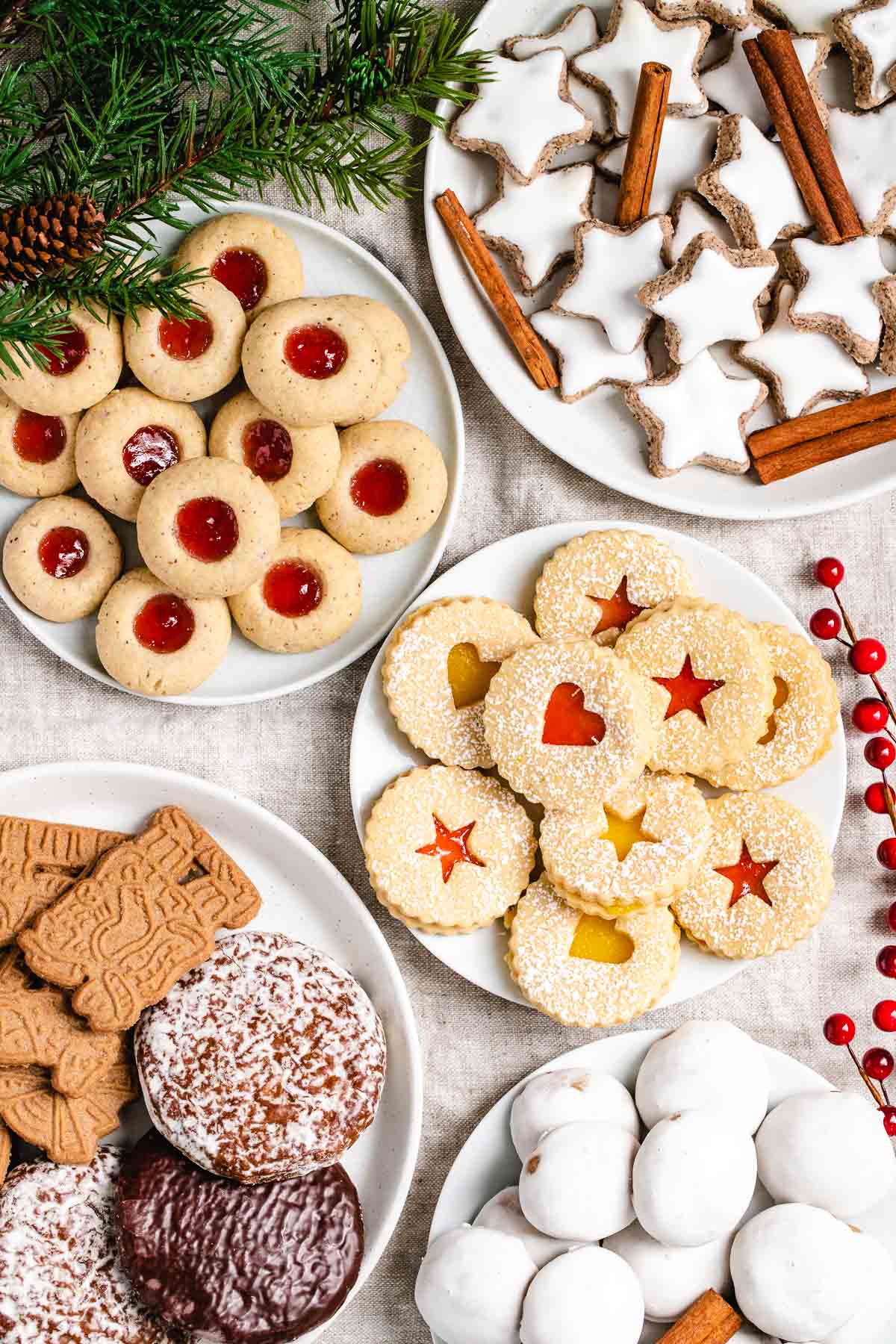 Growing up baking Christmas cookies with my Oma was always my favorite holiday tradition. I would sneak away some of the sweet cookie dough to share with my Opa from who I inherited my sweet tooth.
My Grandmothers always made so many different cookies from scratch, from Vanillekipferl to Pfeffernuesse, to share with family and friends. You can always find a plate with cookies on the table during the Holiday season!
German Christmas cookies are special because many of the recipes are very old and have been passed down over generations. I make the same recipes with my little son that my Oma got from her family. These cookies are delicate and made with nuts, candied peel, jam, and flavorful spices.
Let me share our favorite traditional Christmas cookies with you that will make your Holiday season even more special! And if you're looking for more traditional German recipes check out my German Recipes category.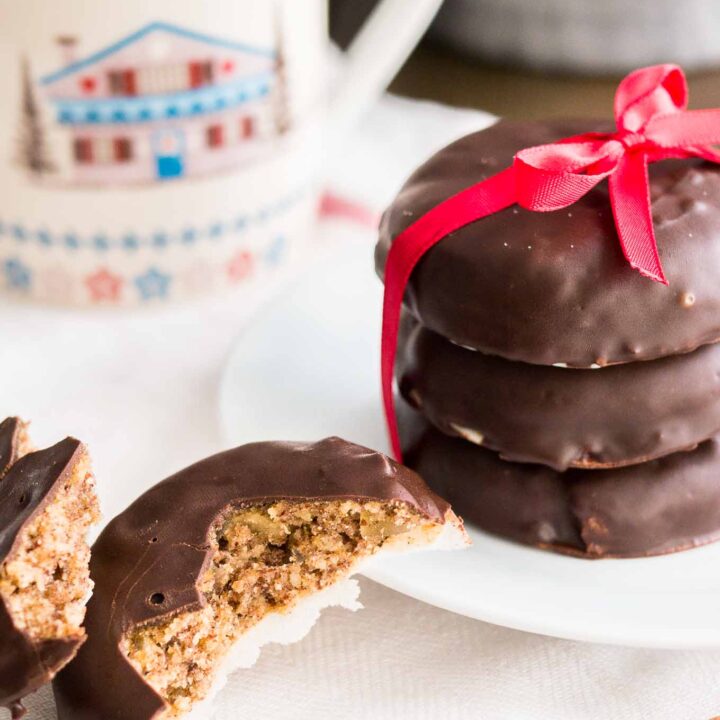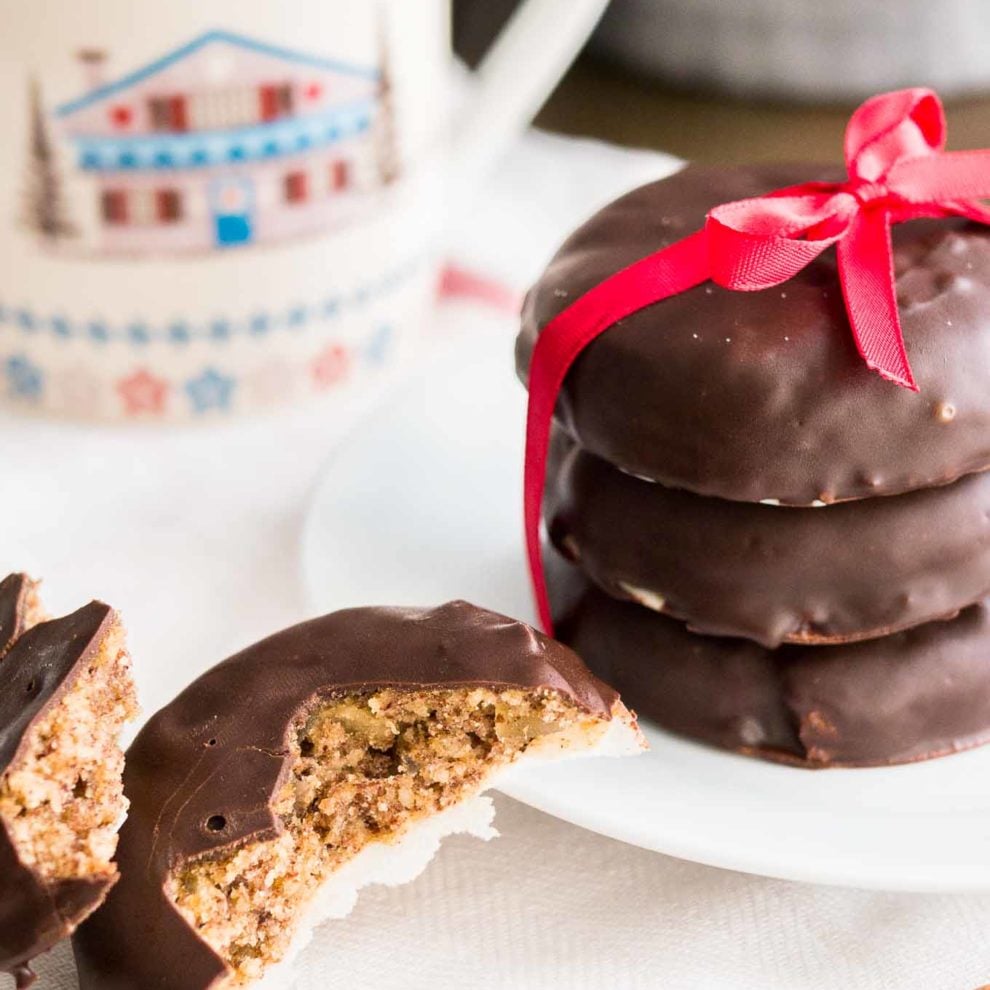 German Lebkuchen Recipe
This traditional Lebkuchen recipe is easy to make from scratch and loaded with nuts, candied fruit, and flavorful spices.

Recipe here
---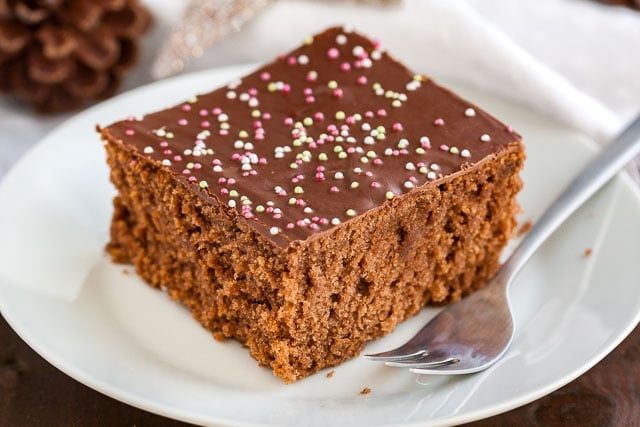 Easy Spice Cake Recipe (German Gewürzkuchen)
This easy Spice Cake Recipe is an old family recipe and makes your house smell amazing! A moist and chocolatey spiced sheet cake made with holiday spices that is easy to make from scratch and tastes even better on the next day.
Recipe here
---
Even though this is called a cake it is usually found on a cookie platter cut into little squares. In northern Bavaria, this type of cake is called "Ulmer" and is similar to a fluffy Gingerbread cake.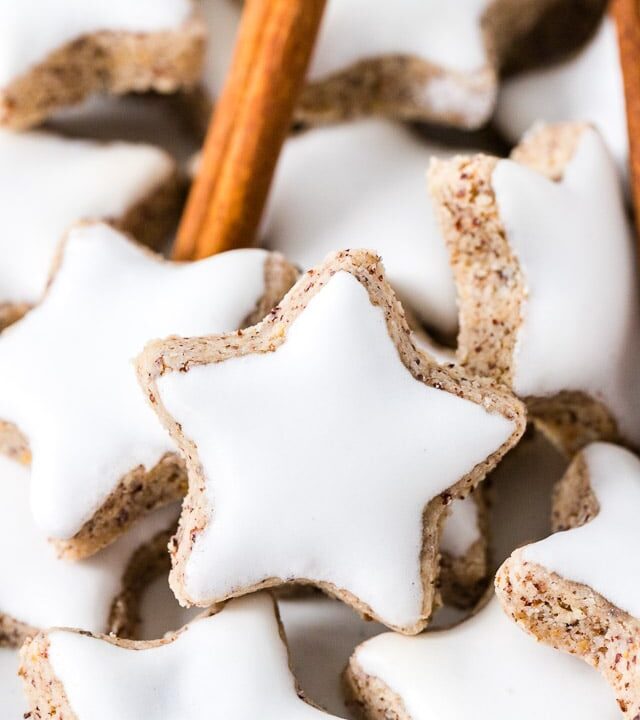 Zimtsterne (Cinnamon Star Cookies)
Zimtsterne (Cinnamon Stars) are classic German Christmas cookies made from ground nuts that are chewy and naturally gluten-free!
Recipe here
---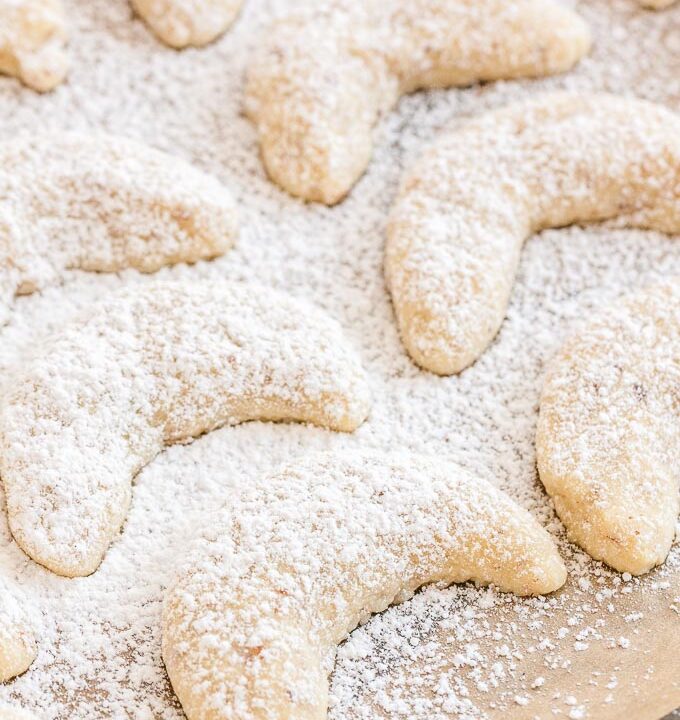 Vanillekipferl (German Vanilla Crescent Cookies)
Vanillekipferl (German Vanilla Crescent Cookies) are traditional German Christmas Cookies made with ground nuts and dusted with vanilla sugar! (Please read the post and watch the video below before making this recipe, these cookies are delicate and are a bit difficult to make but worth the effort! If you have a scale I recommend using the metric measurements (button to switch next to ingredients header)!)
Recipe here
---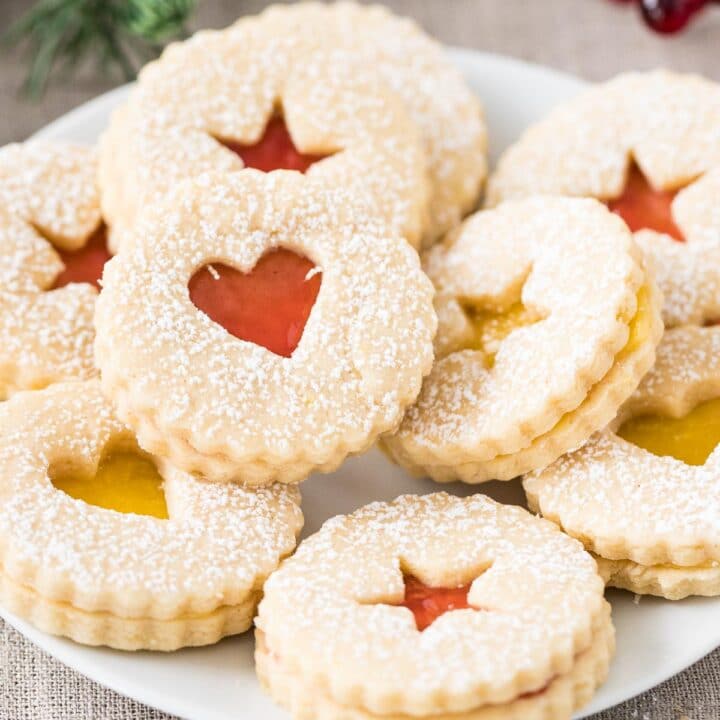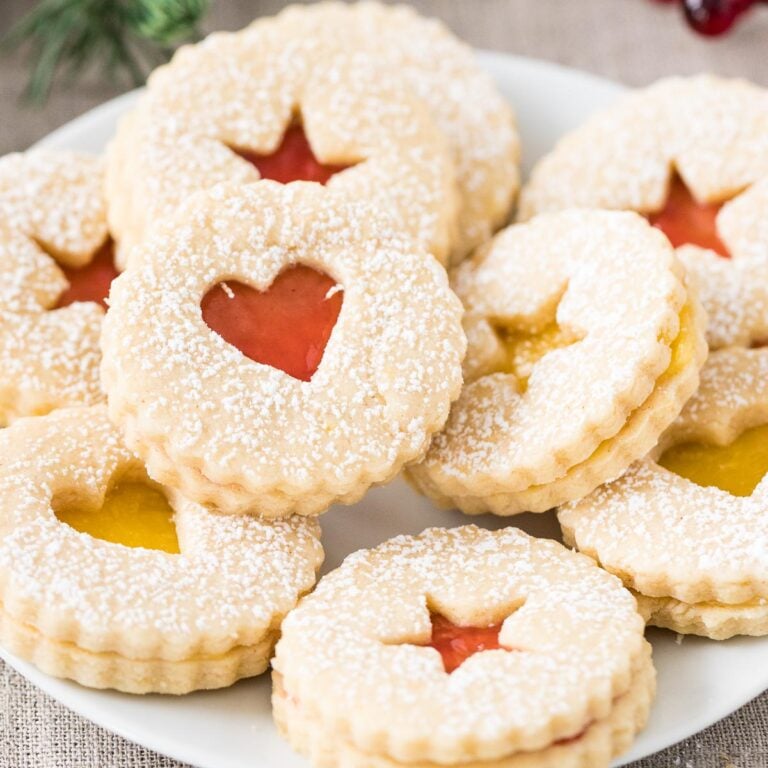 Linzer Cookies
Linzer Cookies are traditional Austrian Cookies that are so tender and buttery! An easy recipe for jam-filled almond shortbread cookies with lots of tips.
Recipe here
---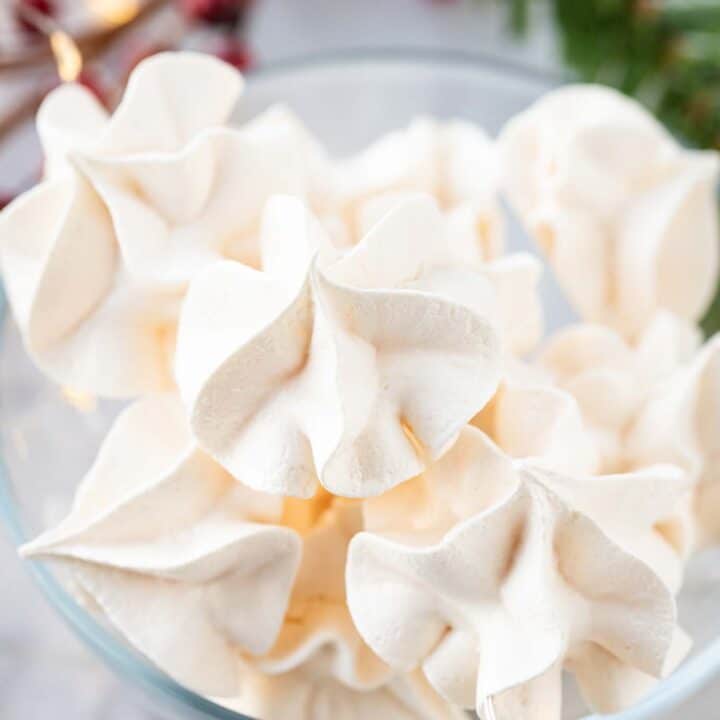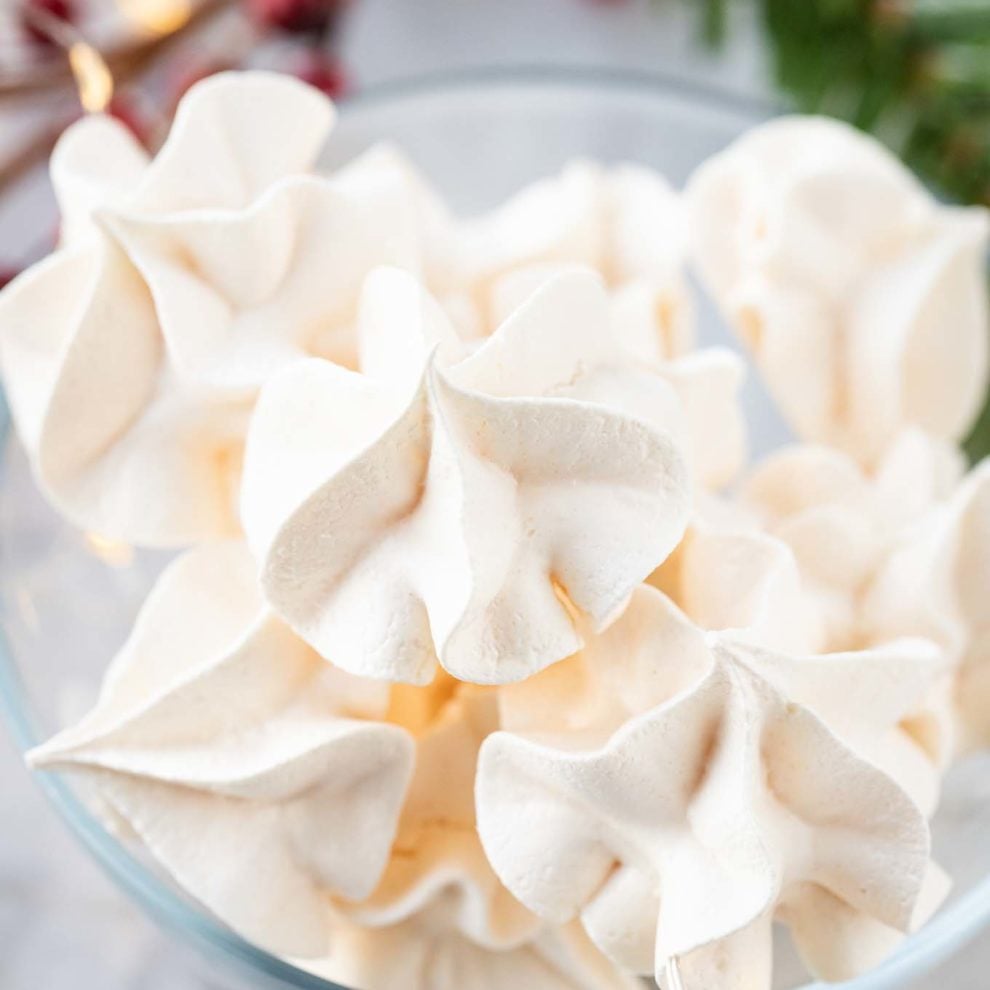 Meringue Cookies
Meringue Cookies are crispy and light cookies made with only 4 ingredients that are perfect for using up leftover egg whites!
Recipe here
---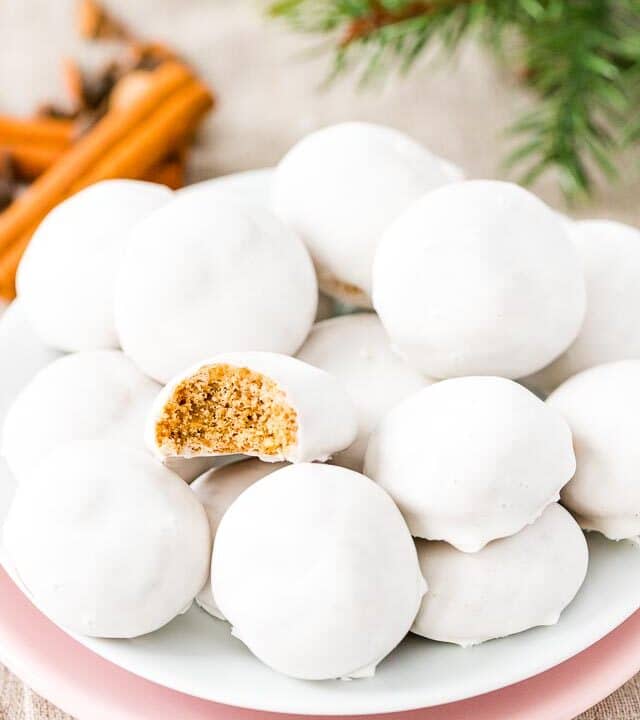 Pfeffernusse
How to make authentic Pfeffernusse! These traditional German iced gingerbread cookies are made with white pepper, cinnamon, and are a classic Holiday treat.
Recipe here
---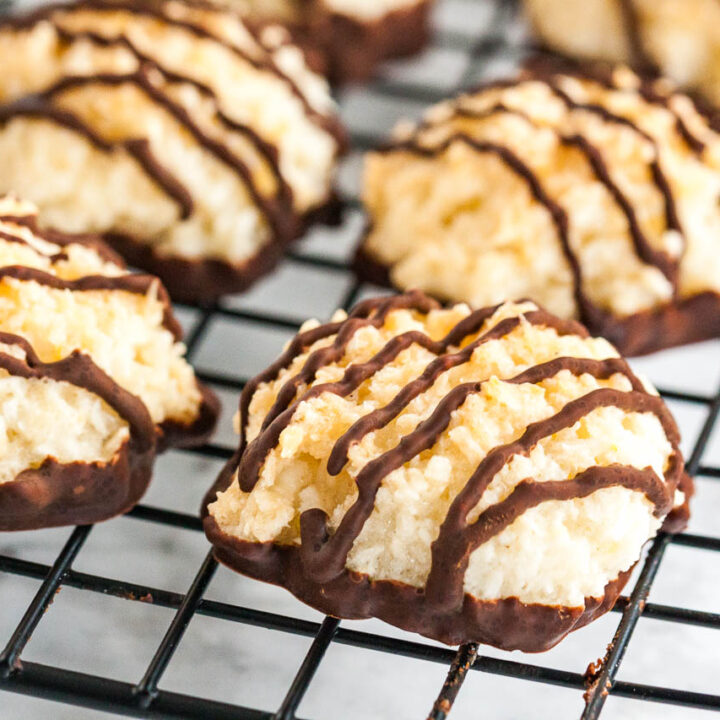 Coconut Macaroons Recipe
These Coconut Macaroons are chewy and moist on the inside and crispy on the outside! Made with lemon zest and without sweetened condensed milk, these sweet and easy coconut cookies are going to be everyone's favorite treat this holiday season.
Recipe here
---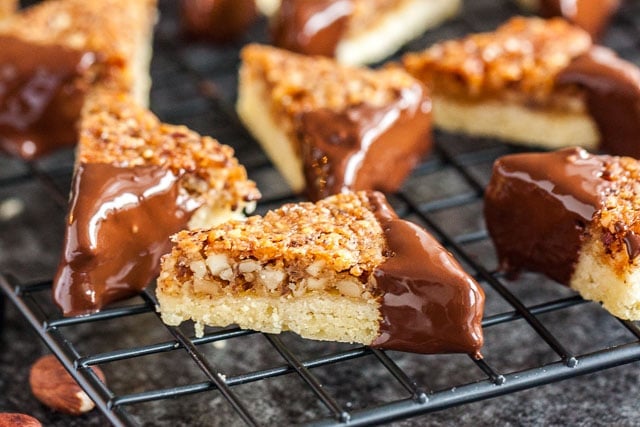 Nut Corners Recipe
Nut Corners are called Nussecken in Germany and make a delicious addition to your cookie platter! Made with buttery shortbread, a sweet apricot jam layer, and a caramelized hazelnut topping, these mini nut bars are a favorite of my husband and a hit all year round.
Recipe here
---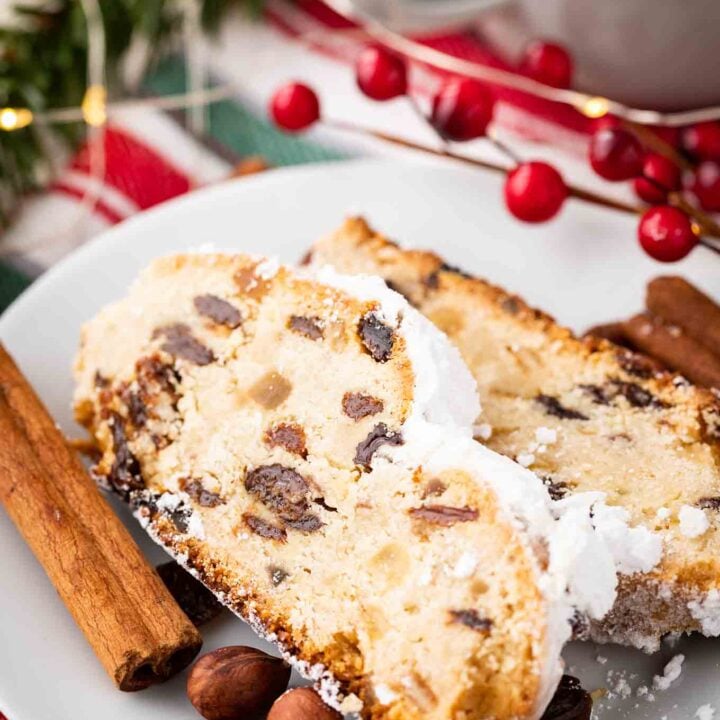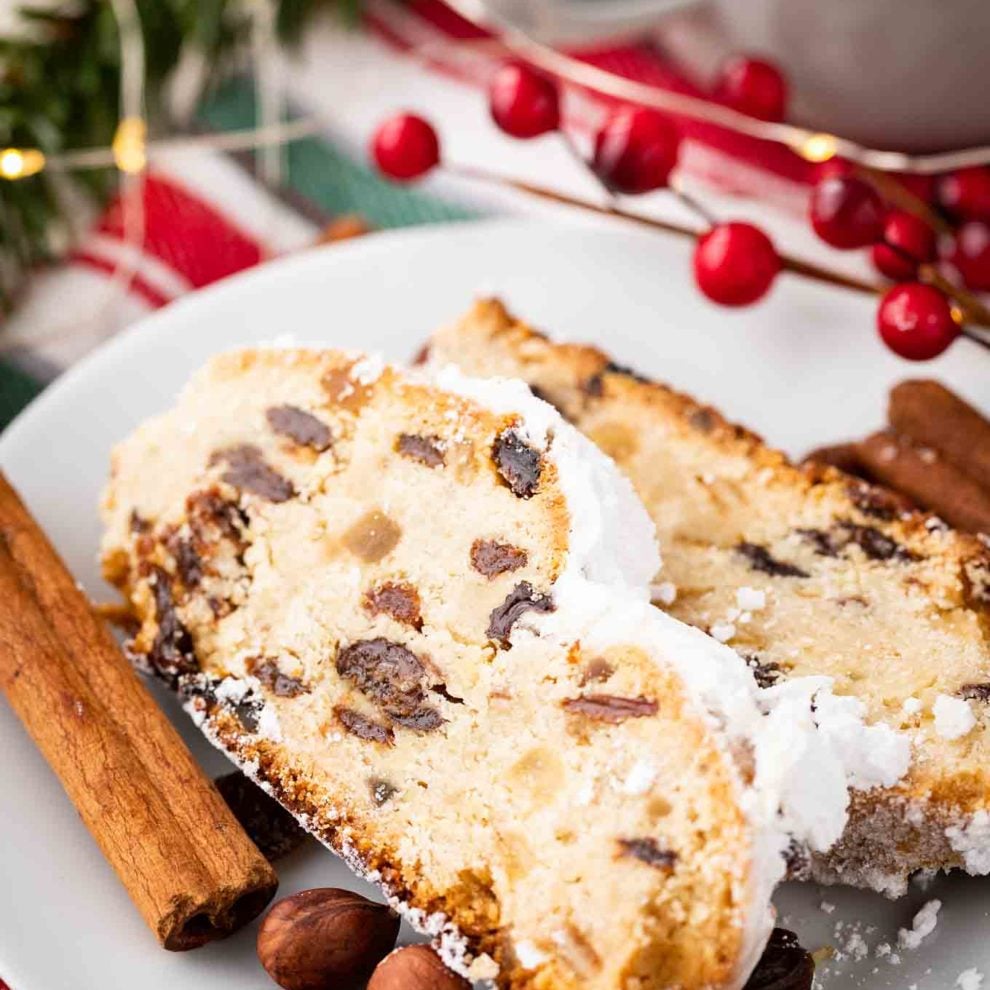 Stollen Recipe
This traditional German Christmas Stollen recipe is a very special treat that has a long history and is very popular during the Holidays.
Recipe here
---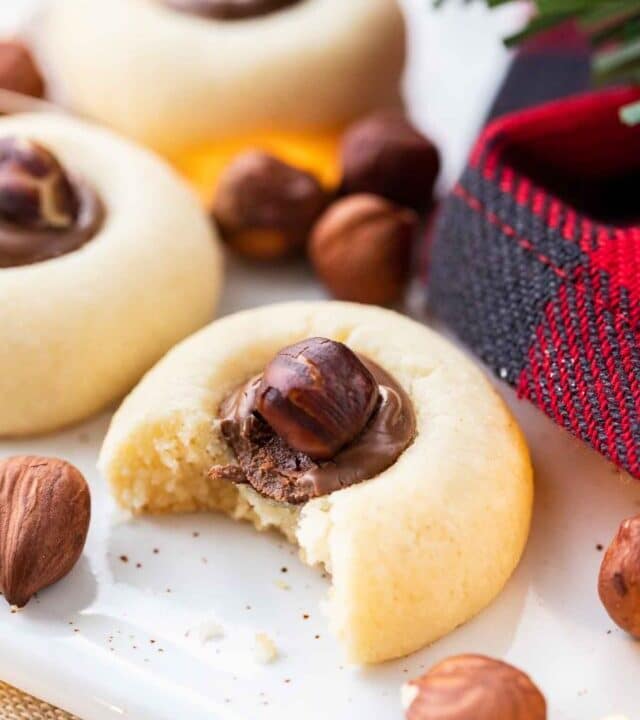 Thumbprint Cookies
Thumbprint cookies are the perfect Christmas cookies! A classic German recipe made with ground nuts and filled with jam, Nutella, or Lemon Curd.
Recipe here
---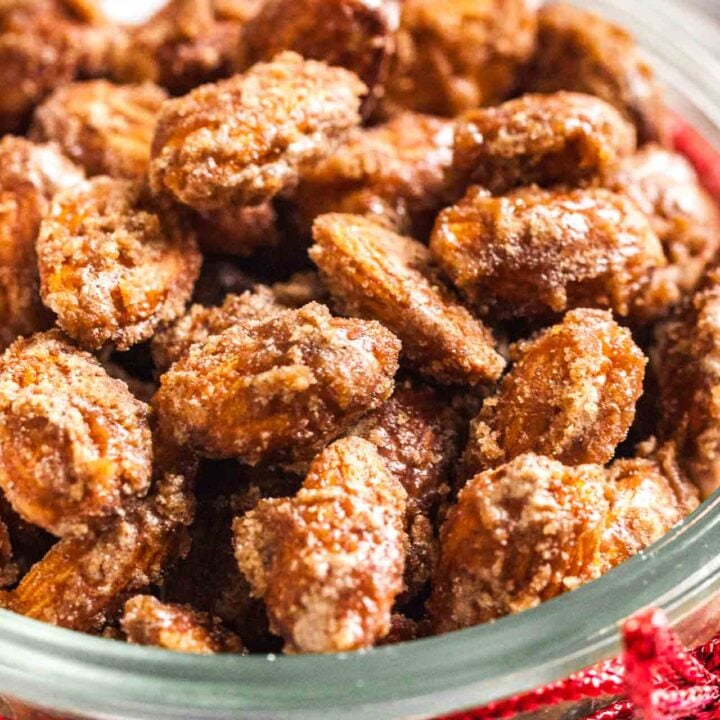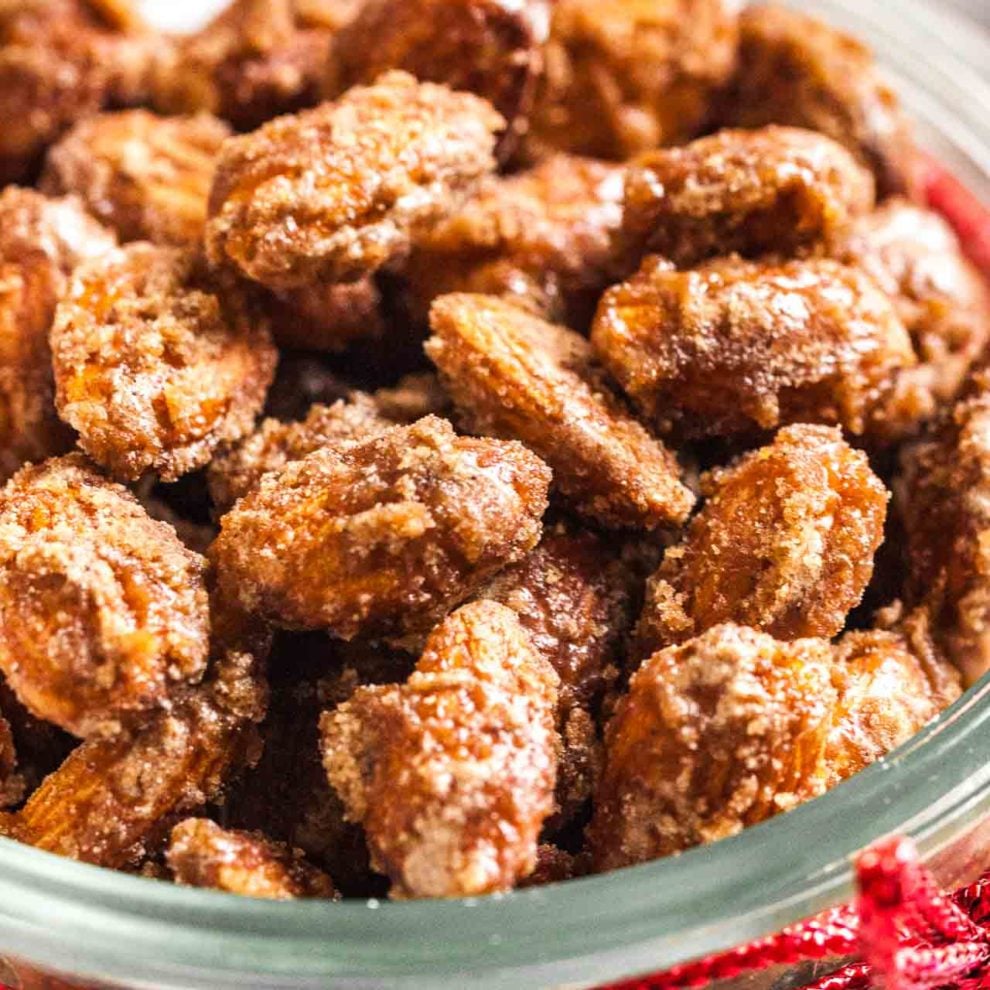 Easy Cinnamon Candied Almonds
Easy Cinnamon Candied Almonds are sweet, crunchy and make your house smell amazing! They can be made in less than 10 minutes and make a great snack for your next holiday party.
Recipe here
---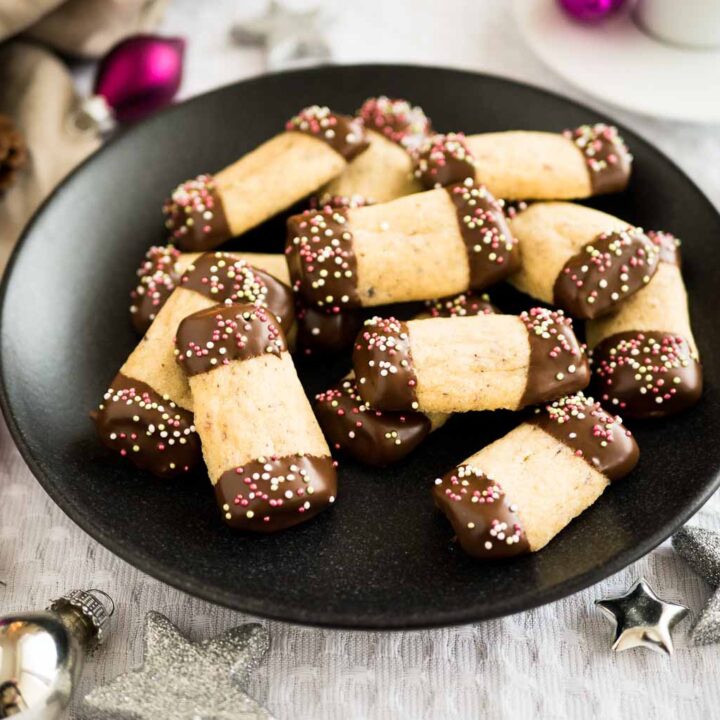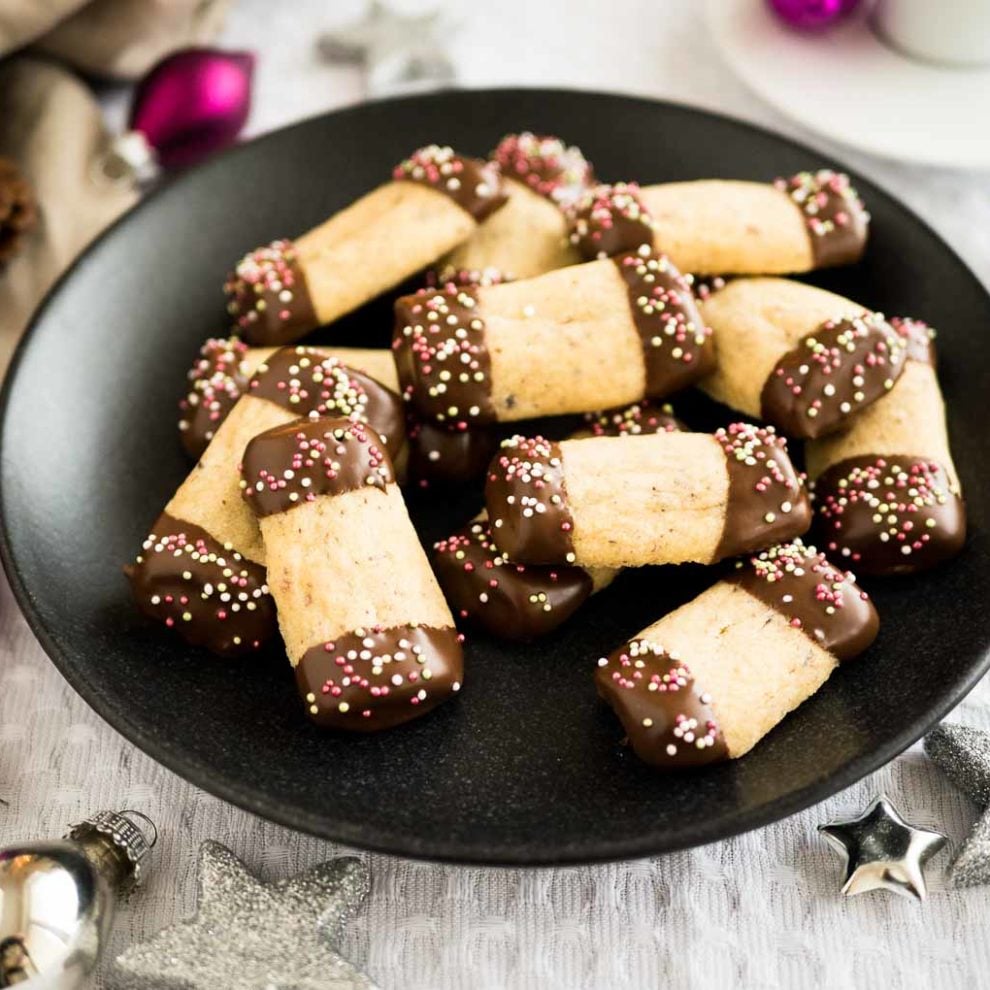 Maple Hazelnut Cookies
These Maple Hazelnut Cookies are so easy to make! Ground hazelnuts and maple syrup make these cute log cookies extra flavorful.

Recipe here
---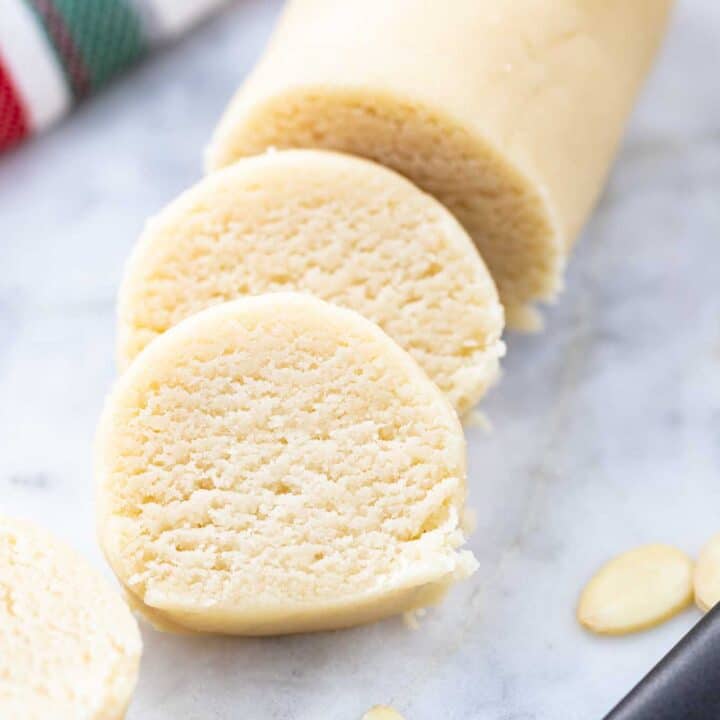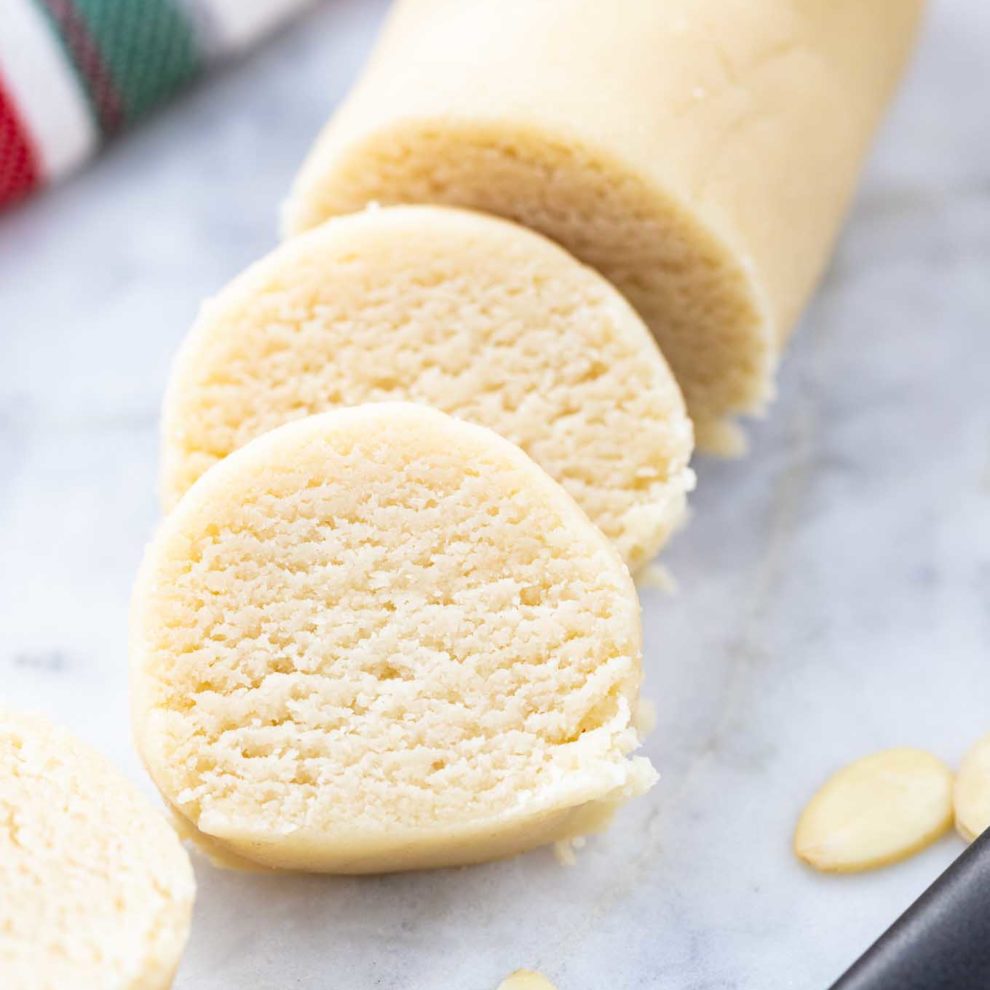 Marzipan
Marzipan is so easy to make from scratch and so much cheaper than store-bought! It comes together quickly and can be used in cookies, cakes, and sweets.
Recipe here
---
Here are a few more traditional German cookies:
Bethmaenchen: Little marzipan cookies studded with three crunchy almonds
Heidesand: Shortbread cookies rolled in coarse sugar
Heinerle: A Franconian specialty made from chocolate, coconut oil, and thin wafers
Spekulatius: Usually one of the few cookies that most Germans buy,
Mandelhoernchen: Marzipan cookies in croissant shape decorated with almonds and chocolate
Marzipankartoffeln: Little balls of marzipan rolled in cocoa powder
Dominosteine: Chocolate covered treats made with multiple layers of filling
Springerle: Anise flavored cookies made in special molds
Spritzgebaeck: Spritz cookies often made with ground nuts and dipped in chocolate
Schneeflocken: Melt-in-your-mouth cookies similar to Mexican wedding cookies
Cookie FAQ
What is the most popular German Christmas cookie?
The most popular cookie is Lebkuchen (German gingerbread) with Germany producing almost 90 thousand tons per year. There are different recipes, some even use old croissants or potatoes, but they are different from American gingerbread. Our recipe for German gingerbread is a traditional recipe for Elisenlebkuchen made with nuts and candied citrus peel.
How long do German Christmas cookies keep?
Christmas baking in Germany usually starts at the end of November because many of the treats get better with time, for example, Stollen which has to rest for a few weeks before it gets eaten. The cookies and baked goods are stored in cookie tins and keep fresh for weeks in a cold spot.