Linzer Cookies
Linzer Cookies are little sandwich cookies filled with jam that are very popular during Christmas time in Germany and Austria! These traditional buttery cookies are so delicious and make a great addition to every cookie platter.
We love to bake (and eat) many different Christmas cookies during the Holidays! A few of our favorites are Vanillekipferl (German Vanilla Crescent Cookies), Nut Corners (German Nussecken), and German Lebkuchen.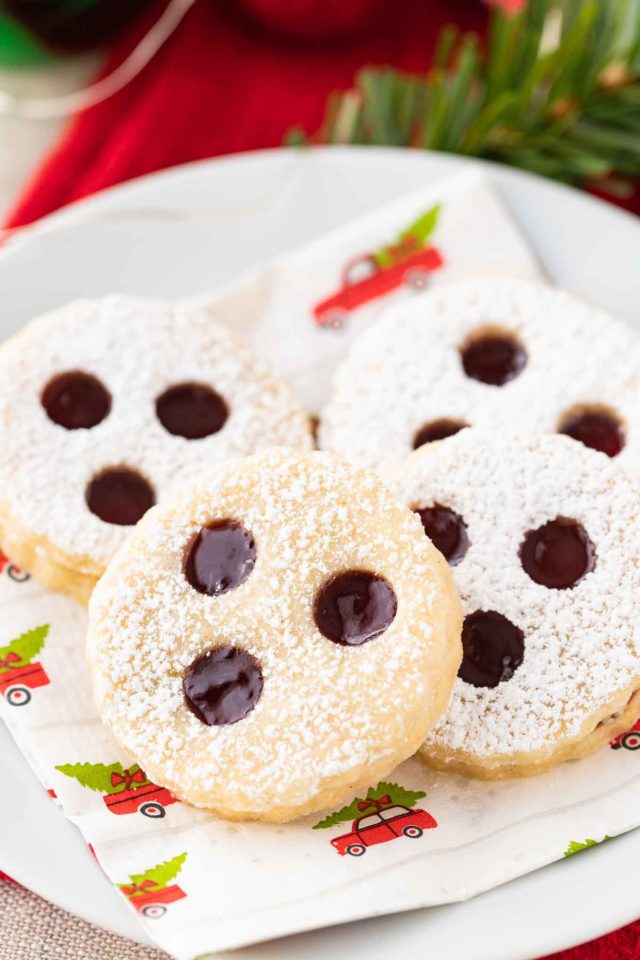 Linzer Cookies (Linzer Augen in German) are delicate, buttery cookies made with almonds and a little bit of lemon peel that are sandwiched together with blackcurrant jam or your favorite preserves. These cookies are famous in Austria where they originate but also in Germany where they are one of the most popular Christmas cookies.
I'm a big fan of their buttery, tender texture and the fruity filling that makes them sweet and delicious. Making pretty cookies takes a bit of time and effort but this recipe can easily be done over a few days so you don't have to do everything on one day. The dough can be made in advance because it has to rest in the fridge so you get the best tasting cookies.
Chilling the dough before rolling it and after cutting the shapes out is very important because this is the secret behind the tender and crumbly texture that these cookies are famous for. You have to give these cookies a try! They are always a hit and one of the first cookies that are gone from the cookie plate. Adults and kids love them!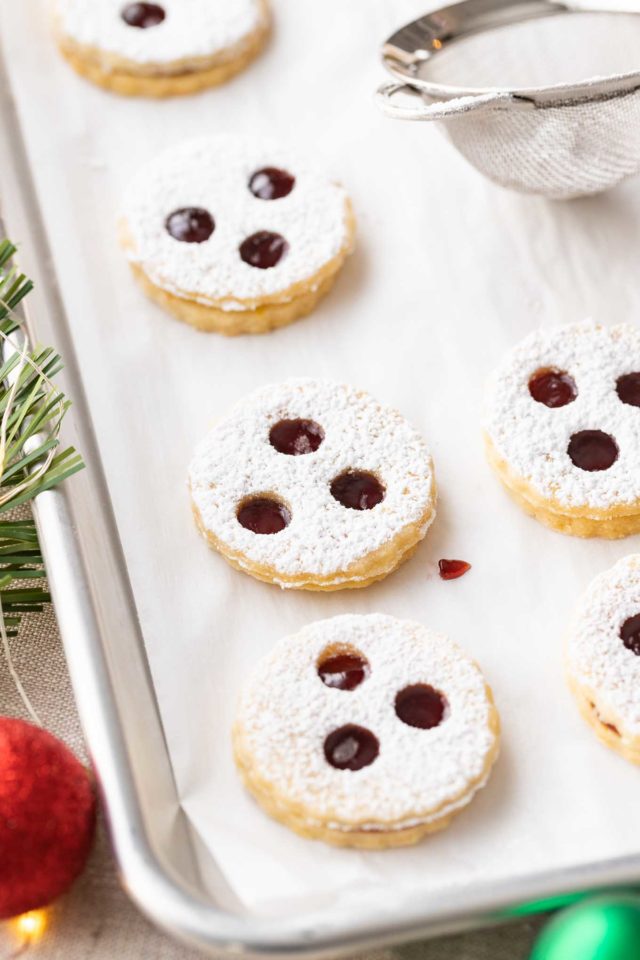 Tips and Tricks for Making Linzer Cookies
Spoon and level the flour instead of scooping it out of the container. Using too much flour will make the dough more difficult to handle
Use freshly grated lemon peel for the best taste. I use a Microplane Grater to grate it extra fine

After chilling the dough divide it into smaller pieces to make kneading easier and knead them until the dough can be easily rolled out

If the dough gets too warm after rolling it out several times chill it for a few minutes
You can use any cookie cutter you like! Traditionally Linzer cookies are circles and have three holes in the top but you could also use a heart and a tiny heart for example
I use a round piping tip from Wilton for the little holes and cut them out after transferring the cut out cookies to the baking sheet. Works great!
Don't bake these cookies for too long! They should NOT brown, take them out of the oven when the edges start to get lightly golden. The cookies will get harder when they cool
Let the cookies cool completely before assembling them. I often do this on the next day
Use your favorite jam! I prefer a seedless and smooth jam without any fruit pieces

After assembling the cookies you can press more jam into the holes

These cookies taste best after a few days because they need time to develop their flavor

Store cookies in tins or airtight containers with layers of parchment paper between them

Cookies keep for about 2 weeks s

tored in a cool and dry place, metal cookie tins are best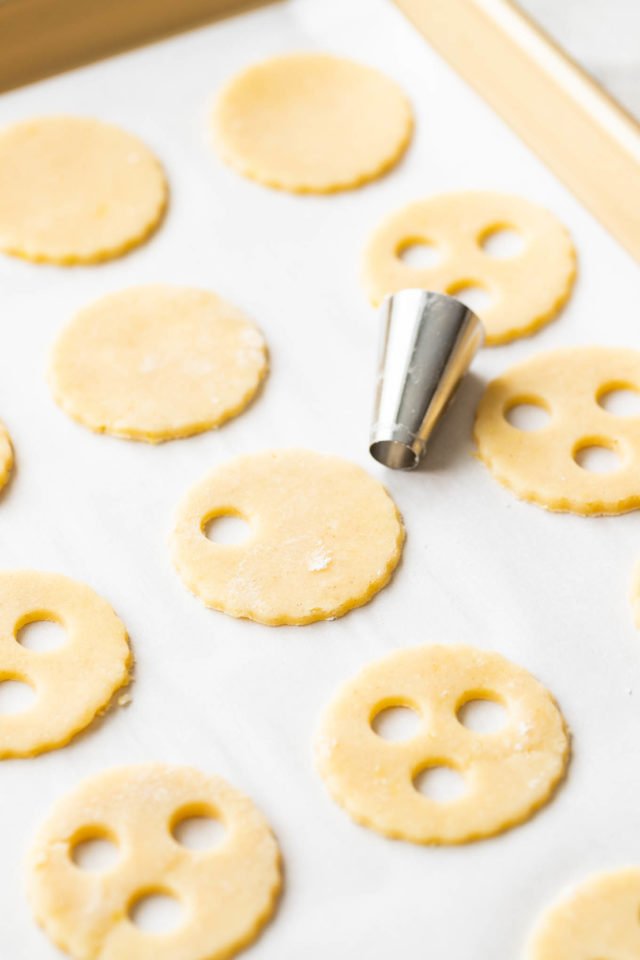 Want to try this Linzer cookie recipe?
PIN IT TO YOUR CHRISTMAS BOARD TO SAVE IT OR SHARE ON FACEBOOK!
Follow Plated Cravings on Pinterest for more great recipes!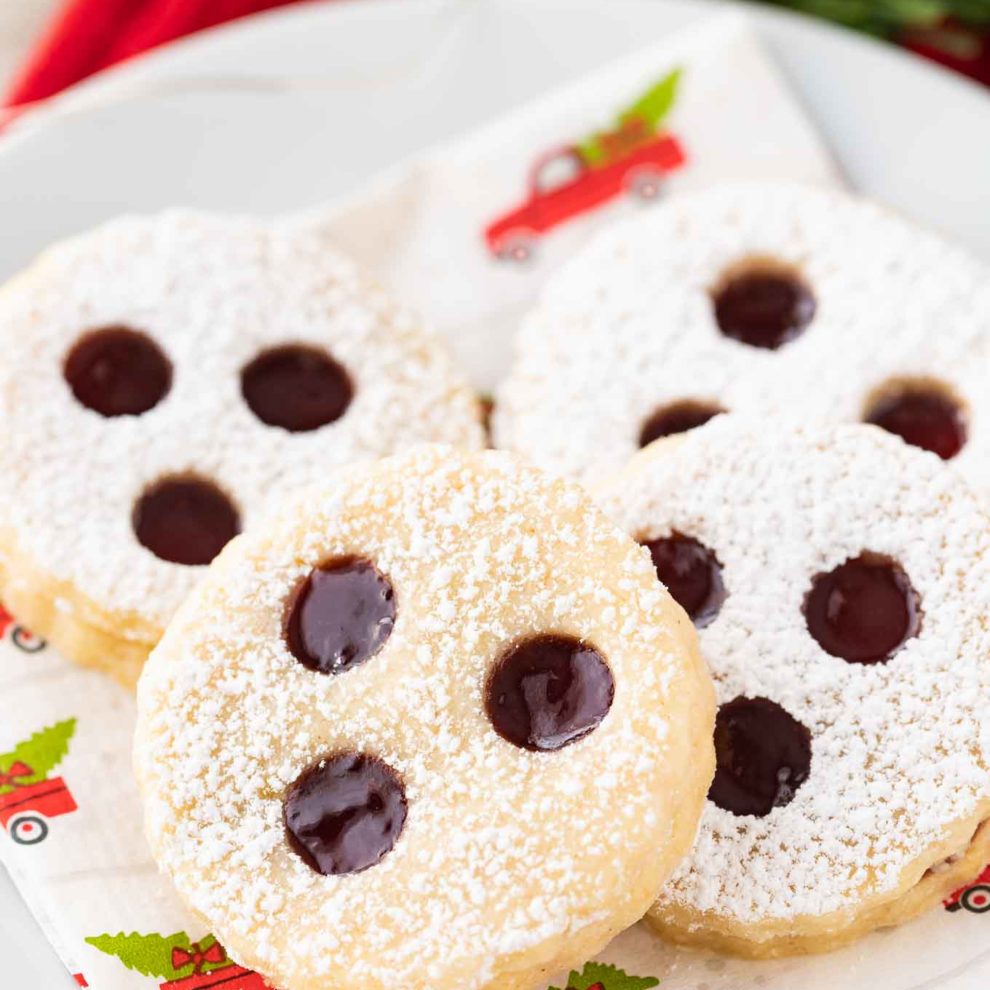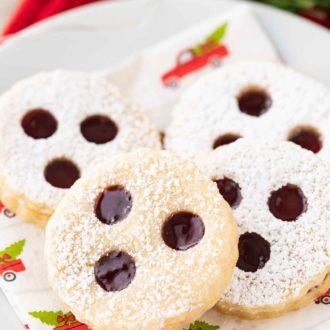 Linzer Cookies
Linzer Cookies are little sandwich cookies filled with jam that are very popular during Christmas time in Germany and Austria! Read my tips above before making this recipe!
Ingredients
1/2

cup

sugar

3/4

cup

unsalted butter

,

slightly soft

2 1/3

cups

all-purpose flour

1/4

tsp

salt

1

tsp

vanilla extract

2

egg yolks

1

cup

sliced or slivered blanched almonds

,

finely ground or 1 cup almond meal

1/4

tsp

cinnamon

1/2

lemon

,

peel finely grated
To decorate:
1/2

cup

jam

,

or more

1/2

cup

powdered sugar
Instructions
In the bowl of a stand mixer fitted with the paddle attachment, combine butter and sugar. Add flour, salt, vanilla extract, egg yolks, ground almonds, cinnamon, and lemon peel. Mix until a smooth dough forms. Wrap dough in plastic wrap and chill in the fridge for at least an hour.

Take dough out of the fridge and shortly knead by hand.

On a floured work surface, roll out the dough. It should be 0.2 inches (5mm) high. Use a cookie cutter to cut out circles or hearts. Transfer cut out cookies to a baking sheet covered with parchment paper. Use a smaller cookie cutter to cut out a small hole or shape of half the cookies. Chill cookies on baking sheet for 30 minutes.

Preheat oven to 350F (177C). Bake cookies for 8-12 minutes in the middle of the oven until edges are lightly browned. Transfer cookies to a cooling rack and let cool completely.

To decorate the cookies, sprinkle the cookies with holes with powdered sugar. Brush the tops of the cookies that don't have a hole with jam and put one of the other cookies on top. Let the cookies dry on the cooling rack for about 2 hours then transfer to cookies tins. Store in a dry and cool place.
NEVER MISS A RECIPE!
If you've tried this or any other of my recipes, don't forget to rate the recipe and to leave me a comment. I love hearing from you!