Oreo No Bake Cheesecake Parfaits – this easy, no-bake dessert is perfect for any occasion! Best when made ahead and only 10 minutes to prep. This is a perfect treat for any OREO lover!
You might have recognized by now that I have a thing for desserts in jars – my Copycat Lindor Truffle Chocolate Dessert, my Strawberry Tiramisu or my No Bake Nutella Cheesecake Cherry Parfaits are proof for that. I love serving desserts in jars! It's so convenient, easy to store, transport, and serve. And you have a bit of portion control 🙂
I'm a big lover of everything sweet and these Oreo No Bake Cheesecake Parfaits are a great way to satisfy my cravings! They are great for summer, no need to put on your oven and heat up your already too hot kitchen. And when they're prepared – which only takes 10 minutes – put them in the fridge and you have a cold and creamy dessert.
So easy and so tasty!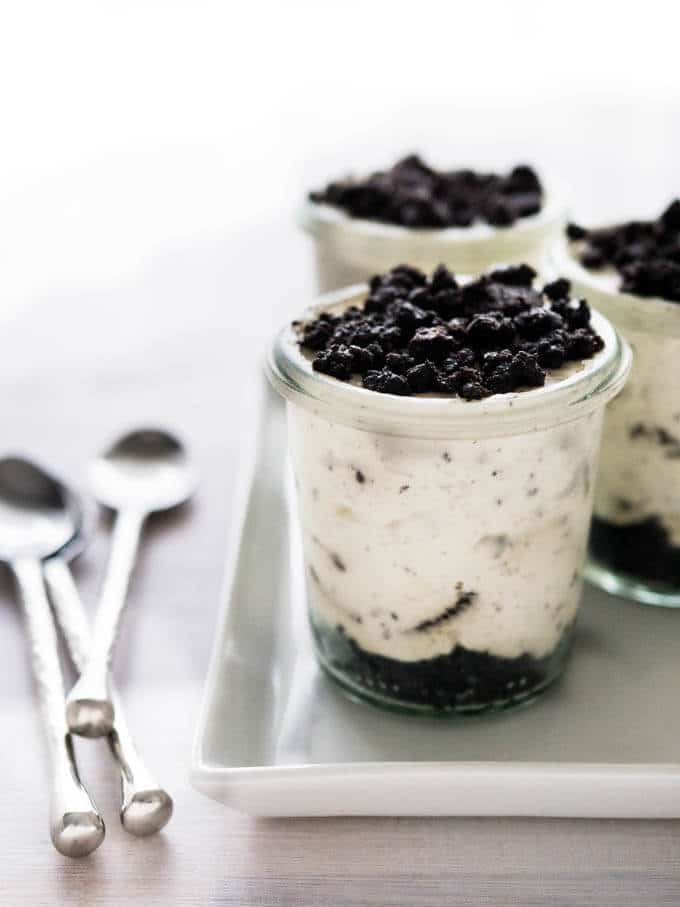 To make these little treats you need one package of Oreos (you can easily scale this recipe up and down). Chop half of the Oreos, you don't need to divide the cookies before doing that.
The other half needs to be crushed. You can use a food processor for that or just put them in a ziplock bag and crush them with a tenderizer or something similar which does the job.
Mix with the melted butter and divide between the jars. I used little Weck jars which are also great for homemade pesto, spice mixes or spreads like Gorgonzola Cream Cheese Spread. I will put the links for my favorite jars below the recipe.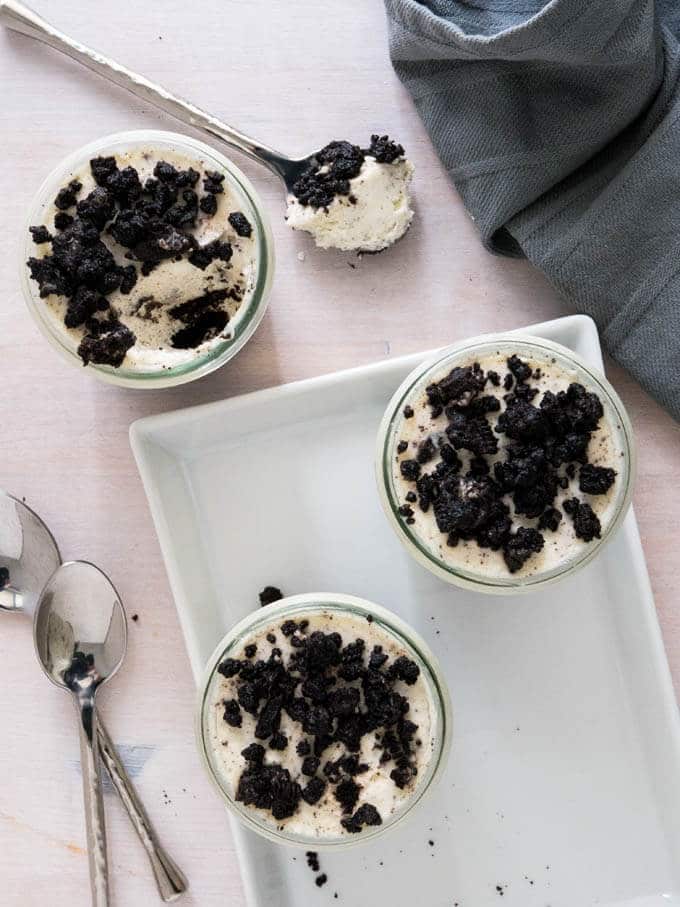 For the filling, I whipped up some heavy whipping cream together with granulated sugar and some vanilla sugar.
Vanilla sugar is great to give desserts like these some vanilla flavor without risking the white cream to get a brownish color like it would get from liquid vanilla.
I make my vanilla sugar in my Thermomix but you can also use a food processor.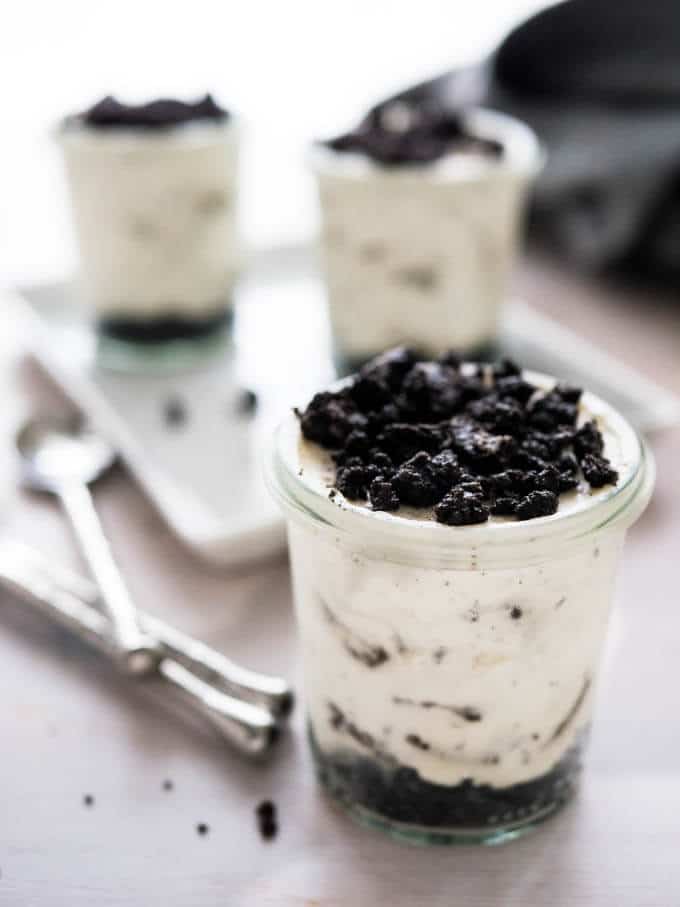 Just put one vanilla bean and 1 cup granulated sugar in an airtight container and let it sit for 2-3 days. When the time has passed pour the sugar and the vanilla bean in your food processor and pulverize everything until you have confectioners' sugar.
It's really easy! You can replace part of the normal sugar in sweet recipes with vanilla sugar to get a great vanilla flavor. It's also great for no bake desserts where normal vanilla extract can leave a little bit of alcohol flavor. Or for frostings where you don't want to add too much liquid.
Many German baking recipes use vanilla sugar instead of vanilla extract. It's pretty hard to get vanilla extract in Germany. I actually bought mine in a Marks & Spencer shop in Prague while we were there for a weekend to visit friends.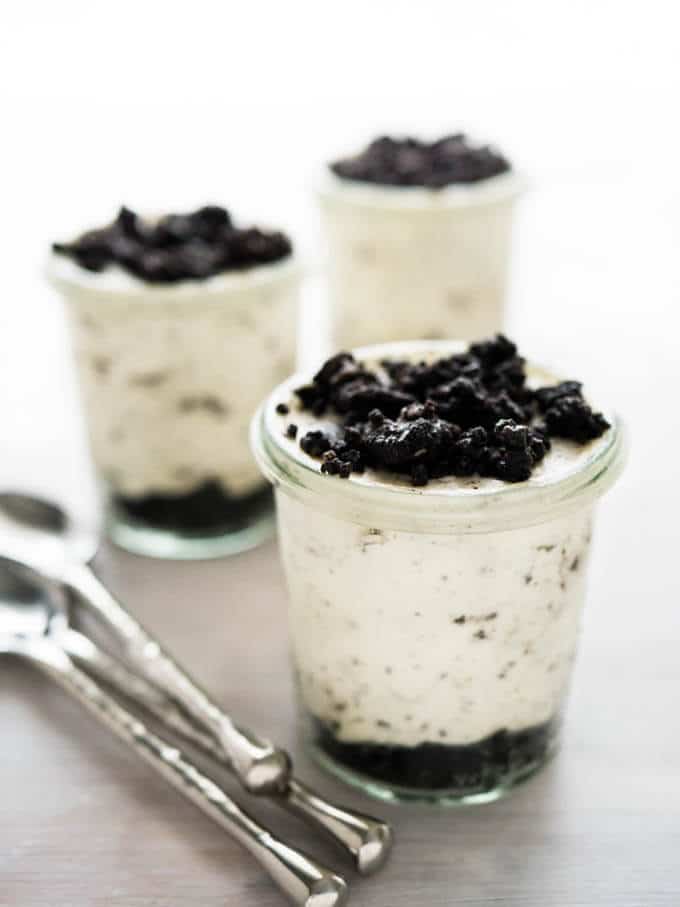 Oreo cookies, on the other hand, are quite easy to get. But I envy all of you Americans for the limited editions. Here you can only buy the boring normal ones 🙁
After writing so much about Oreos and desserts I'm hungry now. I think today I will need something sweet for lunch … one of these Oreo No Bake Cheesecake Parfaits perhaps 🙂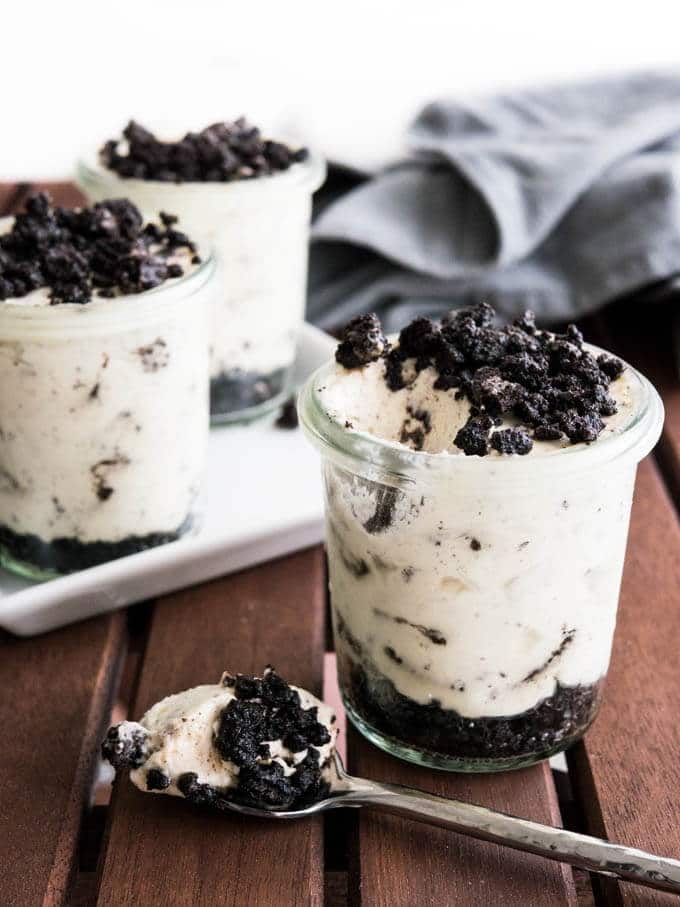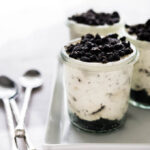 Oreo No Bake Cheesecake Parfaits
Oreo No Bake Cheesecake Parfaits - this easy, no-bake dessert is perfect for any occasion! Best when made ahead and only 10 minutes to prep. This is a perfect treat for any OREO lover!
Ingredients
30

Oreo Cookies

4

tbsp

butter

melted

16

oz

cream cheese block

440g

5

tbsp

granulated sugar

1

tsp

vanilla sugar

Note 1

1

cup

heavy whipping cream

240ml
Instructions
You need 8 5oz. jars for this recipe.

Coarsely chop half of the cookies and set aside. Crush the remaining cookies, put 4 tbsp of the crushed cookies in an airtight container for decorating later. Mix the other crushed cookies with the melted butter. Divide mixture between the jars and press onto the bottom of the jars with a spoon or your fingers. Refrigerate jars while preparing the filling.

In the bowl of your stand mixer add sugars and heavy whipping cream and whisk just until the cream reaches stiff peaks. Add Cream cheese and mix until well blended. Don't overmix.

Fold in the coarsely chopped cookies and divide filling between the jars.

Refrigerate for about 4 hours or overnight. Decorate with remaining crushed cookies before serving.
Recipe Notes
Note 1: If you don't have vanilla sugar you can use ground vanilla. Liquid vanilla extract would make the parfait filling brownish.