Skillet Apple Crisp is hard to resist! Perfectly cooked apples and a crunchy brown sugar oatmeal topping come together in this easy and flavorful recipe that is always a hit. This apple crumble topped with a big scoop of vanilla ice cream will become your favorite fall dessert!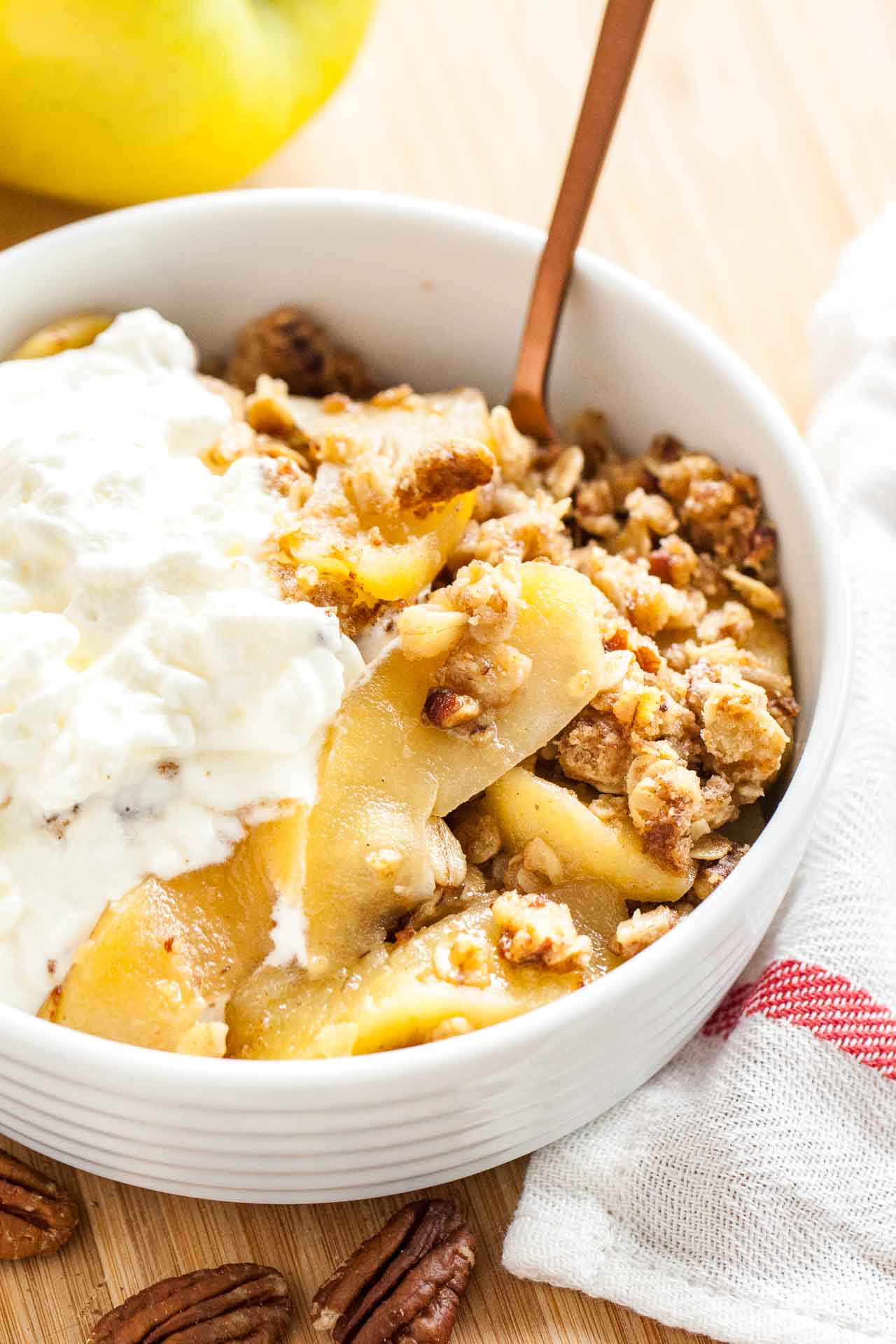 This is the PERFECT Apple Crisp! Sauteing the apples on the stove before topping them with cinnamon oatmeal crumbs ensures that the apples are evenly cooked and the topping stays crisp and doesn't become mushy.
Many apple crumbles I've tried are either too watery on the inside which results in a mushy topping or the apples are not cooked through even after 45 minutes in the oven which often results in a burned topping. But not this Skillet Apple Crisp! This perfectly cooked Apple Crisp will become your favorite dessert!
I love the texture of this crisp. The apples are not mushy, they have just the right amount of bite to them and the sweetness is not overpowering the apple flavor and the crunchy oatmeal topping stays crisp even after sitting a few hours at room temperature. But from my experience, I can tell you that this crisp won't get cold. It's always a hit in our house!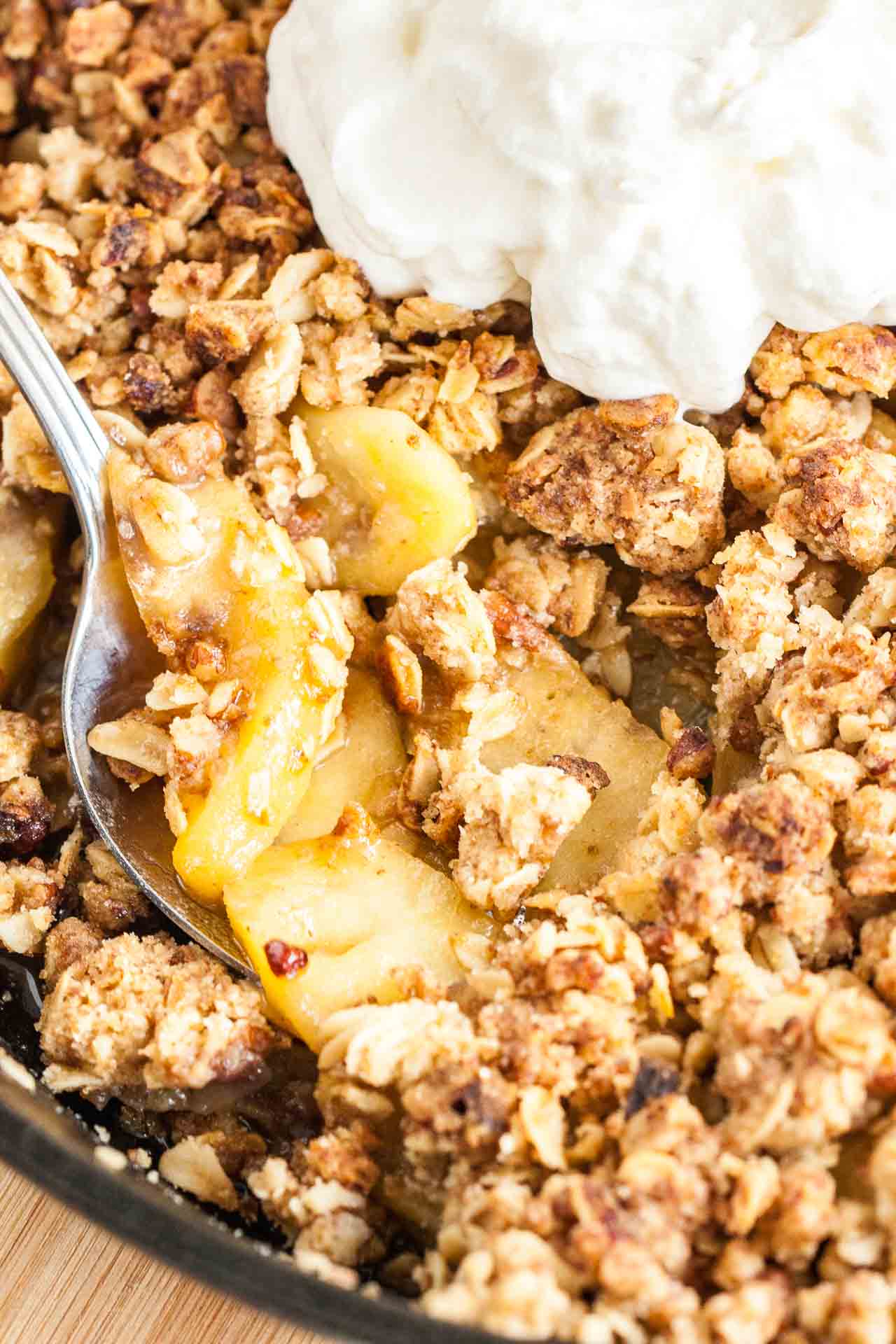 Tips and Tricks for Making Maple Apple Crisp
Which Apples are best for Apple Crisp? I prefer sweet and crisp apples such as Golden Delicious, Honeycrisp or Braeburn.
Rolled oats work best for this recipe but if you only have quick cooking oats on hand you can substitute them.
To make this crisp gluten-free use gluten-free oats and gluten-free all-purpose flour or make your own oat flour in the food processor with gluten-free oats.
If you don't have an oven-safe skillet, transfer the apples to a large enough baking dish and top with the streusel. Baking time might be 5 minutes longer because the baking dish is not already hot.

Serve this crisp with vanilla ice cream or whipped cream. I think it tastes best warm with a big scoop of vanilla ice cream but you can also serve it at room temperature.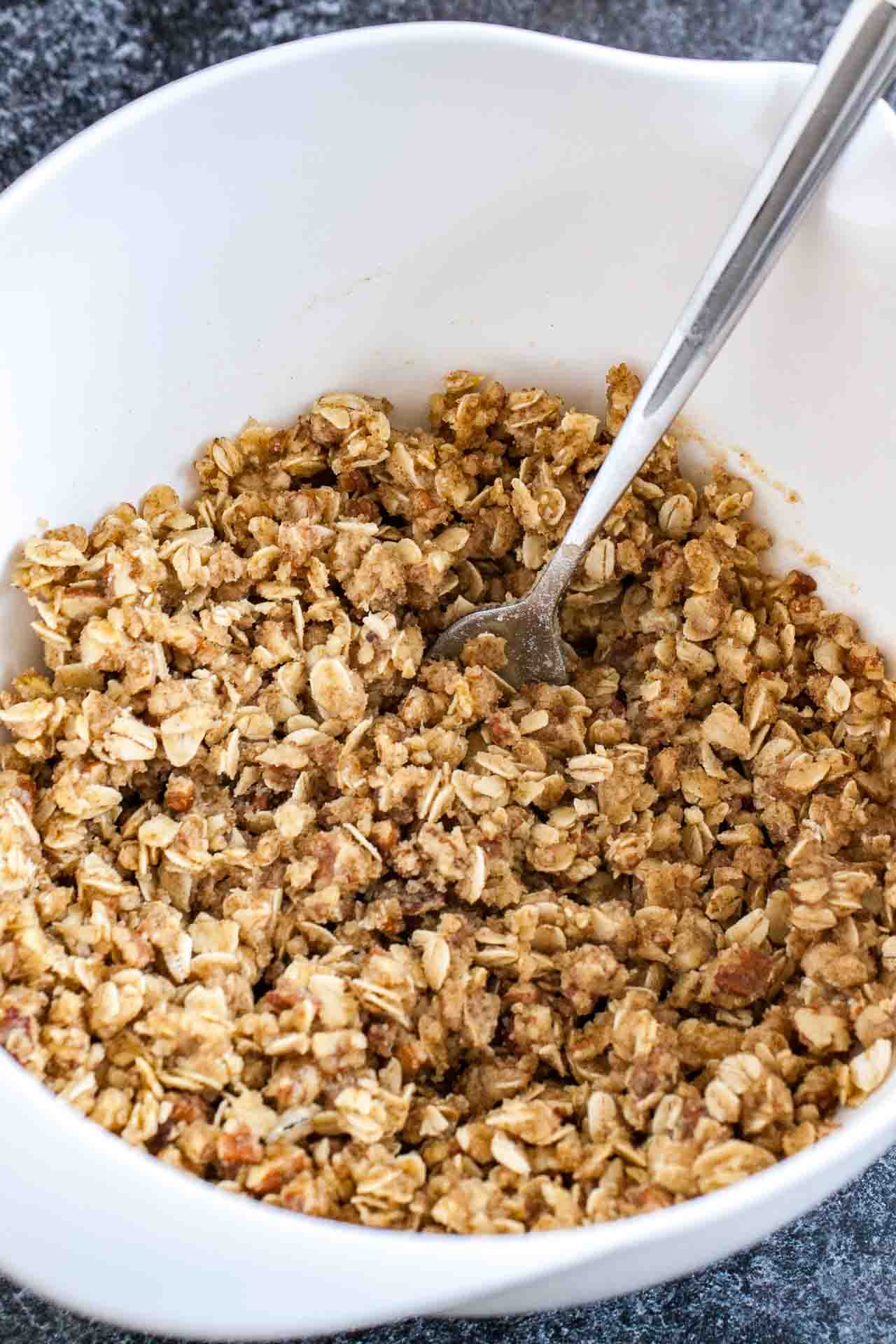 How to make Apple Crisp from Scratch
For this recipe, you'll need a 9-inch ovenproof skillet (I love this one
, super affordable and lasts forever). Start with the crumb topping, it should look like in the image above. Then peel, core, and slice the apples. Cutting them in even slices ensures that they will cook evenly. Toss them with the sugar or maple syrup.
Next step is reducing the apple cider to add more apple flavor to the crisp filling. I learned this trick from Cook's Illustrated and it adds so much apple flavor. When there is only half of the amount left transfer it to a measuring cup and melt the butter in the now empty pan. Add the sugary apples and let them caramelize while stirring a few times. This step will make your house smell amazing!
When the apples are nearly cooked add back the apple cider and evenly sprinkle the oatmeal crumbs on top. Transfer to the oven and bake for about 15 minutes. Now comes the most difficult part, waiting for the crisp to be cold enough to not burn your mouth (happens every time to me because I can't wait).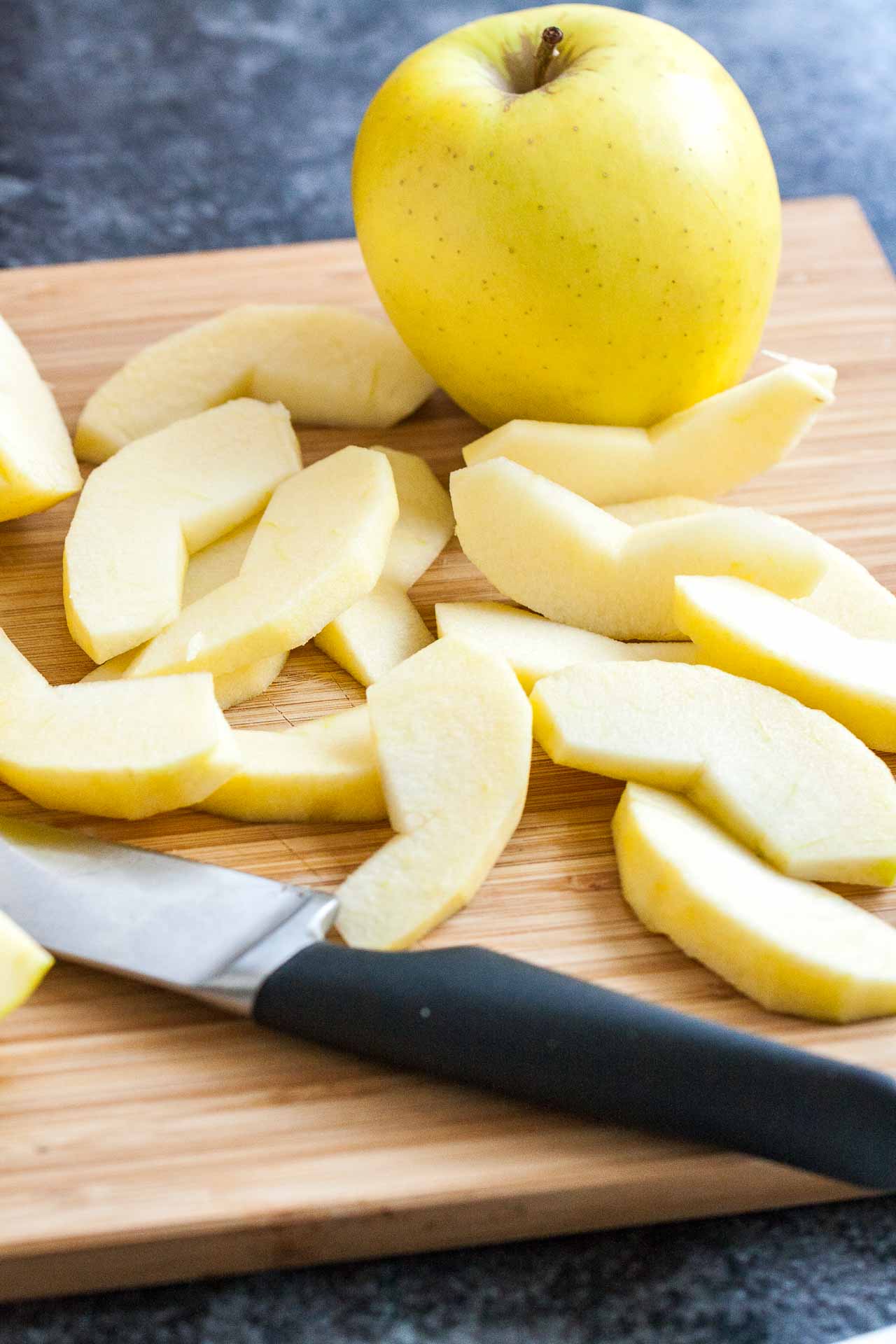 How to make apple crisp ahead
To make this crisp ahead you could make the topping and the apple filling one day in advance but don't combine and bake it. Store them separately. Put the topping in a ziplock bag and store the reduced cider and the nearly cooked apples in separate airtight containers. Don't let the apples sit in a cast iron skillet overnight!
On the next day, transfer the apples to a big enough baking dish or oven-safe skillet, stir in the cider, and add the topping. Put it in a preheated 450°F oven and bake for 25-30 minutes until the apples are tender and the topping is golden brown.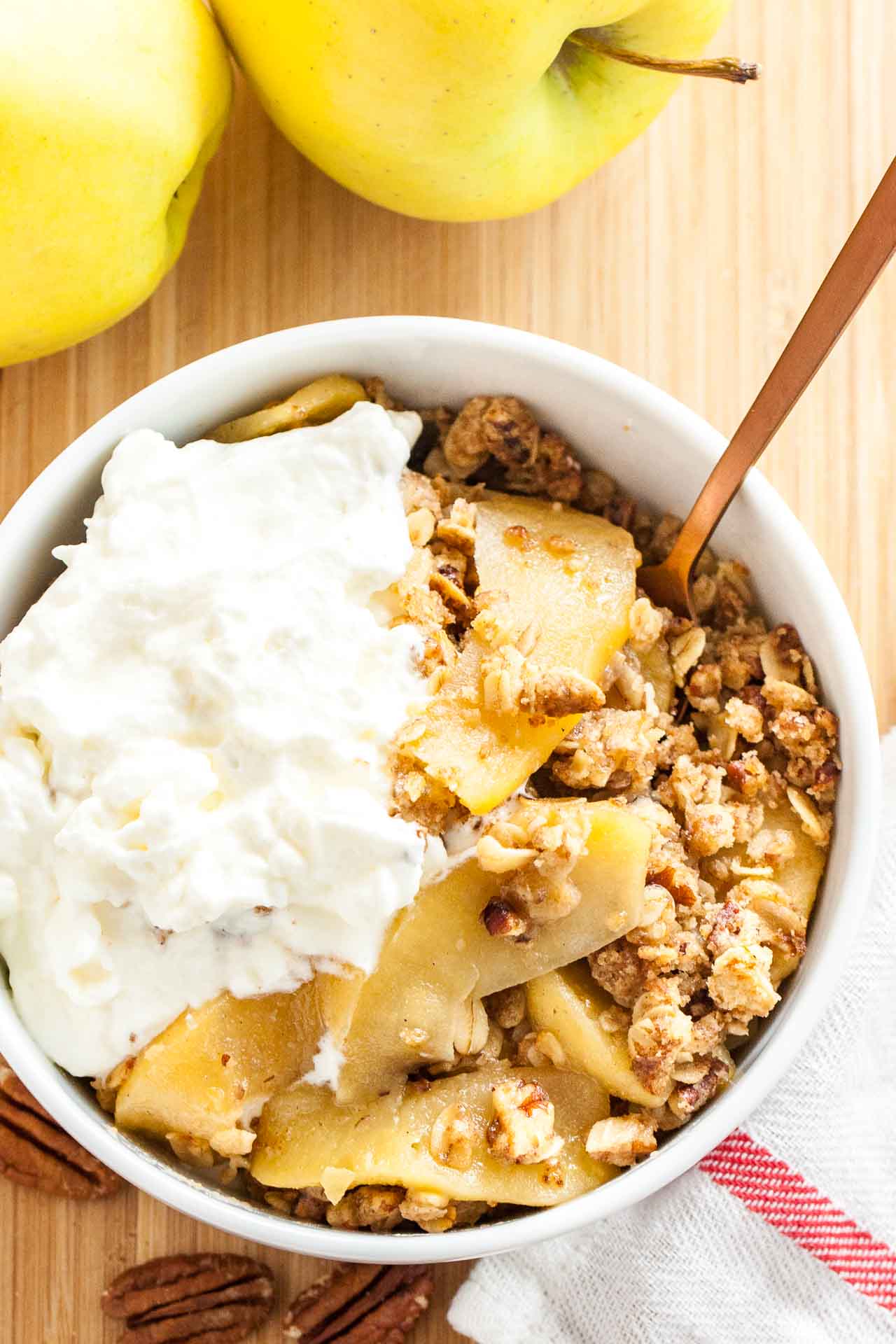 Looking for more Apple Recipes? Here are a few of my favorites:
Or are you looking for more Crisp recipes? I also have an Easy Strawberry Rhubarb Crisp which is a reader favorite in the summer and a divine Peach Crisp Recipe with Fresh Peaches. Both are prepared slightly different to this apple crisp and have no nuts in the topping which is great for people with allergies.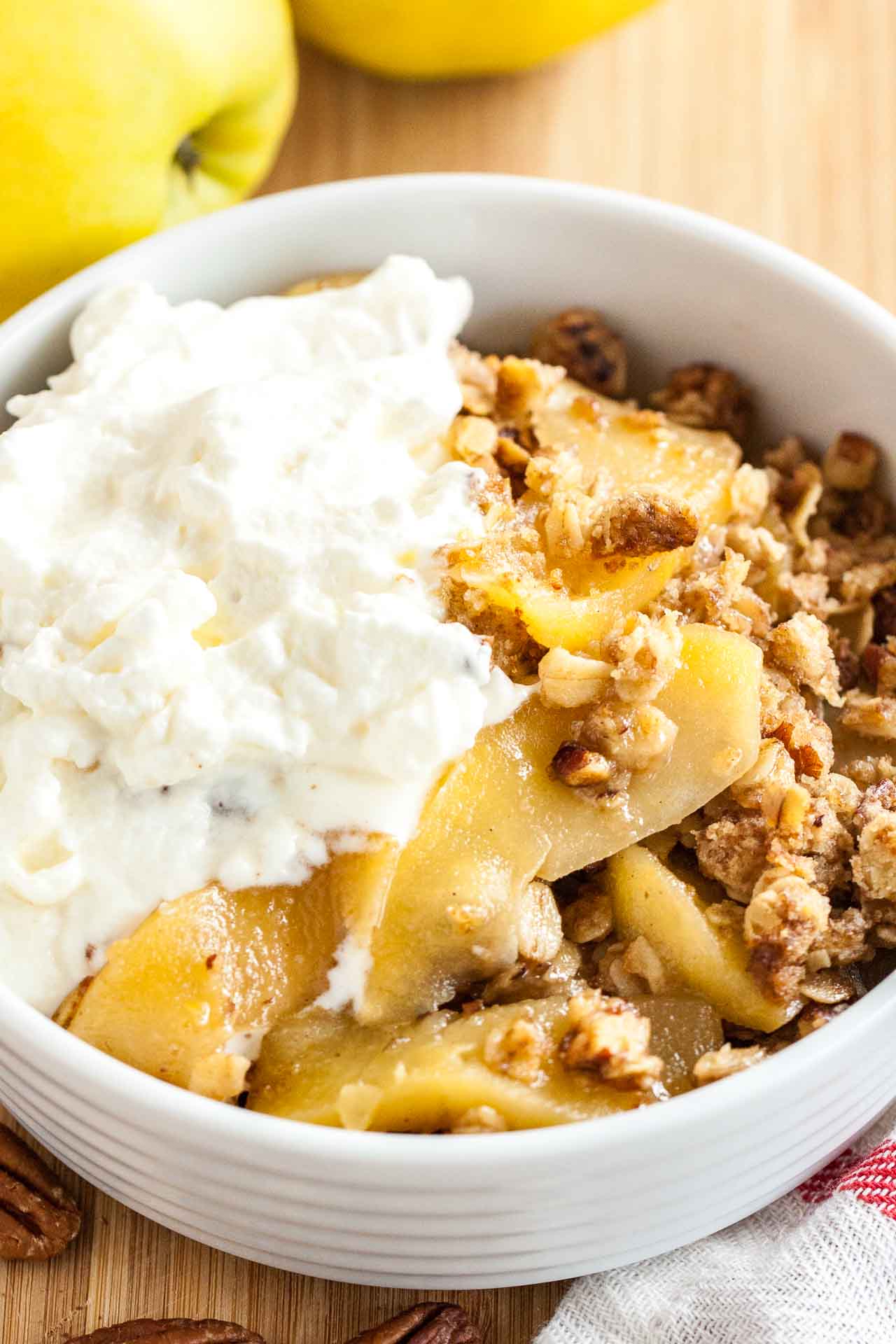 Tools used for Making this Apple Crisp Recipe
Cast-Iron Skillet:
 I love this skillet! It's probably my most used one, it's oven-safe, super affordable and lasts forever.
Oats:
 Old-fashioned oats like these work best for the crisp! These are my go-to oats, this brand also sells gluten-free oats.
Maple Syrup:
 This maple syrup has great reviews and is so versatile. I always buy the big bottles because I use it so much.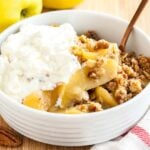 Print Recipe
Easy Skillet Apple Crisp
Skillet Apple Crisp is hard to resist! Perfectly cooked apples and a crunchy brown sugar oatmeal topping come together in this easy and flavorful recipe that is always a hit. This apple crumble topped with a big scoop of vanilla ice cream will become your favorite fall dessert!
Ingredients
For the Crisp Topping:
1/2

cup

old-fashioned rolled oats

(70g)

1/2

cup

all-purpose flour

(65g)

1/3

cup

light brown sugar

(66g)

2

tbsp

granulated sugar

1/2

cup

pecans

finely chopped (50g)

1/2

teaspoon ground cinnamon

1/4

teaspoon salt

6

tbsp

unsalted butter

melted (85g)
For the Filling:
2

pounds

Golden Delicious apples

about 4 medium, peeled, cored, halved, and cut into 1/2-inch-thick wedges

1/4

cup

granulated sugar

or maple syrup (50g)

2/3

cup

apple cider

(160ml)

1 1/2

teaspoons

lemon juice

freshly squeezed

1

tablespoon

unsalted butter
Instructions
Preheat oven to 450°F (230°C).

In a medium bowl combine flour, oats, granulated sugar, brown sugar, pecans, cinnamon, and salt.

Add melted butter and stir until mixture is fully combined and thoroughly moistened. Set aside.

To make the filling: In a large bowl toss apple wedges and sugar (or maple syrup) together. Set aside.

Set a 9-inch cast iron skillet over medium heat, pour in the apple cider and bring it to a simmer. Cook until reduced by half, about 5 minutes. Transfer cider to a small bowl, stir in the lemon juice and set aside.

In the now-empty skillet heat 1 tbsp butter over medium heat. When the foaming begins to stop, add apple mixture and cook, stirring frequently until apples begin to soften and become translucent about 12 to 14 minutes. The apples should not fully be cooked! Remove pan from heat and gently stir in cider mixture until apples are coated.

Sprinkle topping evenly over the apples.

Transfer skillet to a baking sheet in the middle position of the oven and bake until apples are tender and the topping is deep golden brown, about 15 to 20 minutes.

Transfer to a wire rack and let cool for at least 15 minutes before serving.
Nutrition