Horseradish Parmesan Crusted Salmon
My Parmesan Crusted Salmon is slathered with delicious creamy lemon-infused horseradish and then covered with a herbed parmesan and panko crumb mixture. This elegant dish may look fancy but it's easy enough to be a weeknight main course!
Guys, it's almost December! I can't believe how quickly this year went by but now begins my favorite time of the year and I'm so excited for the holidays! My favorite way to enjoy this season is having a delicious meal with my loved ones.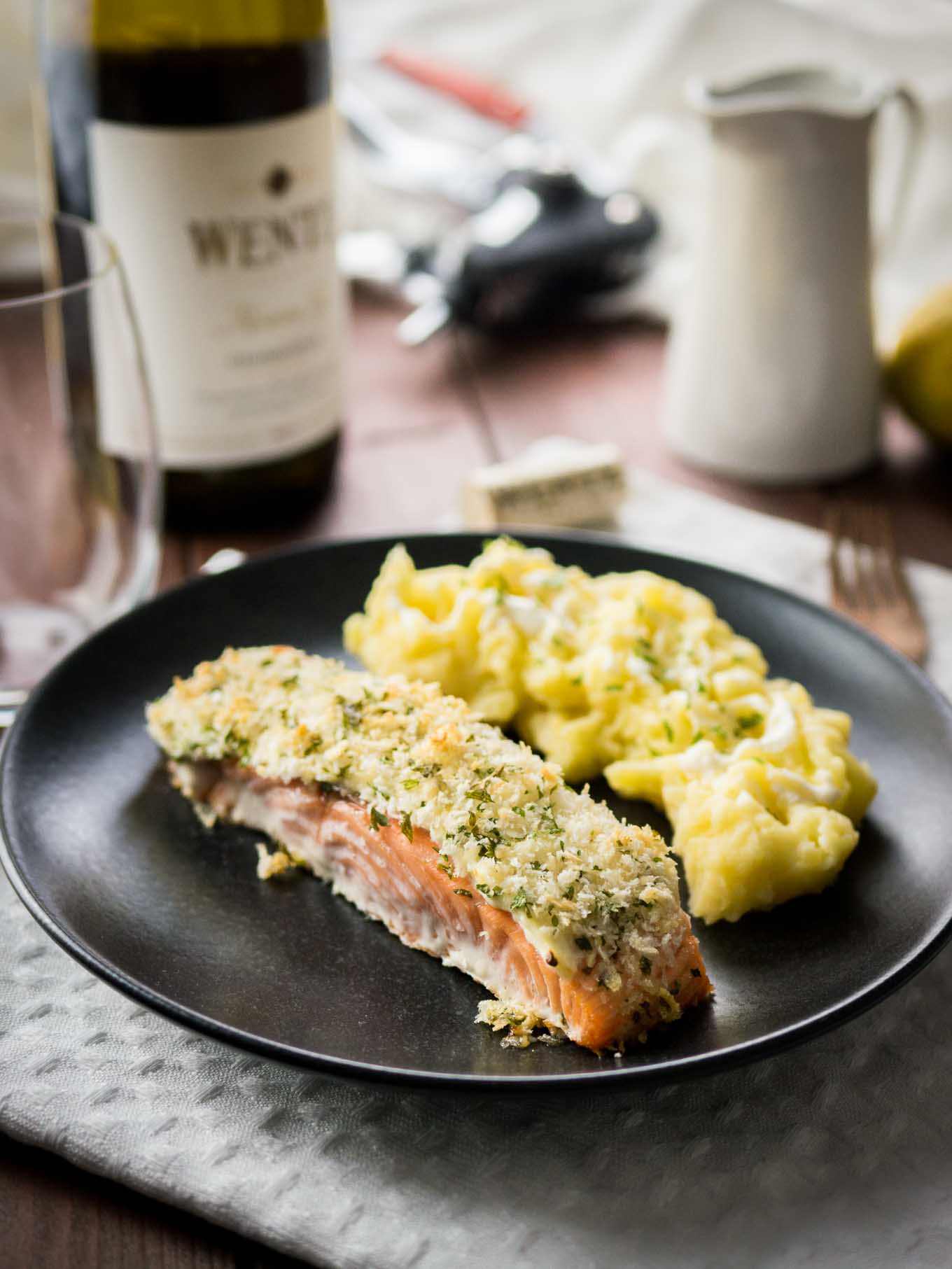 One of my favorite dishes which I could eat every day is salmon! I love smoked salmon, this easy smoked salmon dip is a great appetizer for every party, but I also love fresh salmon fillet. It's easy to prep and so delicious. You just need 20 minutes and you have a dinner fancy enough for guests but also easy enough for weeknights.
Or date night in our case today! And date night wouldn't be complete without a good bottle of wine, am I right?! This week I picked up a bottle of the Morning Fog Chardonnay from Wente Vineyards to enjoy with our meal.  It's a perfect wine to pair with fish but also great with poultry or cheese.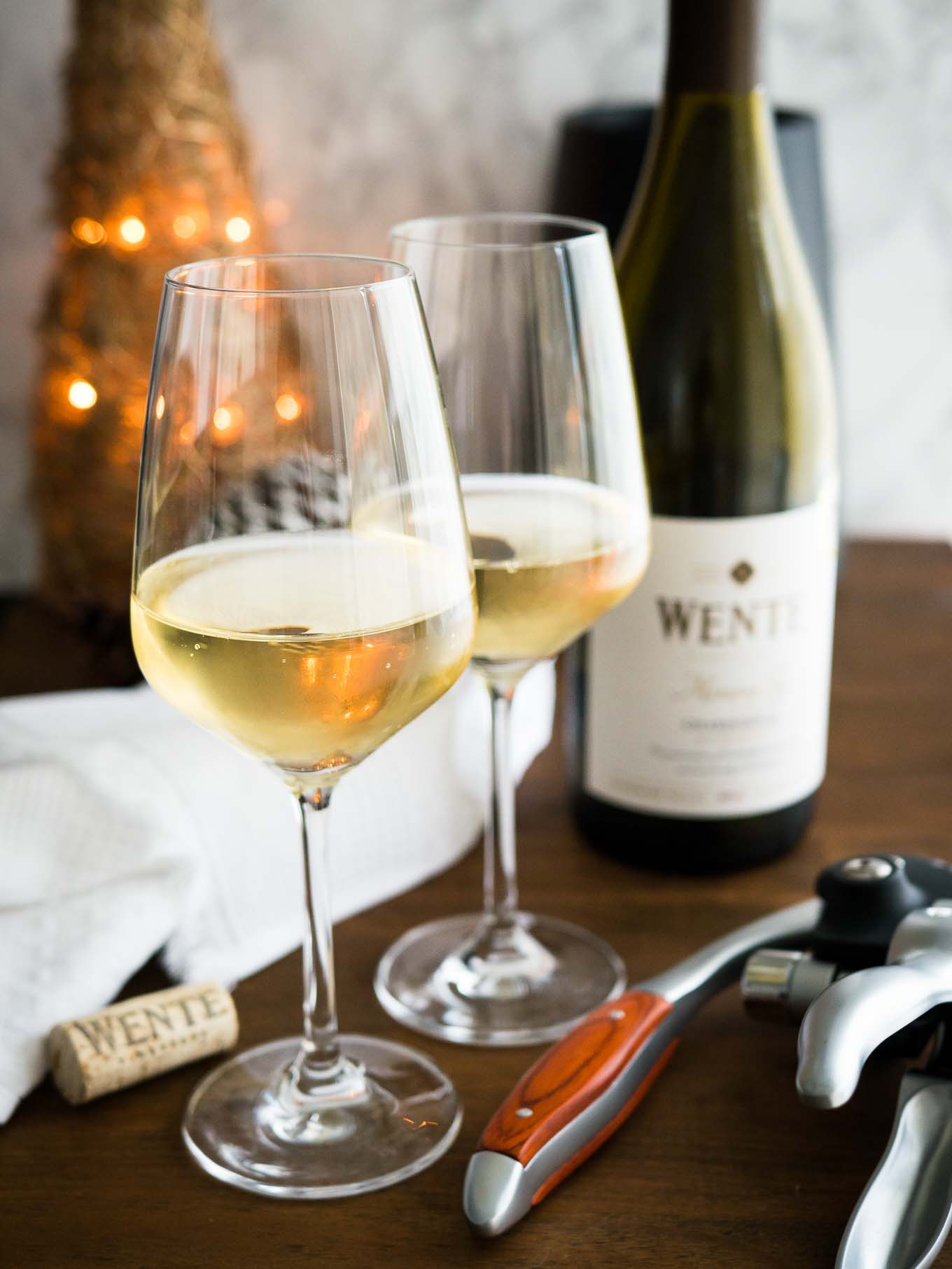 I'm always looking for new wines to try, so I was really happy when I discovered the Morning Fog Chardonnay from Wente Vineyards. I'm a big fan of white wine and Chardonnay is one of my favorites. The 2014 Morning Fog Chardonnay received a recent Wine Enthusiast score of 90 and I can personally attest that it tastes amazing!
This wine pairs really well with cheese, poultry, and fish. Perfect for the holidays! I picked up a few more bottles to have on hand for gifts and to bring to dinner parties.
My tip: Have red and white wine on hand for parties, so that all guests are happy!
I really love about the Morning Fog Chardonnay that it's fermented in 50% oak barrels and 50% in stainless steel tanks, so it's well balanced and not too rich. It pairs really well with my Parmesan crusted Salmon!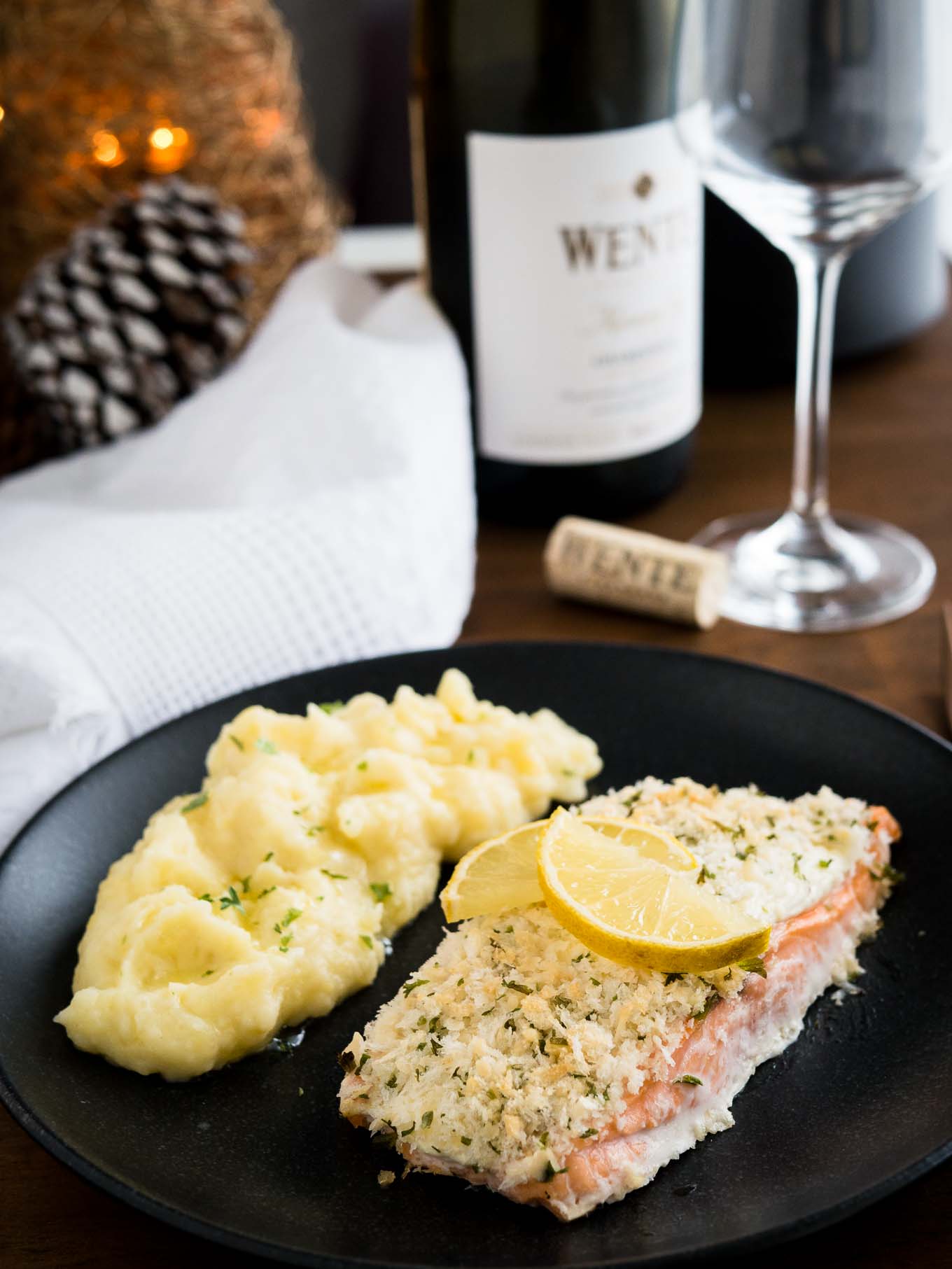 Making my panko bread and parmesan crusted salmon is really easy and quick! We like to cook together on date nights (while sipping on a glass of wine, of course!) and this easy dish is perfect for that. The recipe is really foolproof and takes only 20 minutes from start to finish.
To make it combine the cream cheese, creamy horseradish, and freshly grated lemon zest in one bowl and the breadcrumbs, parmesan, and parsley in another. Season the salmon fillets and spread the horseradish mixture on top of each fillet, then sprinkle the crumb mixture on top.
Press the crumbs a little bit onto the fillets and then bake them for 15 minutes. So easy!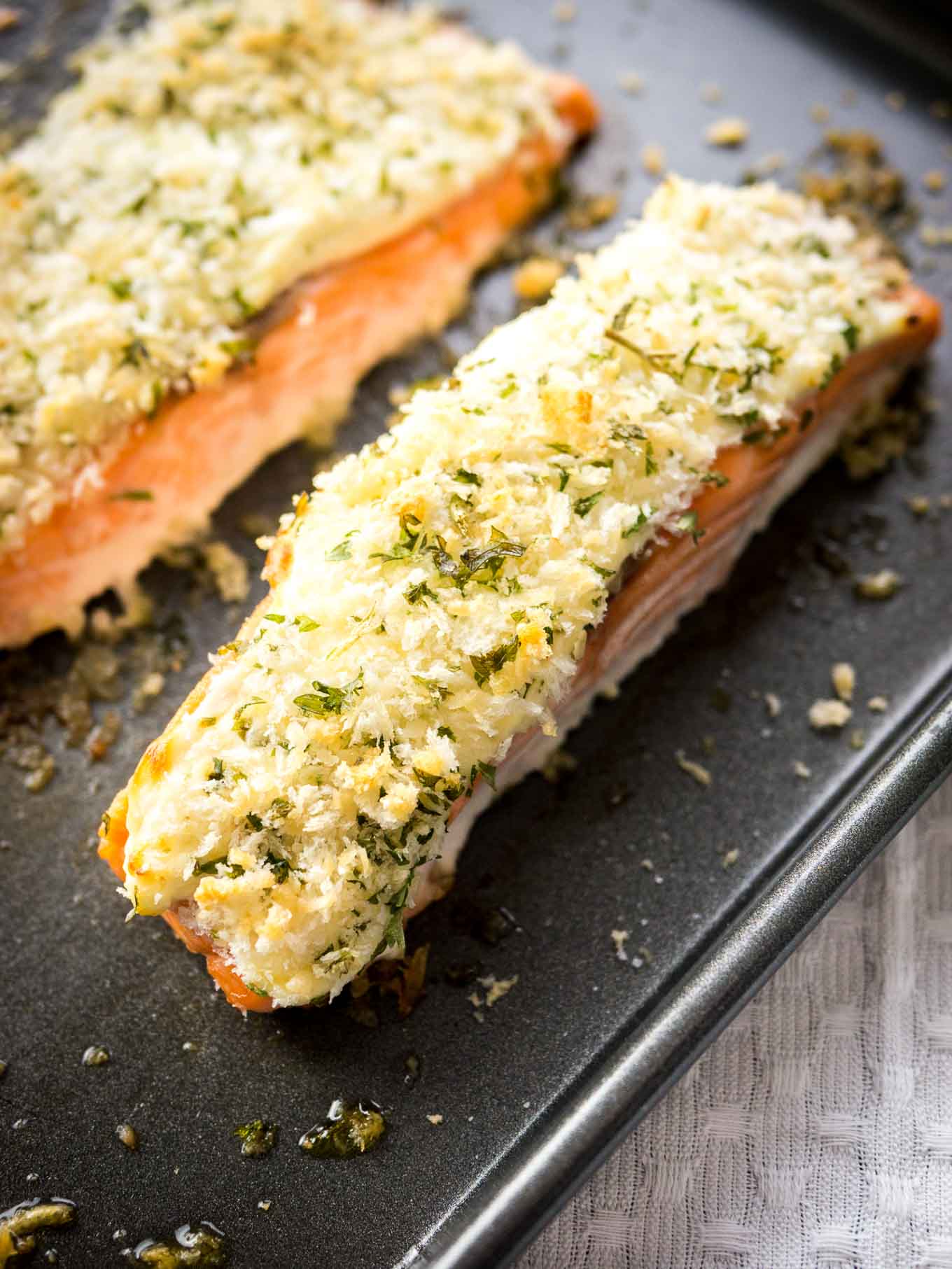 Serve this panko bread crusted salmon with horseradish and potato mash for a fancy but easy (date night) dinner.
And for dessert, I recommend my dark chocolate red wine cake which pairs really well with a glass of Southern Hills Cabernet Sauvignon.
Oh, and don't forget to order a few bottle Wente Vineyards wine online to have on hand to give as gifts for the holidays!  Or find it in a store near you.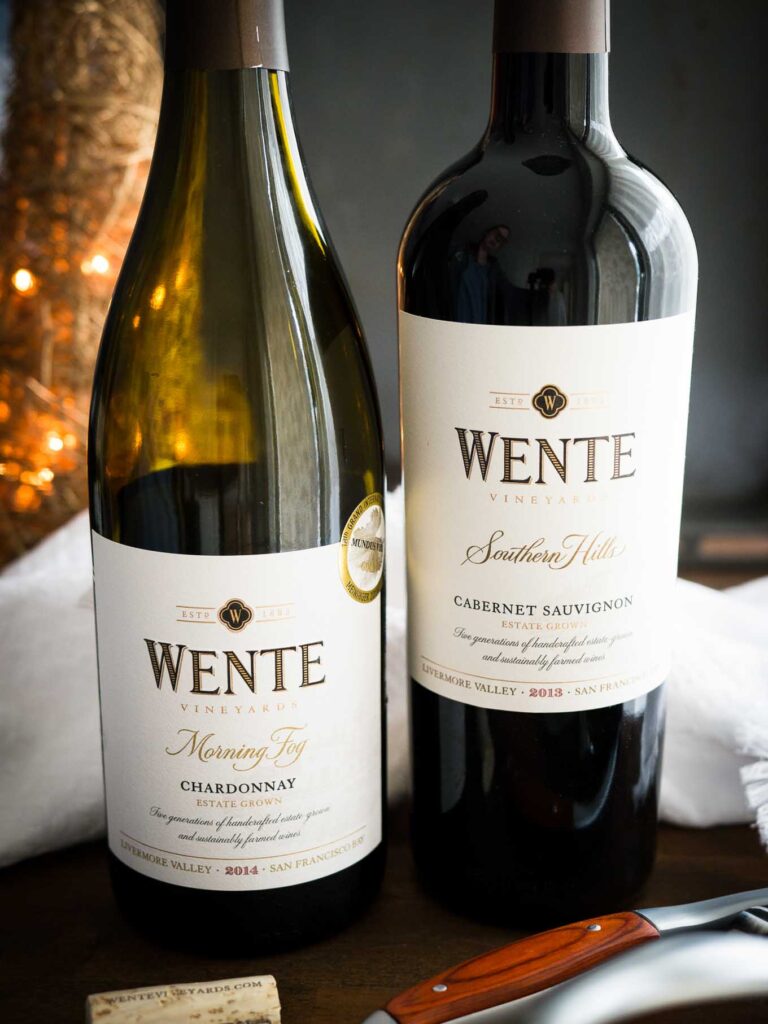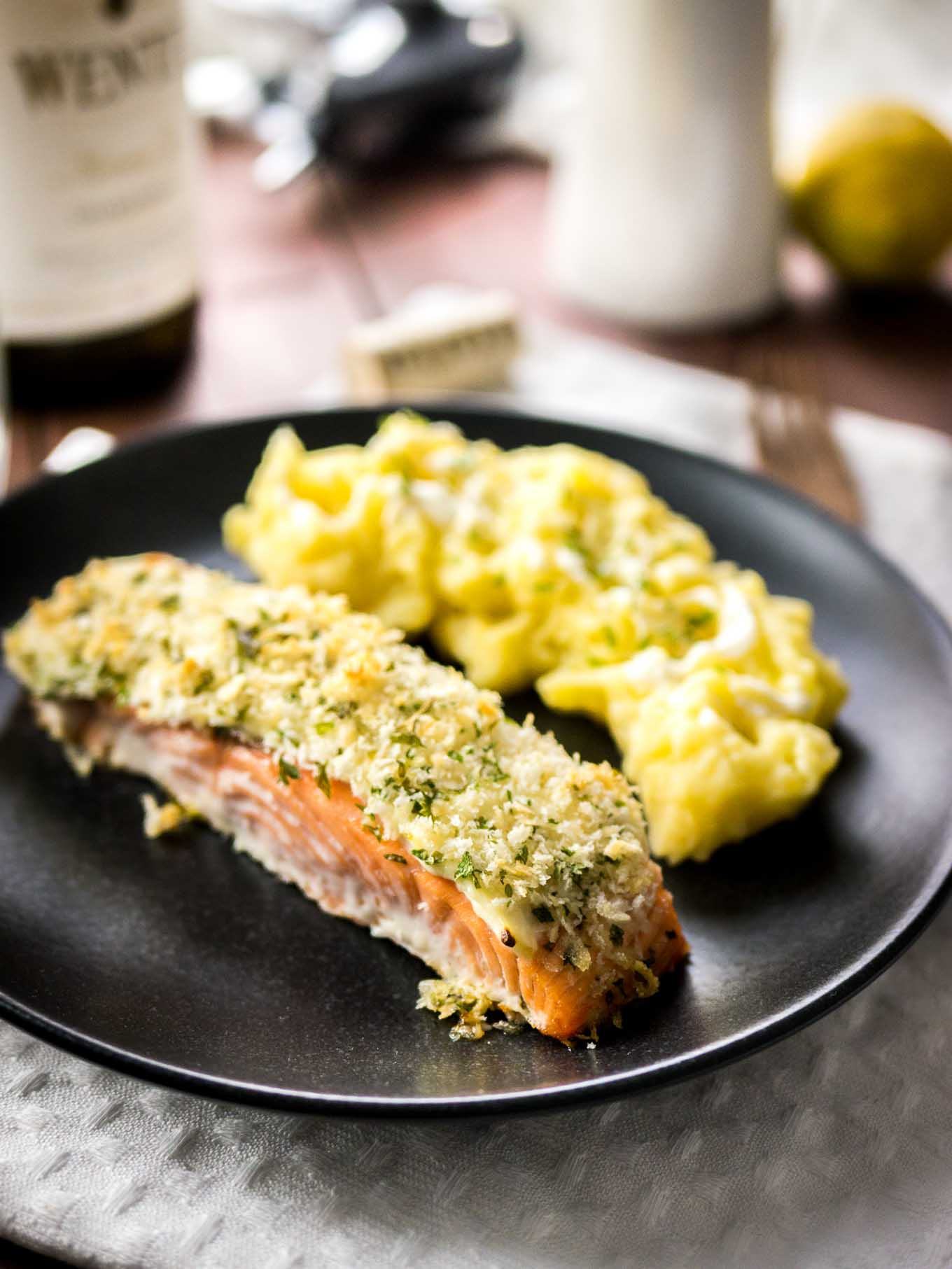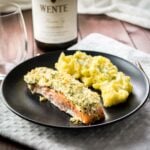 Horseradish Parmesan Crusted Salmon Recipe
My Horseradish Parmesan crusted Salmon is baked in the oven and only takes 20 mins to make. A dinner fancy enough for guests but easy enough for weeknights!
Ingredients
4

salmon fillets

5oz

1/3

cup

cream cheese

75g

1/2

lemon

zest only

1

tbsp

creamy horseradish

1/4

cup

panko breadcrumbs

15g

1/4

cup

parmesan cheese

coarsely grated, 15g

1

tbsp

fresh parsley

chopped

Salt and Pepper

Olive oil
Instructions
Preheat the oven to 400°F (200°C) and prepare a baking sheet with olive oil.

Place the salmon fillets on the baking sheet, drizzle a little bit of olive oil over the fish, and season with salt and pepper.

Combine the cream cheese, creamy horseradish, and lemon zest in a small. Spread on top of each salmon fillet.

Mix the panko breadcrumbs, parmesan, and parsley in a small bowl and sprinkle on top of the cream cheese mixture.

Bake in the oven for about 15 minutes. The salmon is done when it' color has changed from translucent to an opaque pink.