This Shamrock Bread is so easy to make and super delicious! A perfect snack for your St. Patrick's Day party that goes perfectly with a pint of Guinness.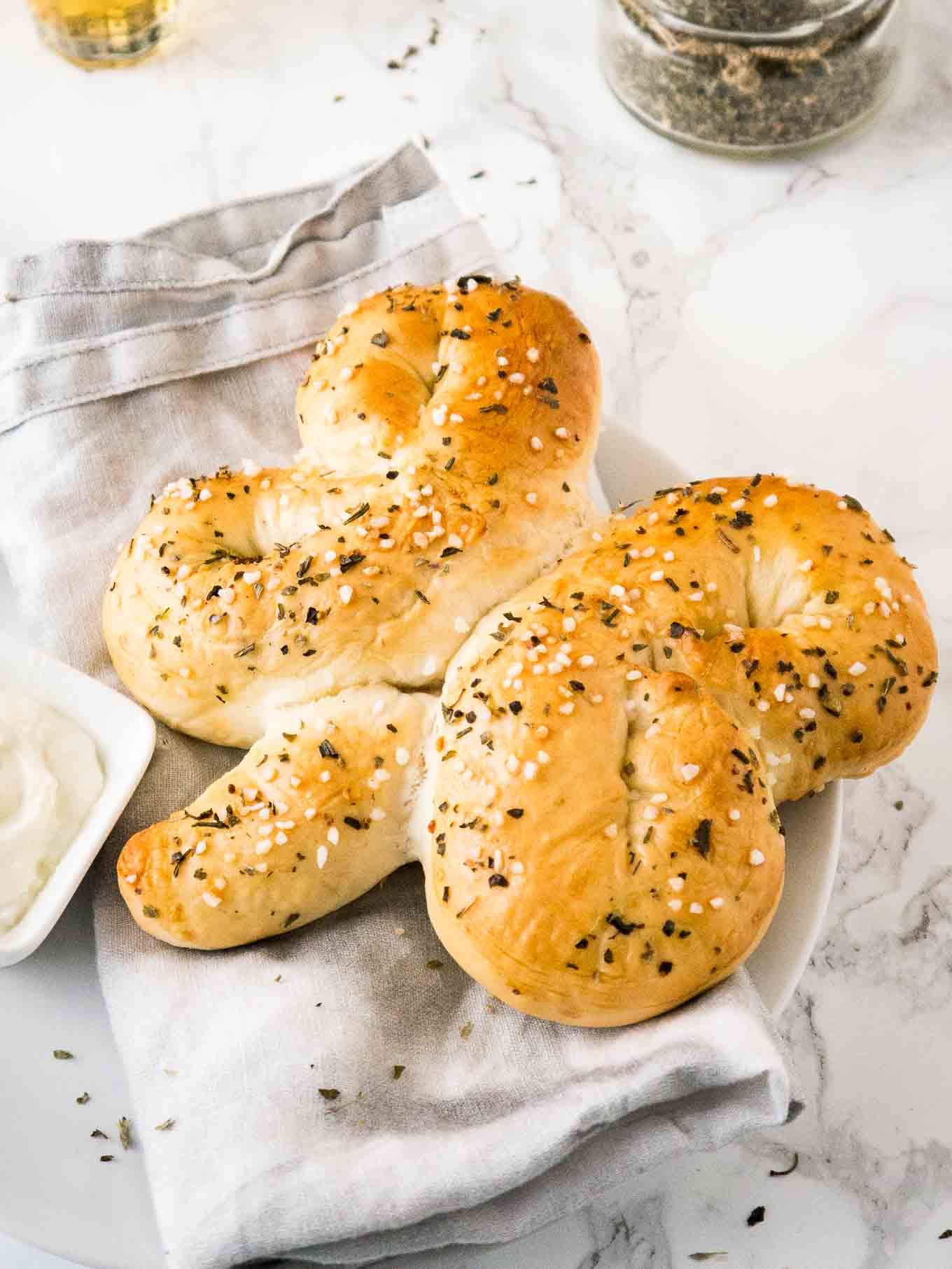 Are you planning your St. Patrick's Day Party? My Easy Instant Pot Irish Stew and this Shamrock-shaped bread are my go to recipes for celebrating March 17th.
If you want something easy without added food colorings or unnecessary ingredients in you have to add this Shamrock Bread to your menu. Yes, it is easier to buy refrigerated dough but have you read the list of ingredients on the back? Most of them you won't even know.
It's really easy to make dough for breadsticks or soft pretzels from scratch and you have the advantage of knowing exactly what's in it. The ingredients list of this buttery Shamrock Bread is pretty simple and you could even make the dough one day in advance and let it rise in the fridge. Just take it out one hour before baking!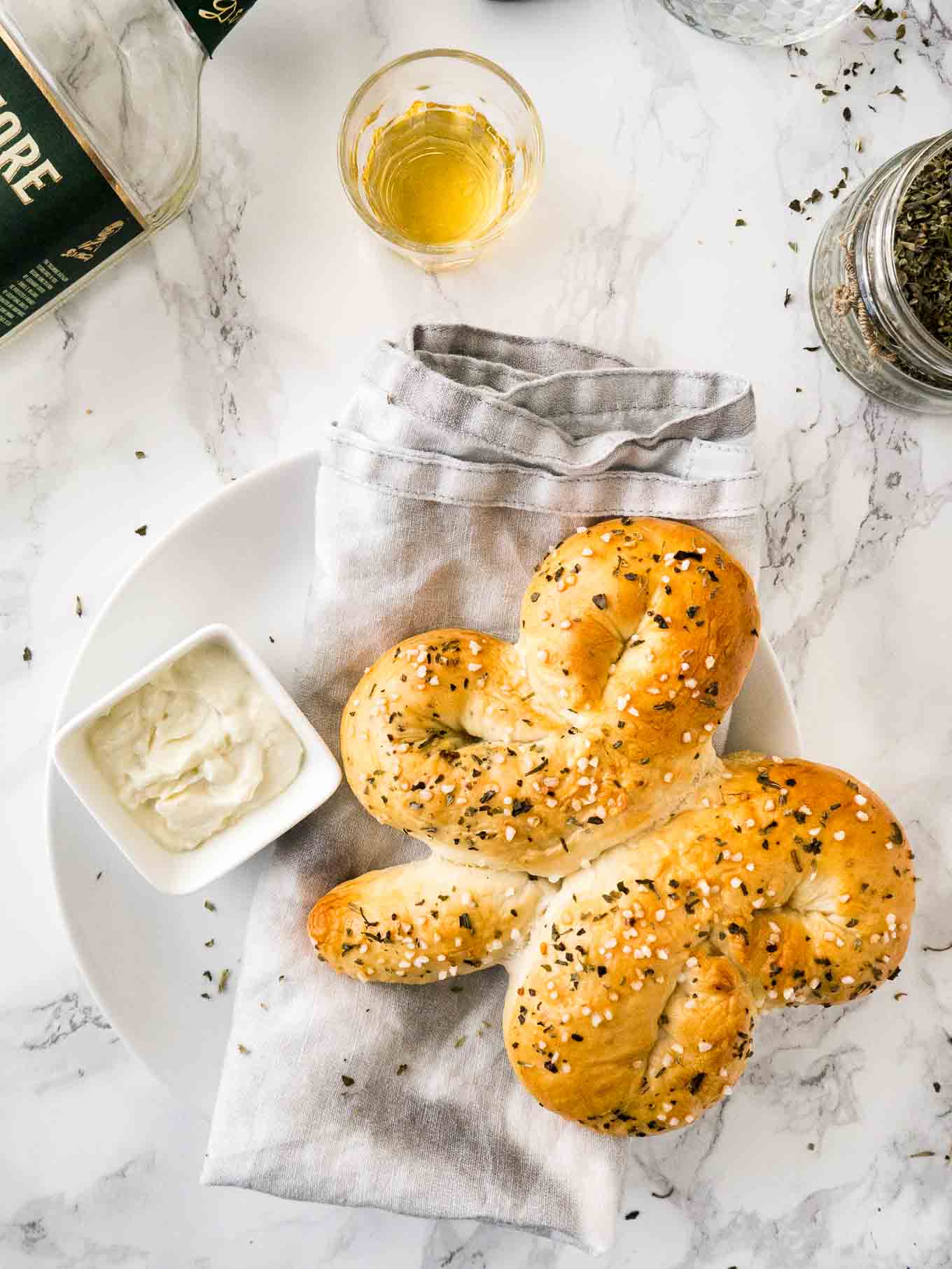 My husband Peter loves this method for his secret pizza dough.
The yeast dough I used for these breadstick Shamrocks is also what my Easter Bunny Dinner Breadsticks are made of. It's a really versatile dough and my go-to dough for savory baking recipes and you can easily make the recipe vegan by replacing the egg wash.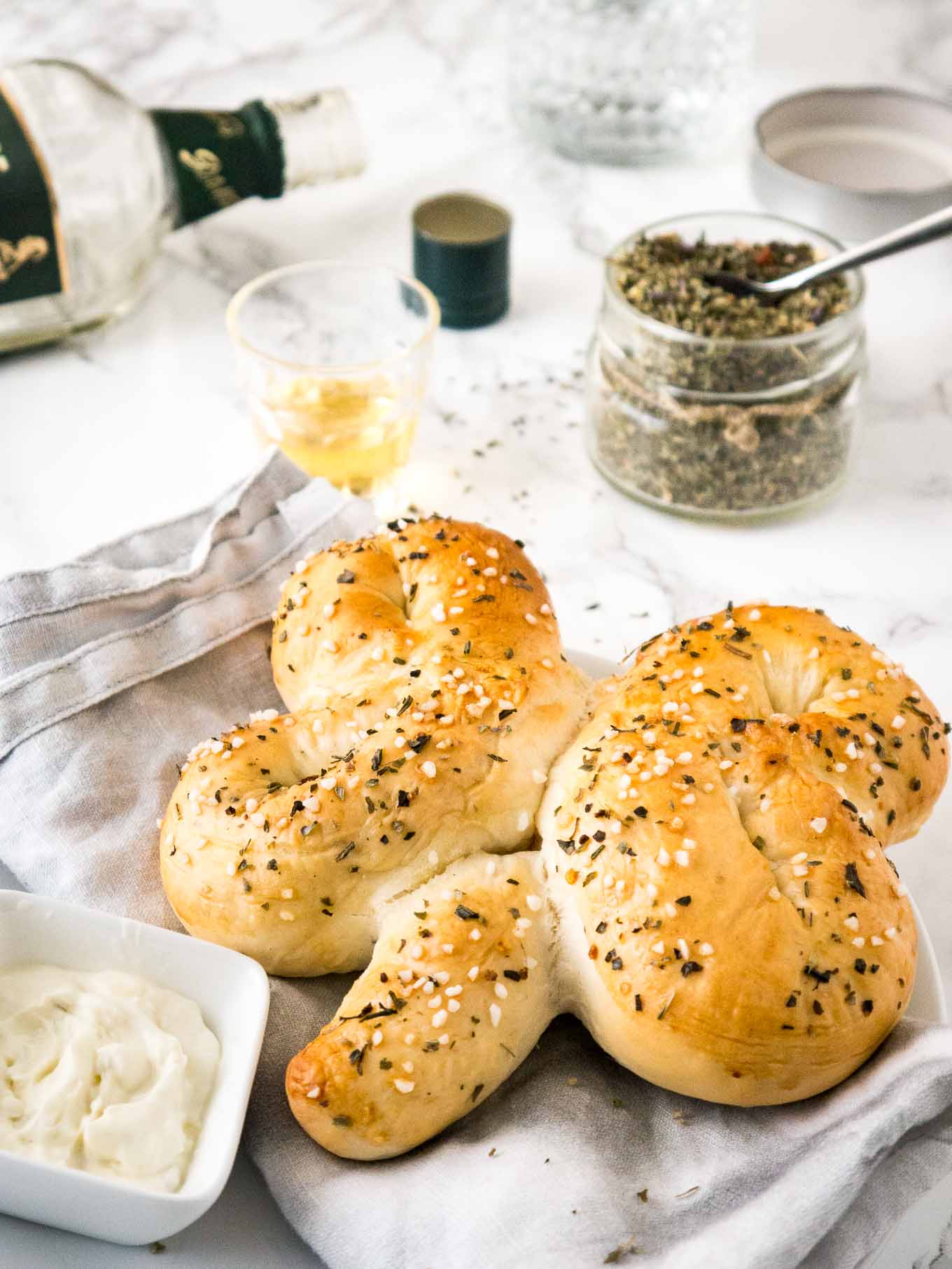 We had these Shamrock breadsticks with dinner last week and they were great for dipping. I made a warm artichoke spinach dip to go with it and everyone loved it!
On most of the days, dinner hasn't to be difficult or complicated! For me, everything I can dip (and eat while binge watching Netflix! :-) ) is perfect on a weekday. You have to try my Easy Smoked Salmon Dip and my Gorgonzola Cream Cheese Spread! They are great for dipping this Shamrock Bread and ready in under 5 minutes including washing up.
You don't have to make Shamrocks out of this bread, it's great for every day!
– Julia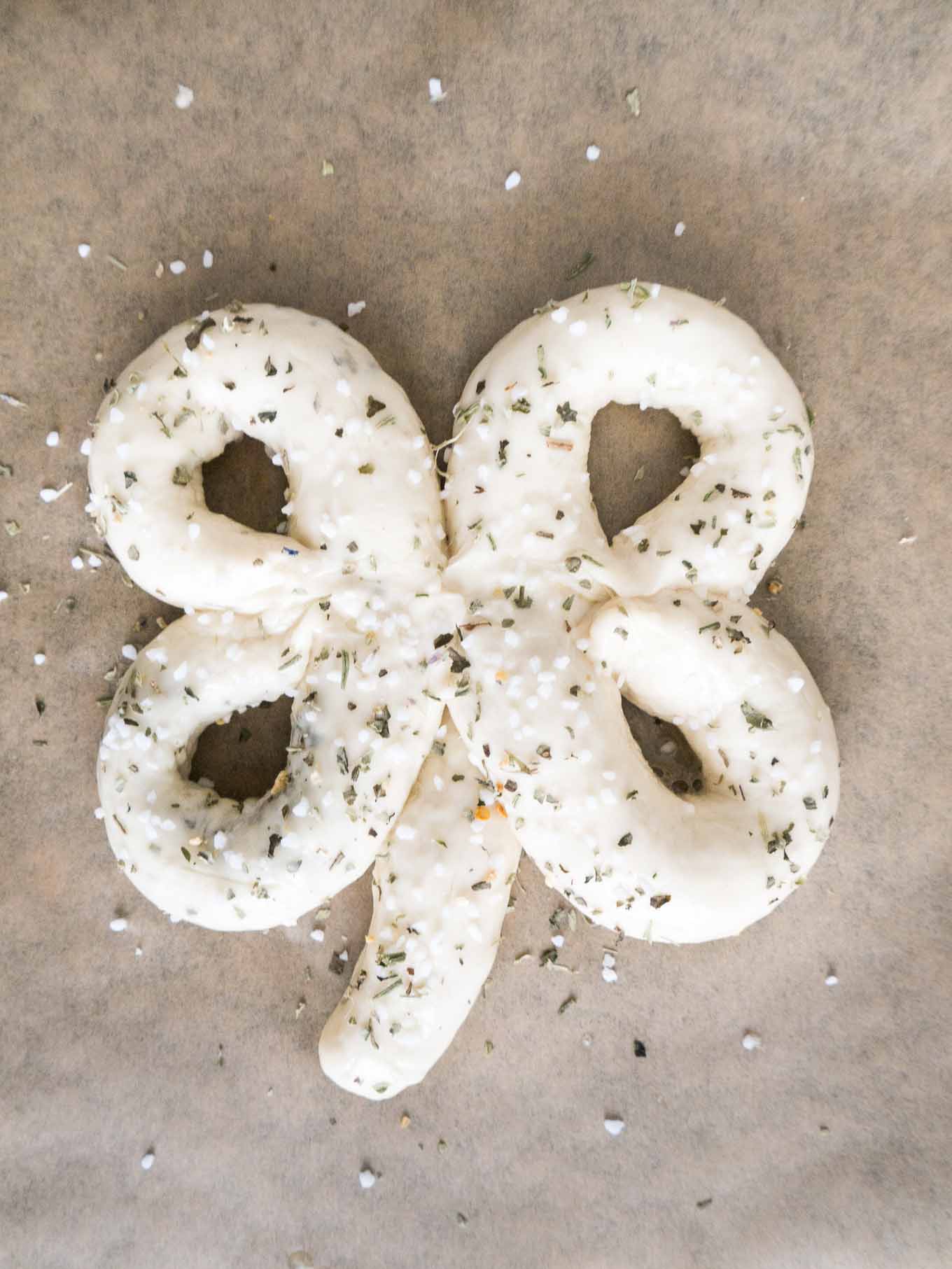 [social_warfare buttons="Pinterest, Facebook"]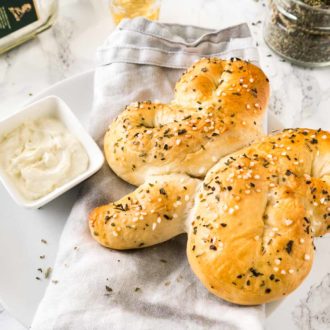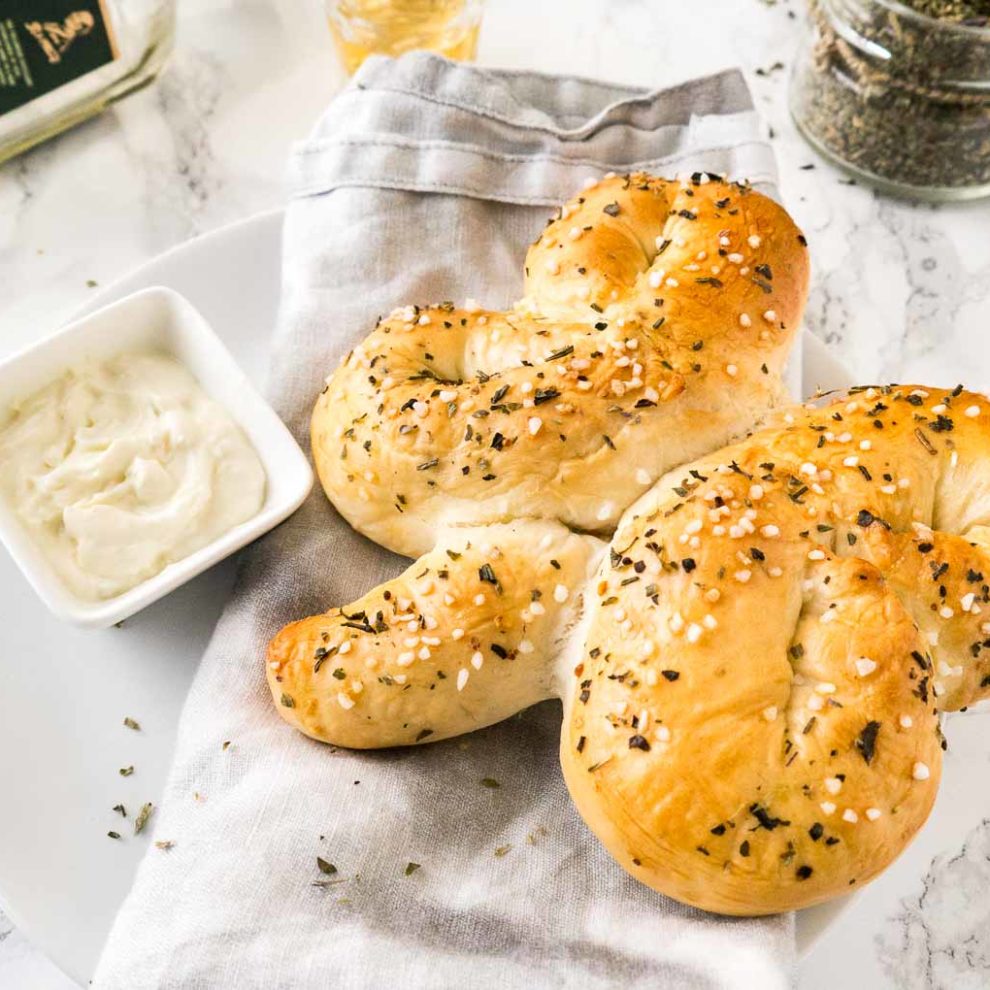 St. Patrick's Day Shamrock Bread
Looking for a snack for St. Patricks Day? This St. Patrick's Day Shamrock Bread is so easy to make and so delicious! Perfect for a party, as a side for dinner or just as a delicious snack at home.
Ingredients
3

cups

bread flour

2 ½

tsp

instant yeast

1

cup

warm water

2

tbsp

brown sugar

1

tsp

salt

¼

cup

sunflower oil

1-2

tbsp

Italian seasoning

1-2

tbsp

coarse sea salt

1

egg white
Instructions
Pour warm water into the bowl of a stand mixer fitted with a dough hook attachment. Sprinkle the yeast and ½ tsp brown sugar on top of the water. Stir it lightly with a spoon and allow to sit for a few minutes until the mixture is frothy and smells like yeast. (If that's not happening, start over with new yeast.)

With the mixer running on low speed, add the remaining brown sugar, salt, oil, and 3 cups of bread flour. Beat on low speed for 2 minutes as it all combines. The dough should be thick, yet soft and only slightly sticky. When it pulls away from the sides of the bowl it's ready to knead.

Form dough into a ball and turn it out onto a lightly floured surface. Knead for 2 minutes, then place in a greased bowl and turn the dough over to coat all sides. Cover the bowl with plastic wrap and place it in a warm environment to rise until doubled, about 1-2 hours.

Once doubled in size, punch the dough down to release any air bubbles. Remove dough from the bowl and turn it out onto a lightly floured surface. Divide the dough into 10 equal pieces.

Heat oven to 350°F. Line your cookie sheet with cooking parchment paper, or lightly grease the cookie sheet.

If you want to add a little bit of Italian seasoning to your dough, now it's the time. Roll each ball of dough into a rope 12 inches long. Two of these ropes will be the shamrock stems, cut these both in half so you have 4 stems.

It's best to shape the shamrocks on the prepared cookie sheet. Pinch the ends of a rope together in the center of the rope to form two circles, form another rope in the same way, then pinch the two formed ropes together to make a shamrock shape (See picture below). Press on stem piece in the base of the shamrock shaped bread. Repeat this process to make a total of four shamrock breads.

Brush the shamrocks with egg white and sprinkle coarse sea salt and Italian seasoning on top of each shamrock.

Bake 15 - 20 minutes or until golden brown (Each oven is a little bit different so have an eye on your baked goods). Serve with cream cheese to dip or as a side dish for dinner!
Nutrition Information
Calories:
497
kcal
|
Carbohydrates:
76
g
|
Protein:
13
g
|
Fat:
15
g
|
Saturated Fat:
2
g
|
Polyunsaturated Fat:
1
g
|
Monounsaturated Fat:
12
g
|
Sodium:
2346
mg
|
Potassium:
154
mg
|
Fiber:
3
g
|
Sugar:
6
g
|
Vitamin A:
23
IU
|
Vitamin C:
0.04
mg
|
Calcium:
43
mg
|
Iron:
1
mg