Ripe Bananas are perfect for baking and making smoothies! Looking for a recipe for ripe bananas other than banana bread? Check out these overripe banana recipes that are absolutely delicious. From healthy treats to stunning cakes, muffins and easy baking ideas, there is something for every occasion!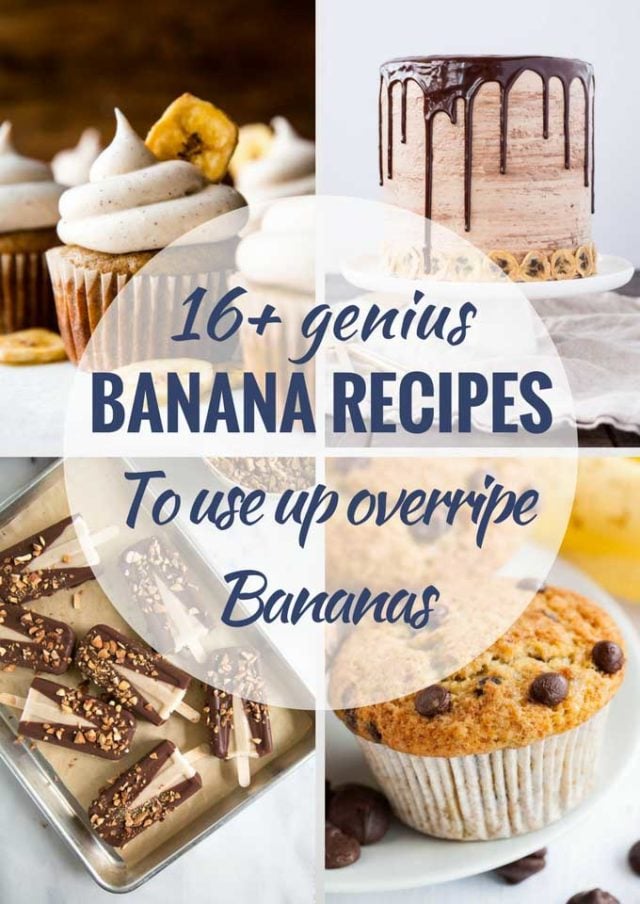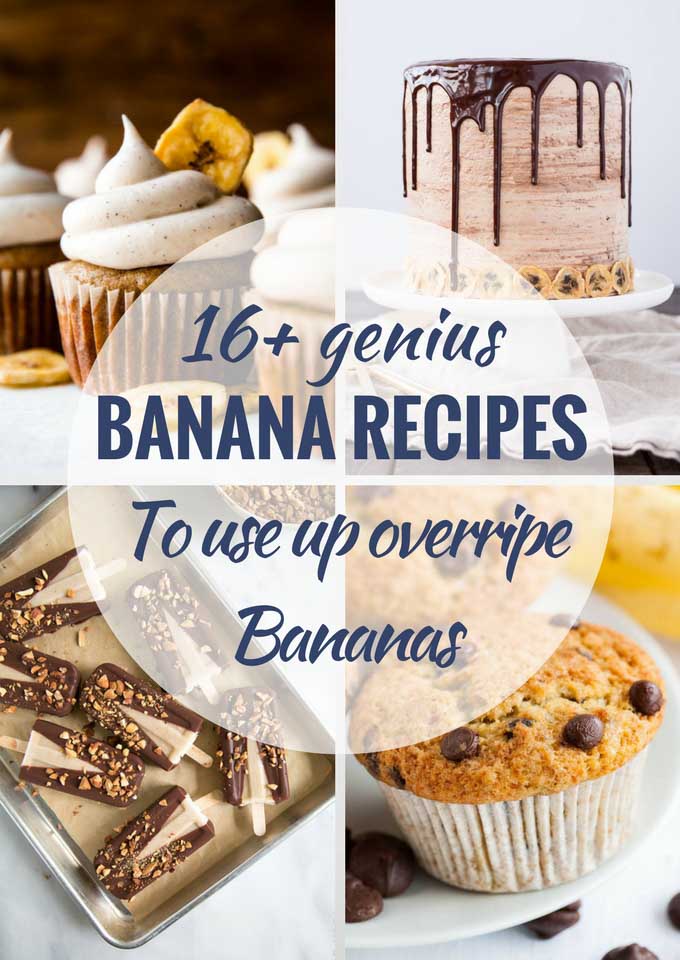 Have some overripe bananas lying around? Put them to good use with these delicious banana recipes. From decadent cakes, cold treats, and cupcakes to smoothies and healthy breakfast ideas, these recipes are perfect to use up ripe bananas.
When bananas are just too ripe and soft for your taste, adding them to smoothies or baking with them transforms mushy, brown fruits into delicious treats. I also share my best tips and tricks for freezing bananas, how to know when bananas are ripe, and also how to make them ripen quicker.
How do you know when a banana is ripe?
A banana is ripe when it has some brown spots on it. The brown spots show that the starch in the banana has turned into sugar. So bananas with brown spots are sweeter than yellow ones. Bananas that are really brown outside and a little bit dark on the inside might be no longer the best choice to eat but are still good for baking.
Can a banana be too ripe?
Yes, if the banana turns black and the inside gets mushy and dark it is no longer good and should be thrown away. Bananas that are too ripe also have a fermented, alcoholic kind of smell to them, those should definitely go into the garbage.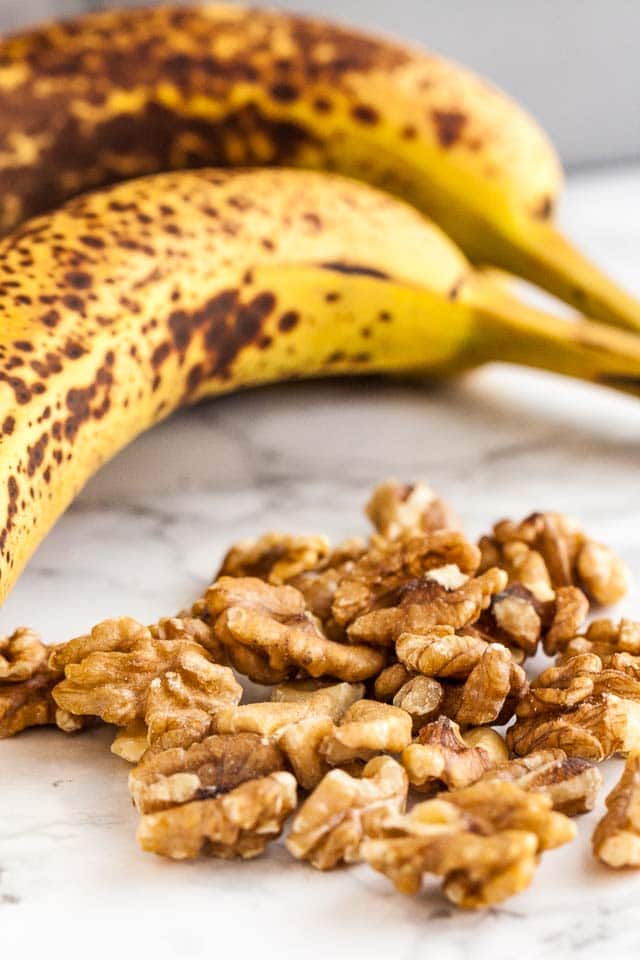 Let's check out these 16+ Ripe Banana Recipe Ideas!
Don't forget to pin this post to save it for later!
Banana Chocolate Chip Muffins | Plated Cravings – These muffins are so easy to make from scratch with just the right balance of banana flavor and chocolate chips! They're quick to mix up and come out fluffy and moist. This simple banana muffin recipe makes the perfect breakfast, snack or dessert. (3 bananas)
Best Banana Nut Bread Recipe | Plated Cravings – This easy banana nut bread is so moist and delicious! Topped with caramelized nuts and loaded with walnuts and mashed bananas my easy banana bread recipe is a family favorite that tastes great for breakfast or as a snack. (3 bananas)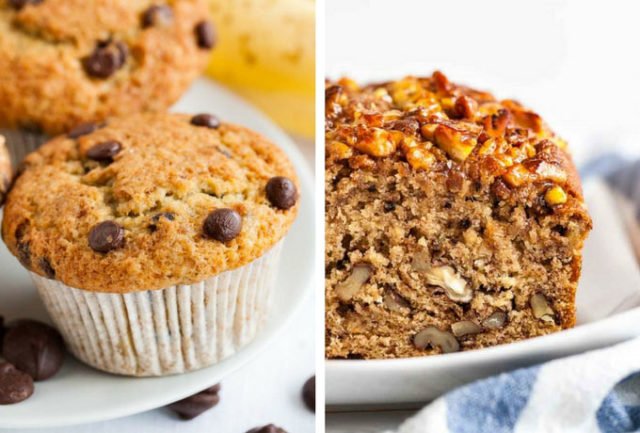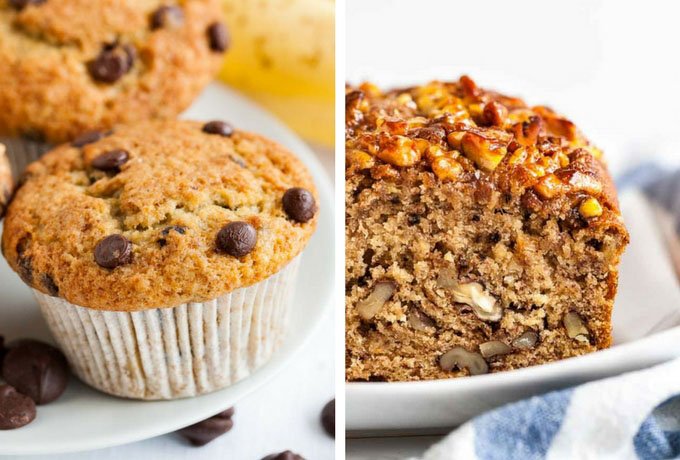 How can you ripen bananas quickly?
Place the bananas in a brown paper bag to ripen them quickly. If you want to ripen them extra quick add an apple to the bag, apples give off ethylene which speeds up the ripening process. Tip: This also works for avocados!
Banana Cupcakes with Cinnamon Cream Cheese Frosting | Sally's Baking Addiction – Super-moist and flavorful banana cupcakes with creamy CINNAMON cream cheese frosting on top! (3 bananas)
Nutella Banana Cake | Liv for Cake –  Layers of fluffy banana cake, silky Nutella buttercream, and crunchy hazelnut meringue. (4 bananas)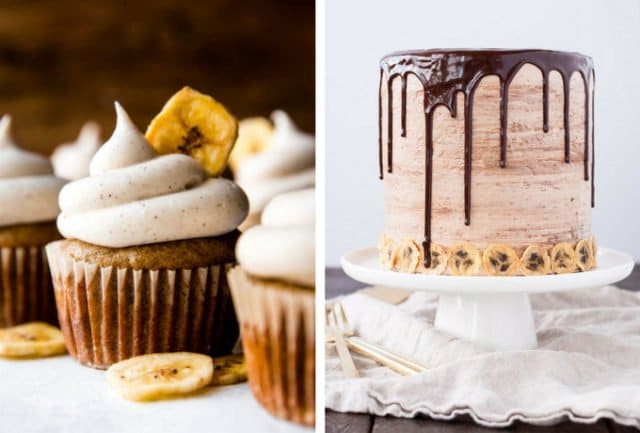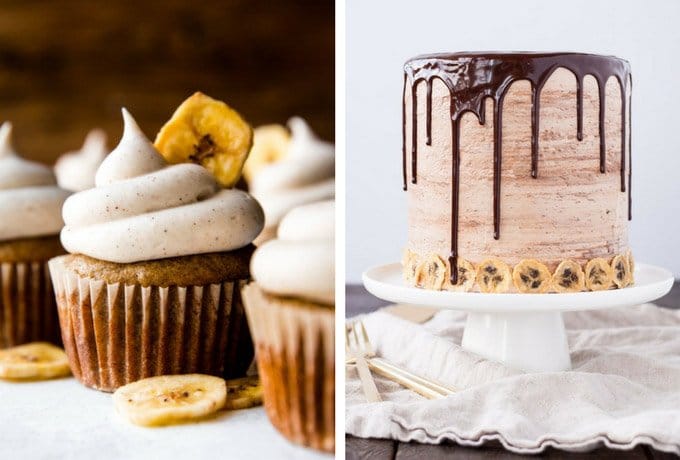 Can you freeze ripe bananas for later use?
Yes, you can freeze bananas for later use. Frozen bananas are great to have on hand for baking or smoothies. Bananas won't ripen further once frozen so you should choose bananas that are fully ripe or slightly overripe. For smoothies, cut the bananas into small chunks so they are easier to blend. For baking, you can freeze whole, peeled bananas because you will defrost them before mixing them into the batter.
Banana Coconut Ice Pops | The Little Epicurean – The tropical flavors of these banana coconut ice pops will have you feeling like summer no matter what season it actually is. Dipped in dark chocolate and sprinkled with toasted almonds, these are the perfect little frozen treats! (1 banana)
Banana Cream Pie Breakfast Smoothie | Cafe Delites – A creamy and thick banana smoothie with the addition of oats to make a perfect breakfast and beautiful Banana Cream Pie Flavours! (3 bananas)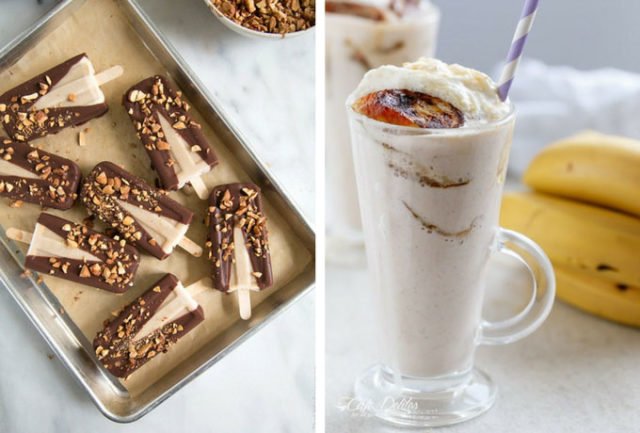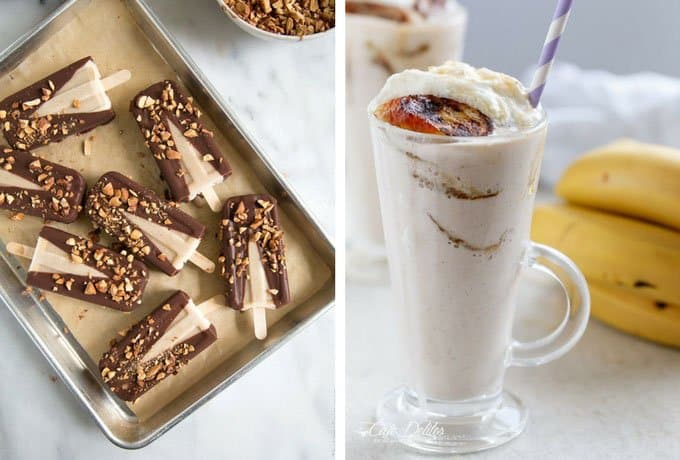 How to freeze bananas
Banana Slices: Peel and slice the bananas into the desired size. Put them in a single layer on a baking sheet lined with parchment paper, cover the sheet with plastic wrap and freeze until solid, about 2 hours. Transfer slices to an airtight container and freeze until ready to use. Tip: Write how many whole bananas were used on a label and stick it to the container. 
Whole Bananas: Peel the bananas, put them into ziplock bags, and freeze until ready to use.
Banana Nut Bars | The First Year Blog – This easy banana bar recipes is made with walnuts and has an easy cream cheese frosting on top! (2 bananas)
Blueberry Banana Smoothie Bowl | Love Bakes Good Cakes – This beautiful smoothie bowl is so decadent and almost dessert-like! But, it is also healthy, quick, and easy. (1.5 bananas)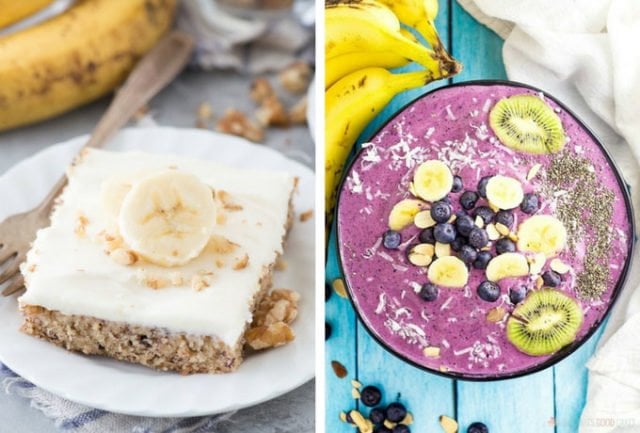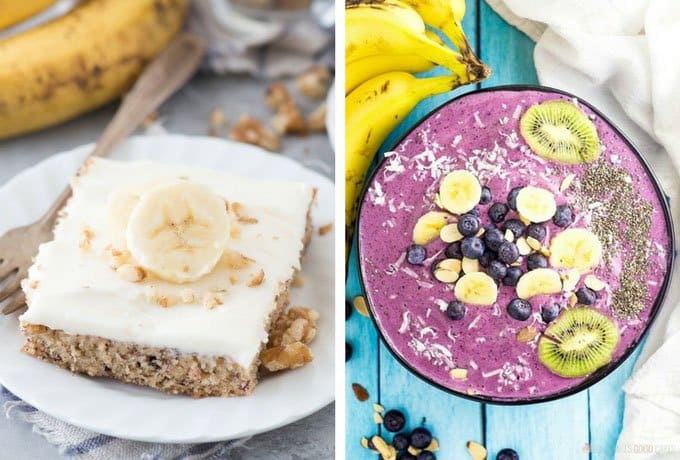 Chocolate Banana Cake | Spend with Pennies – This is the perfect dessert for when you are short on time but need a yummy dessert. The addition of bananas to this recipe makes a box mix chocolate cake into a deliciously moist and decadent treat! (3 bananas)
Bananas Foster | Sugar & Soul – This is a deliciously rich and easy recipe laced with dark rum and brown sugar for a warm sweet dessert you'll want to make again and again! (6 bananas)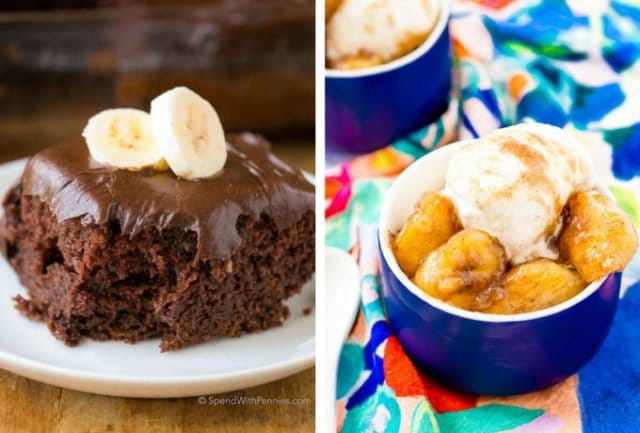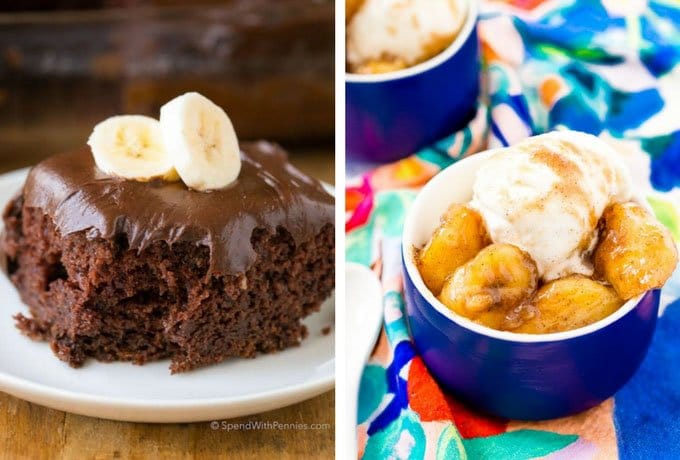 Banana Chocolate Peanut Butter Mug Cake | My Food Story – This single serving mug cake is the best, gooey and the moistest mug cake you'll try. Ready in under 5 minutes and just needs a microwave! (.5 banana)
Strawberry Banana Orange Power Smoothie | The Busy Baker – This Smoothie is the perfect fruit smoothie packed with berries, bananas, and juicy oranges! It makes a great breakfast or post-workout drink, and it's the perfect mid-afternoon pick-me-up snack! (1 banana)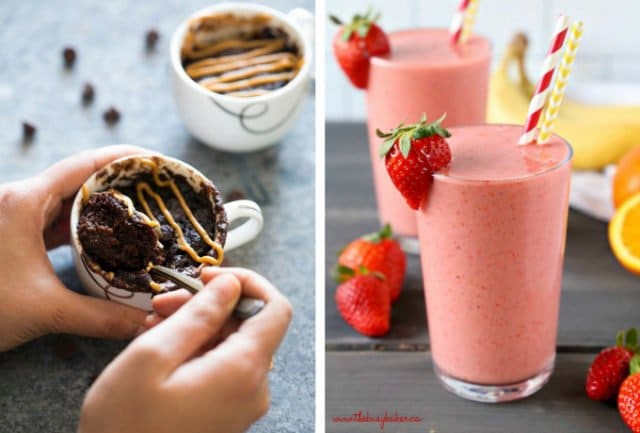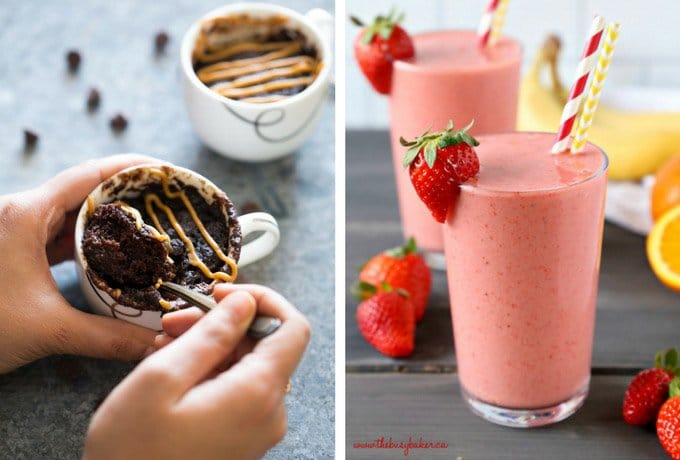 Banana Upside-Down Cake | Tornadough Alli – Caramel and banana collide in this perfectly delicious spin on a traditional cake. Banana Upside Down Cake will be your new fave. (4 bananas)
Banana Bread Smoothie Bowl | Real Housemoms – This quick and easy smoothie bowl tastes just like freshly baked banana bread, in a cool and creamy breakfast smoothie form! (2 bananas)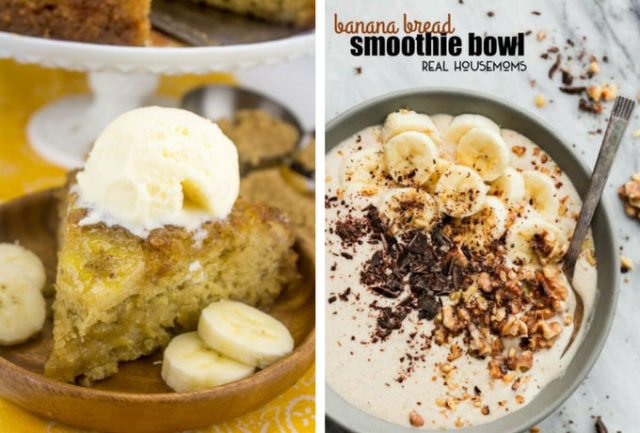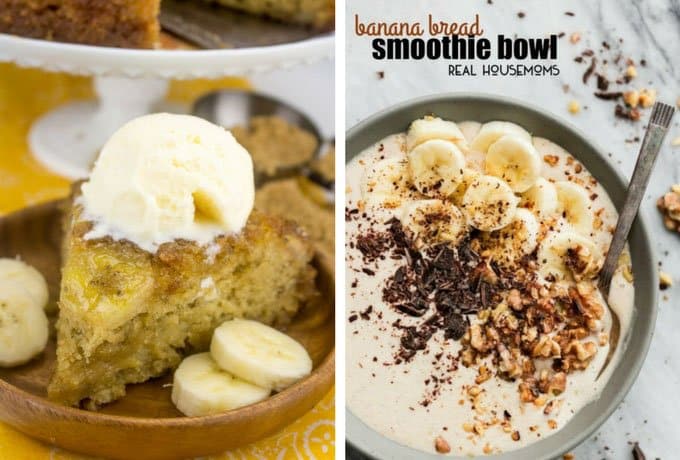 Banana Chocolate Chip Baked Oatmeal Cups | The Recipe Rebel – These make an easy, healthy breakfast that can be made ahead, is freezer friendly and packed with protein and fiber. (4 bananas)
Banana Pudding Poke Cake | Sweet & Savory Meals – This is one of the easiest and most divine cakes you can make! Incredibly creamy and with lots of banana flavor! (3 bananas)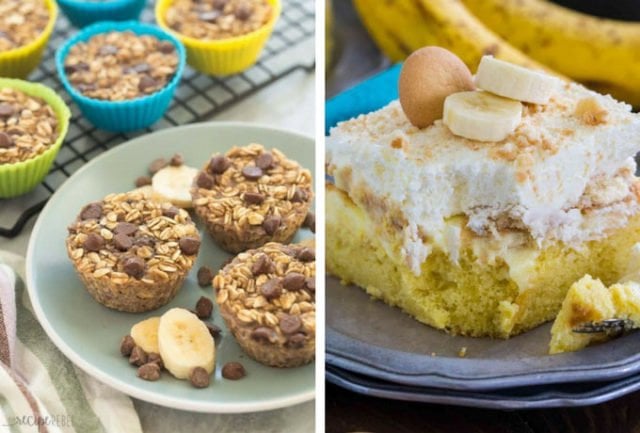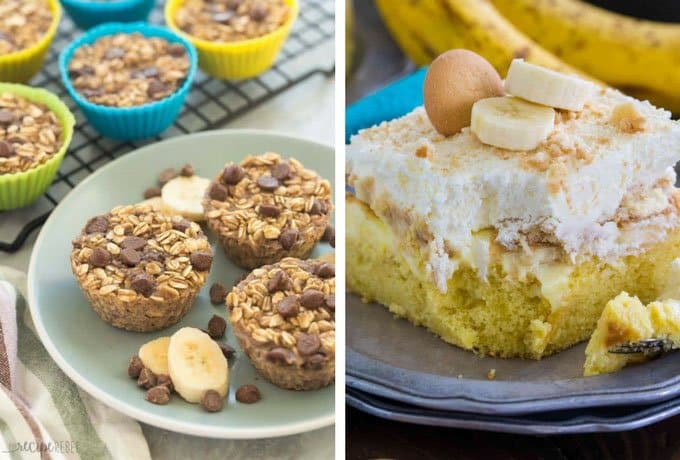 Looking for even more Easy Banana Recipes? Check out these: